The second session of talks between Fine Gael and Fianna Fáil have finished and will resume in the morning.
A number of party figures described the talks today at Trinity College in Dublin as positive.
It is understand an economic paper was exchanged today between the two parties.
The parties will resume discussions on the contentious issue of Irish Water and water charges tomorrow. 
Speaking earlier this evening Minister for Justice Frances Fitzgerald has said it is unlikely that there will be a vote for taoiseach in the Dáil this week.
She said that difficult issues were under discussion and the parties hoped to make further progress this evening.
She said the plan would be to reach agreement on all the issues but there still is a lot of work to do.
Fianna Fáil's Michael McGrath earlier said the talks were progressing well.
Meanwhile, the leader of the Labour party, Joan Burton, has written to party members stating that she has made it clear since the election that other parties and groups, including the Independents had received a mandate to govern and should step up to the plate.
In the email, she said most party members who she had spoken to, felt the same way. The move comes after media speculation about Labour's possible participation in a minority government and also recent meetings with Fine Gael.
She also reiterated her view that the party should seek to build what she said was 'a progressive alliance' in the Dáil, involving the Social Democrats and the Green Party.
She said such an alliance was her preferred option and it would ensure a strong grouping in opposition to fight for progressive causes. She said she had received positive feedback in the party to the idea.
Ms Burton also said that due to the current uncertainty, a second election could not be ruled out and the party's general secretary had been in touch with candidates in recent days.
'Thorny issues in government formation talks' -  Mattie McGrath
Last night the talks ended with broad agreement on many aspects of the document outlining Fianna Fáil's policy principles.
The document is understood to be just a page long.
Vote for Taoiseach unlikely this week says Minister Frances Fitzgeral as FF and FG resume talks pic.twitter.com/HUYTsKymf4

— Mícheál Lehane (@MichealLehane) April 19, 2016
Mattie McGrath said his party was anxious to conclude the work as quickly as possible and facilitate the formation of a minority government.
He said there were "thorny issues" that needed to be agreed and goodwill and compromise was required on all sides.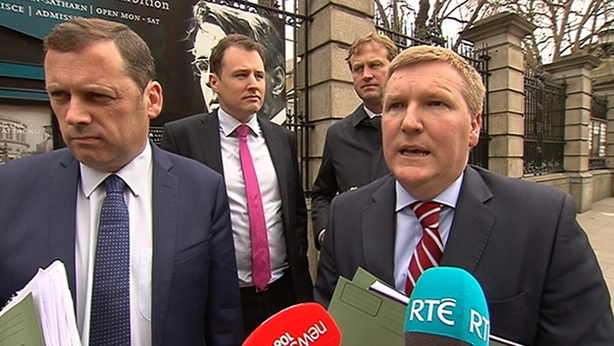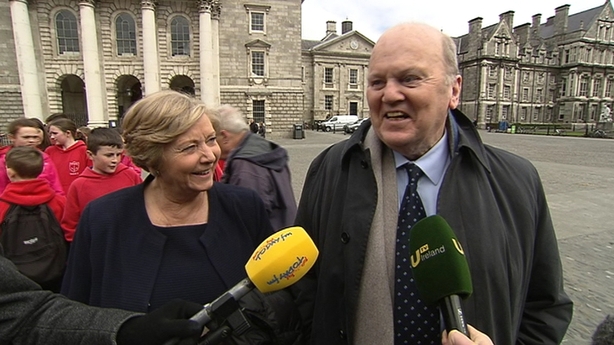 On his way into the talks, Fine Gael's Michael Noonan said nothing was agreed until everything was agreed.
He described the talks as "business like" and said progress was made. They are down to options - either Fianna Fáil supports a minority government, or there is an election, he said.
Simon Coveney asked people to "show a little bit of patience" with the government formation talks process.
He said: "It was a good day yesterday and we are looking to build on it today.
"But obviously we are now into detailed policy discussions and that's going to take a little time.
"The parties have differences on a number of issues and we are trying to work our way through those differences to find compromise and a way forward."
Asked if water charges will be a sticking point, he said: "Let's wait and see if there are sticking points."
Green Party leader Eamon Ryan also met with Fine Gael this afternoon.
The party has said it favours supporting a minority government from the opposition benches.
Sinn Féin, meanwhile, has said that it would be willing to support legislation introduced by a Fine Gael minority government provided it reflected the party's position.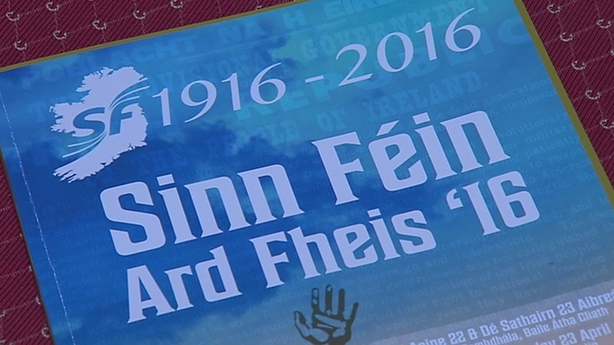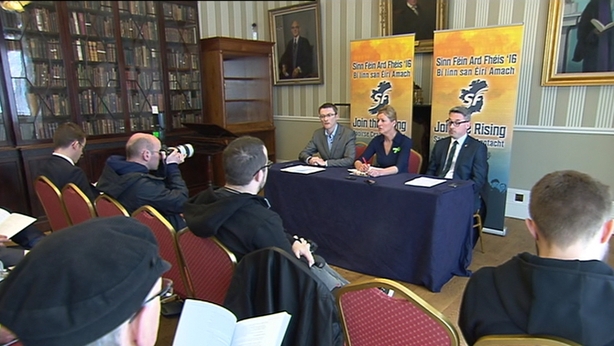 But speaking at the launch of the programme for the Sinn Féin Ard Fheis in Dublin this weekend, Waterford TD David Cullinane accused Fine Gael and Fianna Fáil of refusing to engage with his party on policy issues in recent weeks.
He said the party membership would this weekend adopt policies on childcare, health and housing.
The Ard Fheis will debate 120 motions including one calling for the establishment of an independent commission to examine the best public ownership model to replace Irish Water.
The two-day meeting, set to be attended by around 2,000 delegates, will also debate a motion seeking to set up a new investigations committee to deal with internal party discipline matters.
---
Analysis from RTÉ's Mícheál Lehane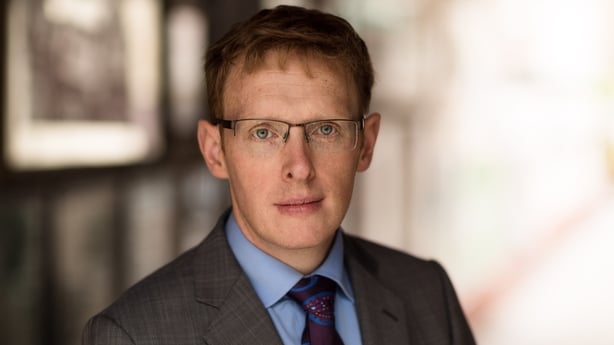 There is some way to go in the Fine Gael-Fianna Fáil talks on policy - and Irish Water.
The Dáil's business will be determined tomorrow morning.
The sense last night from people around the talks was that while it's unlikely, there was a possibility that this could be done and dusted for Thursday.
The independents too have to come back into the mix and we have heard different views from the Independent Alliance.
But if the Fianna Fáil-Fine Gael agreement is in place then that is the biggest obstacle and the independents would probably have to make a decision relatively quickly.
We should have a clear indication by Thursday of how things are going and it should just be into the fine details after that. So if it is going to work, we should know by tonight or midday tomorrow.