A group of Nigerian schoolgirls abducted by the Islamist group Boko Haram exactly two years ago have been identified in a new video, raising hopes that they are all alive and renewing global calls for efforts to find them.
A video obtained by US network CNN has been shown to three mothers of girls abducted two years ago from Chibok in northeast Nigeria in the first possible sighting of the girls since a video of them in captivity was released in May 2014.
Boko Haram militants abducted 276 schoolgirls from Chibok on 14 April, 2014, of which 57 escaped but 219 are still missing.
About 15 girls featured in the new video, saying they were from the Government Girls Secondary School in Chibok and pleading with the Nigerian government to cooperate with Boko Haram on their release.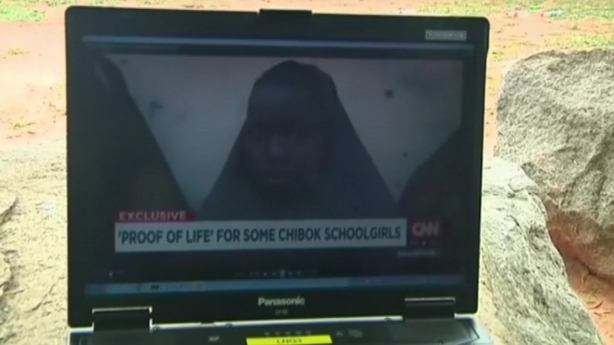 The girls say they are being treated well but want to go home and be with their families.
Rifkatu Ayuba and Mary Ishaya say they recognise their daughters, Saratu and Hauwa, in the video, while a third mother,Yana Galang, identified five of the missing girls.
"The girls were looking very, very well," Ms Galang said in a telephone interview with the Thomson Reuters Foundation after a screening of the video in Maiduguri in northeast Nigeria.
A CNN spokesman said the network had obtained the video from a source "close to the negotiations" after it was sent to negotiators by their captors as "proof of life".
He said it appeared to have been shot on 25 December last year because the girls say so in the video and the metadata also indicated this.
Various false leads have raised hopes of finding the girls over the past two years but their whereabouts remain unknown.
The kidnapping of the girls became a political issue in Nigeria with the government and military criticised for their handling of the incident and failing to track down the girls.
Government criticised for slow reaction
Former President Goodluck Jonathan was criticised for his slow reaction. He was defeated in an election last year by Muhammadu Buhari who ordered a new investigation into the abductions.
Ms Galang says the girls in the video spoke in Hausa, which is widely spoken in Nigeria, and in Kibaku, the Chibok language.
"They were definitely our daughters ... all we want is for the government to bring back our girls," said Ms Galang, adding all the girls were wearing hijabs in the video.
Ms Galang said one mother, Ayuba, was relieved to see her daughter as she had heard a rumour shortly after the kidnapping that her daughter had been killed by Boko Haram.
"She was very happy to see her in the video ... her daughter is alive," Ms Galang said.
To mark two years since the mass abduction, the United Nations Special Envoy for Global Education, Gordon Brown, called for immediate action to release the girls.
"The Chibok girls are now a symbol of our apparent weakness to protect young lives," Mr Brown said in a statement.
"Their parents still wake up each morning not knowing whether their daughters are alive or dead, married or single or violated as slaves. They deserve better."
Mr Brown, a former British prime minister, called on the UN Security Council to take urgent action to protect children.
He urged backing for a declaration stating attacks on schools and universities are crimes against humanity and more funding for schools in conflict situations and fragile states.
Amnesty International estimates about 2,000 girls and boys have been abducted by the Boko Haram since 2014, with many used as sex slaves, fighters and even suicide bombers.
This week a report from the United Nations Children's Fund(UNICEF) said Boko Haram child suicide bombings have surged 11-fold in West Africa over the last year, to 44, with children as young as eight, mostly girls, used to bomb schools and markets.
Boko Haram's six-year campaign to set up an Islamic emirate in northeastern Nigeria has killed some 15,000 people, according to the US military.