Taoiseach Enda Kenny has written to the Independent Alliance proposing a meeting of all independent TDs and Micheál Martin to discuss the options for government.
Mr Kenny was responding to a letter from the alliance seeking a meeting with him and Mr Martin over the next 24 hours to consider how the situation could be progressed.
In the letter, which is carried on the Fine Gael website, Mr Kenny says the full partnership government which he proposed on Wednesday would provide stability and a capacity to introduce five budgets over the coming years.
In a subsequent statement, Mr Kenny said he would be prepared to host the meeting with independents and Mr Martin early next week.
Speaking in Sligo, Mr Kenny said he wanted to form a government that would serve a full term in office and have parity of esteem for all participants. He said this was "by far the best option" for the country.
When asked what would happen if Fianna Fáil chose not to engage in talks with Fine Gael and the independents over the weekend, the Taoiseach said his focus was on the future.
He said: "If everybody in the general election were to fulfill their promises, you wouldn't have a government. So the people who are sovereign have given their verdict. They require a new politics, a new kind of governance."
Mr Kenny said it was not easy to put an invitation of that kind on the table "for the first time in 94 years" but he said it was in the best interests of the country
He also said that it was not up to him whether a meeting between Fine Gael, Fianna Fáil and the Independent Alliance would take place over the weekend.
KENNY: Wants deal for full term administration - parity of esteem - best for
country - more on @rtenewshttps://t.co/G54Xd7u0Aq

— Pat McGrath (@patmcgrath) April 8, 2016
Meanwhile, the Independent Alliance has confirmed that Micheál Martin has accepted its invitation to meet in the next 24 hours.
They said Mr Martin has confirmed he will discuss how a minority government could be formed with both the alliance's deputies and the Taoiseach.
Earlier, they had said real political stability could only be achieved by a deal involving the two main parties that guarantees three budgets.
"We believe it is imperative to clarify what position both parties will take regarding the formation of a minority government," the alliance said in a statement.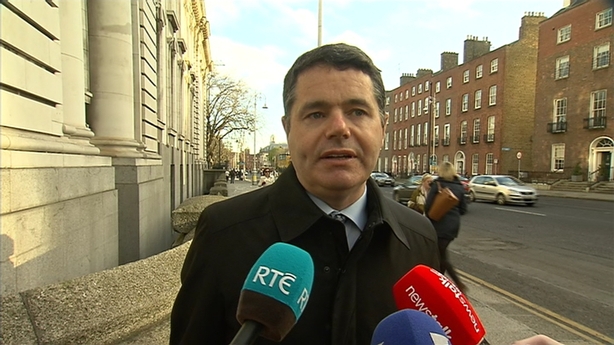 Earlier, Minister for Transport Paschal Donohoe definitively ruled out Fine Gael supporting a minority government led by Fianna Fáil.
Mr Donohoe, however, said that Fine Gael still wants to engage further with Fianna Fáil with a view to forming a stable government "for the benefit of the country".
Speaking on RTÉ's News at One, Mr Donohoe said the proposal put forward by Fine Gael to form a partnership with Fianna Fáil needed to be discussed and evaluated at further length.
When asked had he definitively ruled out the notion of Fine Gael supporting a Fianna Fáil-led minority government, Mr Donohoe replied: "Yes we have. We don't believe it will offer stable administration to the government [and] to the country."
He also said Fine Gael had made it clear early on in its discussions with Independents that it wanted a broader arrangement to include Fianna Fáil.
Minister for Health Leo Varadkar said he was surprised at the haste with which Fianna Fáil rejected the offer of sharing power with Fine Gael, saying "the door was still open" for exploratory talks.
Mr Varadkar said Fine Gael did not believe a Fianna Fáil-led minority government is viable.
He stressed the best thing to do at this stage is to talk about shared policy and shared platform, and after that deal with how structures would work.
He said both parties should sit and talk again and that Fianna Fáil had been invited to talks a number of times.
Mr Varadkar had earlier said the best way to move forward is to hold talks rather than communicating over the airwaves and that it was time to accept the outcome of the election.
He also said that a written agreement would be needed if Fianna Fáil was to support a Fine Gael minority-led government from the outside, as such a government could not last without such an arrangement.
The Minister added that if Mr Kenny is not elected on Thursday in a third vote, it is likely a fourth vote will take place.
He said the Taoiseach would not need to consider his position in this event.
Min Varadkar: If FG is to lead a minority govt, a 'written agreement' is needed with FF or the govt 'would not last' https://t.co/k9c4ad62Nv

— RTÉ News (@rtenews) April 8, 2016
Also speaking on RTÉ's Morning Ireland, Fianna Fáil TD Dara Calleary accused the Taoiseach of political gamesmanship and said if he was serious about an offer made to Fianna Fáil, that it would have been made sooner.
Mr Calleary said that the Independents should also have been notified if they were to be included in this deal.
He said they would not walk away from the process and would continue talks with the Independents, working towards a minority Fianna Fáil-led government.
He said if Fine Gael manages to find agreement with Independents, Fianna Fáil would want to discuss with them how that can be facilitated in the context of a new Dáíl.
He said that this did not mean that Fianna Fáil would support a minority Fine Gael-led government.
'FF willing to abstain if Independents decide to go into govt with FG'
Fianna Fáil TD Jack Chambers has said it is now up to the Independents to decide what the next move should be and what party they want to support in the formation of government.
Speaking on RTÉ's News at One, Mr Chambers said a grand coalition between Fine Gael and Fianna Fáil would not offer the political reform that is needed.
He said it is time to move past Fine Gael's offer, and said his party is looking at the bigger picture and that they want to play a responsible role in the next Dáil term.
He said Fianna Fáil are "willing to abstain next Thursday" if the Independents decide not to go into government with Fianna Fáíl.
Fianna Fail TD Michael McGrath, however, told RTÉ News the parliamentary party has made no direction on where it goes next.