Fianna Fáil leader Micheál Martin has said "the best interests of the Irish people would not be served by a Fianna Fáil/Fine Gael government".
Speaking after a ten-minute meeting with Fine Gael leader Enda Kenny, Mr Martin said his party has decided not to contradict its core commitment made before the election that it would not go into government with Fine Gael.
Mr Martin added the party is "prepared to facilitate the formation of a minority government".
He said he told Mr Kenny his party "believe in the concept of minority government".
He also said Fianna Fáil is open to talks.
Speaking on RTÉ's Six One News, Mr Martin added that his party cannot be making promises to the Irish people and then reneging on them.
Asked about his relationship with Mr Kenny, Mr Martin said the past 24 hours had left a lot to be desired.
In response, Mr Kenny said he regrets that Fianna Fail has "refused to serve in a partnership government".
In a statement, the Taoiseach said he believes the decision to reject a proposed partnership government is "a serious mistake and one which was driven by narrow party interests rather than the national interest".
He added that "Ireland needs a stable and lasting government" to meet the challenges facing the country.
Meanwhile, Minister Simon Coveney has described the rejection as "an historic missed opportunity".
Speaking at Leinster House after the deal was rejected, Mr Coveney said there was a "very genuine and real offer" made that could have changed Irish politics.
He said it would have been an "effective solution to provide a government."
When asked if we are facing another election, Mr Coveney said he hoped not, adding that "an election in the coming weeks will be a failure of the political system."
The Minister for Agriculture was also asked about claims by Mr Martin that the Taoiseach told him the issue of minority governments was "off the table".
Mr Coveney said Mr Kenny "made it quite clear that [a partnership government] was his preference over a minority government because of stability and strength and the ability to be able to solve problems and get things done. That was the context of those comments.
"What he said was that he thought a majority government was preferable and would work more effectively for obvious reasons because the numbers would be there to do that. In the absence of that being possible of course Fine Gael now has to look at how a minority government can function."
Minister Frances Fitzgerald said the haste at which Fianna Fáil rejected the proposal is worrying.
She said the offer was a genuine one that was made in the national interest and above party politics.
However, she added the proposal is still on the table.
Majority of FF deputies opposed partnership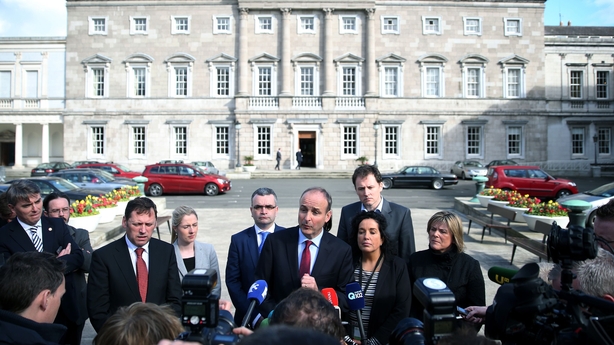 It is understood that 35 of the 43 deputies spoke at this morning's lengthy Fianna Fáil parliamentary party meeting with the vast majority of those in attendance saying they were not in favour of it.
Some of those most opposed to it included Niall Collins, Éamon Ó Cuív, Timmy Dooley and Willie O'Dea.
Robert Troy, Billy Kelleher, John McGuinness, Marc MacSharry and Fiona O'Loughlin are understood to have spoken in favour of keeping the Fine Gael-coaltion option open and furthering discussions.
Mr Martin told the meeting that he was in favour of a minority government - preferably a minority Fianna Fáil government.
He said he would also ask the Taoiseach to retract his comment that Fine Gael is ruling out a Fianna Fáil minority government.
One senior party party said there was a grudging acceptance that a Fine Gael minority may be formed.
It is understood that Michael McGrath and Mr Kelleher questioned how Fianna Fáil would support a minority Fine Gael government.
There were differences about whether the party would give Fine Gael its word or if there would be an agreement.
Mr Troy is understood to have said they should consult the members and voters about what Fianna Fáil should do.
There was also some criticism about Independents and whether they would commit.
Speaking after the meeting, one TD pointed out that "if there is another election, people need to realise that the result may not be much different".
Another TD said it is the correct decision to reject the Fine Gael proposal and added: "We shouldn't be the ones that are required to square the circle here. There are 158 TDs that have been elected and none of them want an election so it is up to everyone to find a solution."
Today's meeting was only attended by the party's 43 TDs and it is understood that some of the party's senators are aggrieved that they were excluded from the meeting.
The two leaders met last night in what was the first discussion between their respective parties on cooperation in government.
The meeting lasted over an hour and was described as initial and preliminary, with just a note taker present.
Mr Kenny took the initiative with a formal offer of involvement in what his party later called a "full partnership government" of Fine Gael, Fianna Fáil and independents.