A 'Remembrance Wall' showing the names of all those who died during the Easter Rising has been unveiled at Glasnevin Cemetery in Dublin.
The memorial wall bears the names of all those who died in the rebellion 100 years ago, Irish and British, military and civilian, attracting some controversy. 
The names are displayed chronologically without distinction between the different categories.
Almost 500 people were killed in the uprising, the majority of them - 268 - were civilians caught up in the violence.
There has been some controversy about the inclusion of British military forces on the wall and a number of protesters gathered outside the cemetery to demonstrate as the interfaith service took place inside.
A significant garda presence monitored the protest events.
A 15-year-old boy was arrested and taken to Mountjoy Garda Station.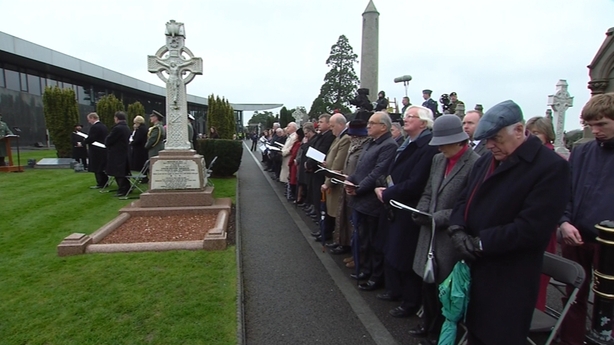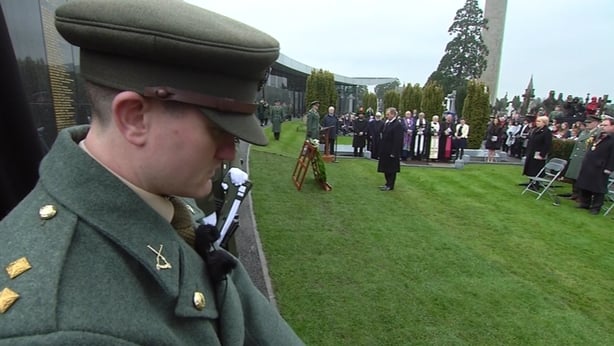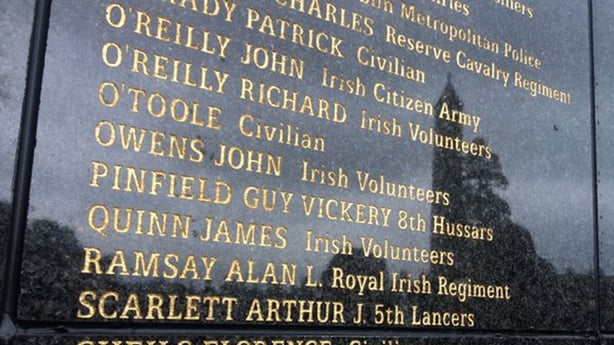 The names of 119 British soldiers, some of whom are buried in Glasnevin, are engraved on the reflective black granite stones.
The Glasnevin Trust has insisted the memorial is an attempt to present the historical facts, without hierarchy or judgement.
Chairman of Glasnevin Trust John Green told the service the wall reflected modern Ireland.
John Green discusses Glasnevin's 'Remembrance Wall' showing the names of all those who died during the Easter Risinghttps://t.co/v6pphRA5sK

— RTÉ News (@rtenews) April 3, 2016
"Behind each and everyone of these lost lives is a story of heartbreak, no matter what side the person served on or indeed for those innocently caught up in the conflict," he said.
"One hundred years on we believe this memorial reflects the time we live in, with the overwhelming majority of the Irish people wishing to live in peace and in reconciliation.
"But it is for each visitor to take from the wall what they wish."
Senior church figures from a range of faiths and humanist representatives were among those to speak at the ceremony.
The project has drawn inspiration from an international memorial near Arras in France that lists the names of 580,000 people killed in fighting on the western front in the First World War.
Taoiseach Enda Kenny laid a wreath during the event, which is part of the official State programme commemorating the uprising.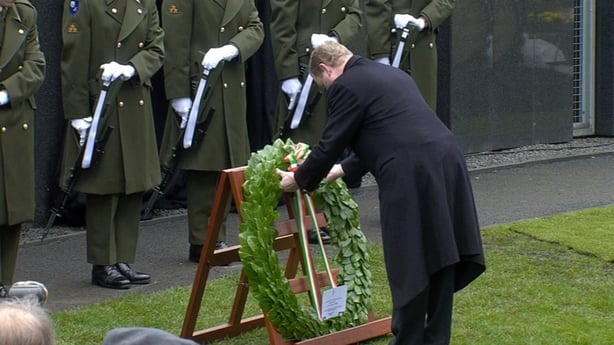 Conradh na Gaeilge expressed its disappointment about a spelling mistake on the new memorial wall.
The wall is titled Éirí Amach na Cásca but the word Éirí meaning Rising appears with a fada on the first i, instead of on the E.
Éirí nó eírí amach na Cásca?? Spelling mistake on the new memorial wall... #gaeilge pic.twitter.com/pLjWviEFQe

— MaireT (@MaireTNC) April 3, 2016
Julian de Spáinn of Conradh na Gaeilge said the mistake illustrates a laziness toward the Irish language and he said he can't understand why those involved didn't ensure that the Irish was as accurate and correct as the English spelling on the wall.