The number of migrants entering Germany from Austria fell more than seven times in March to below 5,000 due to the introduction of border controls by countries along the Balkans migrant route, an interior ministry official said today.
Chancellor Angela Merkel is under pressure to deliver on a promise to slow the arrival of migrants and refugees after 1.1 million people entered Europe's biggest economy last year, triggering fears about the cost and how to integrate them.
In February, 38,570 migrants arrived in Germany from Austria, already down sharply from 64,700 in January. That figure fell to below 5,000 for March.
Austria is the main entry point for migrants crossing into Germany.
Austria imposed border restrictions in February, causing a domino effect in Europe that left thousands of people - many fleeing war and violence - stranded in Greece.
Critical of the tighter border controls, Ms Merkel is banking on a controversial EU-Turkey deal, which takes effect on Monday, designed to slow the flow of migrants into Western Europe.
The deal gives Turkey political and financial benefits in exchange for taking back refugees and migrants who cross to Greece.
Under the agreement, which would effectively seal off the main route by which a million migrants crossed the Aegean Sea to Greece last year, Germany is obliged to initially take 1,600 migrants and make 13,500 places available.
An interior ministry official said that about 40 people could arrive on Monday.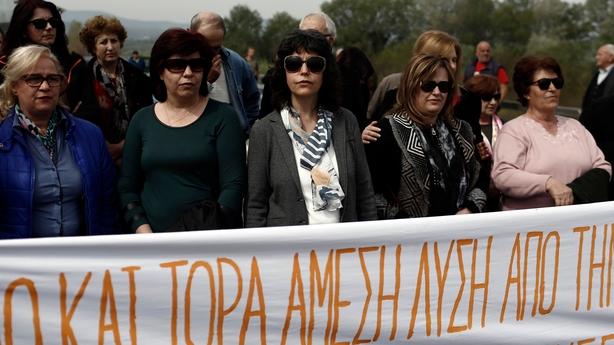 Many politicians expect new routes to open up as Mediterranean crossings to Italy from Libya resume.
Although Ms Merkel's popularity has bounced back in the last month or so, her conservative party (Christian Democratic Union) is still suffering in opinion polls while the anti-immigrant Alternative for Germany (AfD) made big gains in state elections last month.
The number of people entering Germany has fallen so sharply that some of the homes built by local authorities for migrants, for example in the eastern state of Thuringia, are empty.
In light of the housing surplus, Thuringia premier Bodo Ramelow has offered to take up to 2,000 migrants stranded near the northern Greek border town of Idomeni.