Fourteen of the 15 independent TDs involved in talks with Fine Gael and Fianna Fáil have called on the leaders of the two parties to meet this weekend.
Fianna Fáil leader Micheál Martin has said he will talk to his Fine Gael counterpart Enda Kenny after next Wednesday's vote on nominations for Taoiseach. A party spokesman said that remains the position.
However, Mr Kenny had offered to hold talks with him tomorrow as well as after next week's vote.
The first contact between the two party leaders was made earlier today, although there were conflicting reports about their conversation.
Mr Martin said he called Mr Kenny this morning and asked him about the vote on nominations for Taoiseach next Wednesday, which he said should proceed.
He also said he would talk to Mr Kenny after Wednesday.
Earlier, Fine Gael sources agreed the Fianna Fáil leader rang Mr Kenny, but say he concentrated on his meetings with independents on Monday and Tuesday and next Wednesday's vote.
However, Fine Gael has since clarified that when Mr Martin rang the Taoiseach he did mention talking to him after the vote on nominations for Taoiseach. 
The party reiterated that the Taoiseach rang Micheal Martin back and when he could not get through he text him to ask to meet tomorrow.
Mr Martin has said they will meet after Wednesday's vote.
Fine Gael members are to meet with independents at Government Buildings tomorrow, with Minister for Finance Michael Noonan as well as costings on the commitments being discussed.
They will then meet again on Monday and Tuesday to discuss a document on the proposals.
Fianna Fáil is holding its own round-table talks with the independents at the beginning of next week.
Martin wants to lead minority government
Earlier, Mr Martin told a press conference that he wants to lead a minority Fianna Fáil government.
He would not comment on whether he would support a Fine Gael minority government. 
He also said that water was a key policy for his party and not one it will pull back on.
He said those who have not paid their charges should pay them.
Meanwhile, a document on political reform circulated at a meeting of Fine Gael and independent TDs has reaffirmed Fine Gael's commitment to set up a citizens' assembly to review Seanad reform and the Eighth Amendment and it proposes four referendums should be held.
The document is a first draft and will be revised following discussions with the independents, many of whom have stressed the need for political reform.
The document contains many commitments that the party made in last month's General Election.
It states referendums should be held on a "woman's life within the home", removing the offence of blasphemy, Ireland's participation in the Unified Patent Court and also a poll on giving the office of ceann comhairle constitutional standing as recommended by the constitutional convention.
It also proposes setting up three more technical groups to allow smaller parties more speaking time.
Furthermore, it also states that a review be carried out into the powers of Oireachtas committees to conduct inquiries on foot of the recommendations of the Banking report and to look at setting up a new parliamentary investigation unit.
Other recommendations which were Fine Gael policy include a new Oireachtas budgetary office and Dáil committee.
Also suggested is a proposal to work with parties to relax the whip on an all party basis and remove it in committees except regarding budgetary matters. 
It also states that legislation is being drafted to reform the judicial appointment process and in particular the Judicial appointments board.
Fine Gael using partnership approach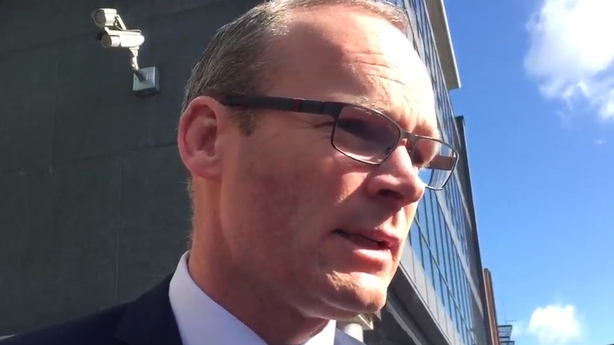 Arriving for the talks, Minister for Agriculture Simon Coveney said Fine Gael is using a partnership approach with independents and listening to what they have to say. 
He said Fine Gael wants to speak to Fianna Fáil but wants to go to them with a proposal for government agreed with independents.
Mr Coveney said his party will continue to work with independents through the weekend and try to finalise a document for Monday which they can take to other political parties.
He emphasised Fine Gael has no problem talking to Fianna Fáil. 
Speaking as he arrived at the talks, Independent TD Shane Ross said that it is premature to expect a deal on government by Monday as independents will be meeting with Fianna Fáil on both Monday and Tuesday so it is unlikely they will reach a deal with anyone else before then. 
He said it is up to Fine Gael leader Enda Kenny and Fianna Fáil leader Micheál Martin to speed up the process and they are not doing that. 
Deputy Mattie McGrath said Fianna Fáil and Fine Gael need to talk to each other because whatever the outcome of the ongoing discussion in Government Buildings it will not work without the support of the main opposition party.  
He said it is pitiful that the two parties have not talked to date. 
He also expressed wariness about Fine Gael's drive to put a package together for Monday, saying Mr Coveney wanted to box independents in.