The Rolling Stones have performed a historic free concert in Cuba after the band's music was banned for years.
Mick Jagger addressed the crowd in Spanish saying: "Hola Habana, buenas noches mi gente de Cuba" - which translates as "Hello Havana, goodnight my people of Cuba", state media reported.
He continued: "We're finally here. I'm sure this will be an unforgettable night."
The show went ahead despite reports that the Pope had tried to halt the Good Friday concert.
"They have made a promise to the Cuban people and won't let them down," a tour source said.
The band's music was banned in Cuba for many years because it was considered subversive and it was banned from the radio.
Cubans listened to their music in secret, passing records from hand to hand and the band built up a huge fan base on the isolated island.
Hundreds of thousands of those fans poured into the Ciudad Deportiva stadium to watch the veteran rockers.
Mr Jagger, Charlie Watts, Keith Richards and Ronnie Wood flew into Jose Marti international airport on Thursday with family members and crew aboard their private plane.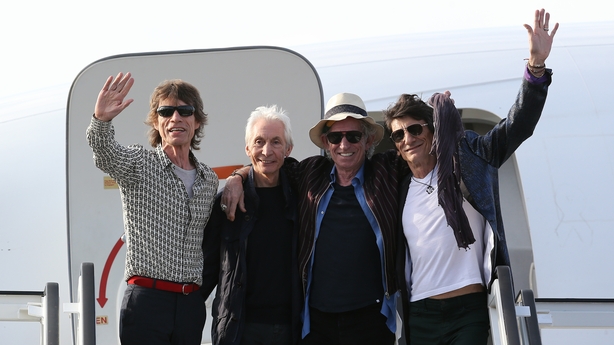 Their concert is the second landmark event in the country this week, after the visit by American President Barack Obama - the first US leader to visit the country since the 1959 revolution.
Mr Jagger greeted fans in Spanish on their arrival at the airport, saying he was happy to be there.
Before their landing the band released a video in Spanish with English subtitles, saying: "We have performed in many special places during our long career but this concert in Havana is going to be an historic event for us. We hope it will be for you too."
The Rolling Stones have been touring Latin America with concerts in Mexico, Peru, Colombia and Brazil.