As final preparations take place for the main 1916 centenary events this weekend a new visitor centre has been officially opened at the GPO.
The weekend commemorations will begin tomorrow with a wreath laying ceremony at the Garden of Remembrance. Traffic restrictions are also in place in O'Connell Street ahead of Sunday's parade.
Today, acting Taoiseach Enda Kenny and acting Arts Minister Heather Humphreys opened the new Witness History Visitor Centre in the GPO.
It will open to the public next Tuesday and will become a permanent visitor centre commemorating the events of 100 years ago.
Former Taoiseach Liam Cosgrave was also in attendance. His father WT Cosgrave reopened the GPO after its reconstruction in 1929.
Mr Kenny said: "This amazing new exhibition will give visitors a real sense of what it was like to be in the General Post Office and Dublin a century ago and to reflect on how those days shaped Ireland over the following 100 years."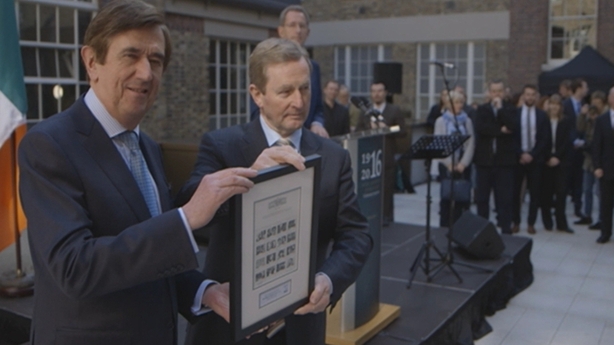 Meanwhile, several thousand people marched from Kilmainham to Arbour Hill Cemetery in Dublin to commemorate Easter 1916.
Those taking part included the Cabra Historical Society and flute and pipe bands - including two from the US.
The event was organised by Sinn Féin and the gathering was addressed by party president Gerry Adams.
Northern Ireland Deputy First Minister Martin McGuinness also attended the event.
The proclamation was read out and wreaths laid on the graves of 14 executed leaders of the rising.
Mr Adams said the State was "not the Republic proclaimed in 1916" and he added "efforts to pretend that it is, is an insult to the brave men who lie here".
Mr Adams also accused Mr Kenny of turning his back on the border.
"Enda Kenny thinks Northern Ireland is a foreign country." he said.
Mr Adams added that the proclamation remains the mission statement for Irish republicanism.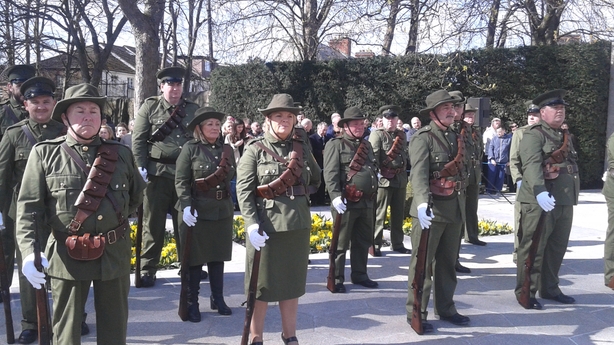 Earlier, a commemorative service was staged in Dublin for all those who died in the capital during Easter week, 1916.
The names of all 482 fatalities were read aloud by members of the congregation at the Unitarian Church in St Stephen's Green together with members of the public.
Another service was then held at which the names of all the more than 3,500 fatalities from the Northern Ireland troubles were read out.