Belgian police are hunting for a "third man" filmed with two suicide bombers at Brussels Airport as evidence suggests the same jihadist network was involved in the deadly Paris attacks last November.
With pressure mounting on Europe to improve cooperation against terrorism, EU interior and justice ministers were to hold emergency talks on a joint response to Tuesday's bombings in Brussels, which killed at least 31 people and injured 270.
French Prime Minister Manuel Valls led calls for a "strong European response", but officials say many states, including France, withhold their most important data despite a mantra of willingness to share intelligence.
The chief surviving suspect linking the Paris and Brussels attacks, Frenchman Salah Abdeslam, 26, arrested in the Belgian capital last week, appeared briefly in court this morning with two other suspects and was remanded in custody until 7 April.             
His lawyer, Sven Mary, who requested the adjournment, said Abdeslam was no longer opposed to being extradited to France.             
Meanwhile, six people have been arrested as part of a police operation in Brussels. 
Turkey's president criticised Belgium for failing to track Ibrahim El Bakraoui, a convicted armed robber whom it expelled last year and who blew himself up at the airport on Tuesday an hour before his brother Khalid, a fellow convict, killed about 20 people at Maalbeek metro station in the city centre.
Belgium's interior and justice ministers have both offered to resign over the failure to track El Bakraoui.
Interior Minister Jan Jambon said Prime Minister Charles Michel had asked him to stay on - "In time of war, you cannot leave the field," Mr Jambon told VTM television.
Justice Minister Koen Geens also offered to go but would stay on, a ministry spokesperson said.
Security sources told Belgian media that the other suicide bomber at the airport was Najim Laachraoui, a veteran Belgian Islamist fighter in Syria suspected of making explosive belts for November's Paris attacks, who also detonated a suitcase bomb at the airport.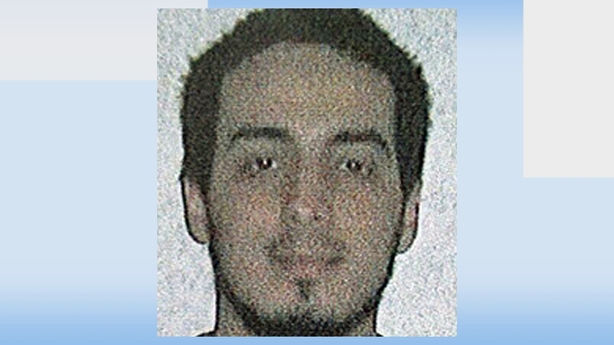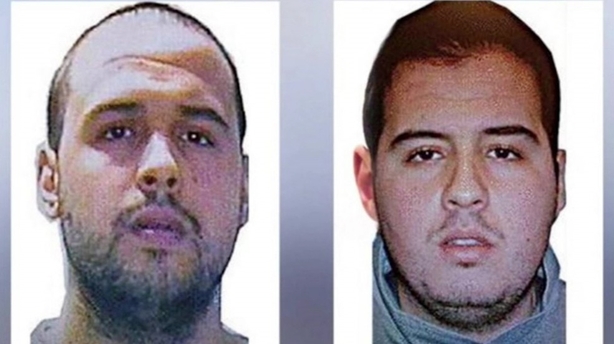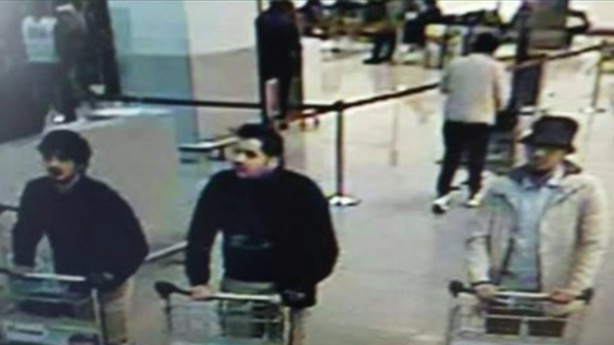 The third suspect captured on airport security cameras pushing a baggage trolley into the departures hall alongside Laachraoui and Bakraoui is now the target of a police manhunt. He has not been named.
The bespectacled man wearing a cream jacket and a black hat ran out of the terminal, federal prosecutors said, and a third suitcase bomb, the biggest of the three, exploded later as bomb disposal experts were clearing the area.
Investigators now believe a second bomber was involved in the metro attack close to European Commission headquarters.
The man was spotted on security cameras carrying a heavy bag, but his identity was unknown and it was not clear if he had died or escaped.
A computer-generated image showed a young man with hollow cheeks, a tiny goatee beard and thick black eyebrows.
US Defence Secretary Ash Carter said the bloodshed in the capital of the European Union, not far from NATO headquarters, showed Washington's European allies should do more to fight so-called Islamic State alongside US efforts in the Middle East.
"The Brussels event is going to further signify to Europeans that, as we have been accelerating our campaign to defeat ISIL in Syria and Iraq and elsewhere, they need to accelerate their efforts and join us," Mr Carter said, using another acronym for Islamic State.
Democratic US presidential candidate Hillary Clinton criticised the lack of cooperation among European countries, saying the EU lacked a system for exchanging air passenger data or a joint intelligence centre to share information.
Casualties from Tuesday's attack come from about 40 nations, drawing an international outpouring of support for Brussels during three days of mourning.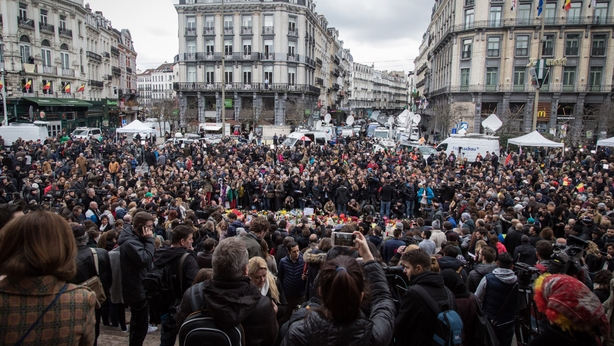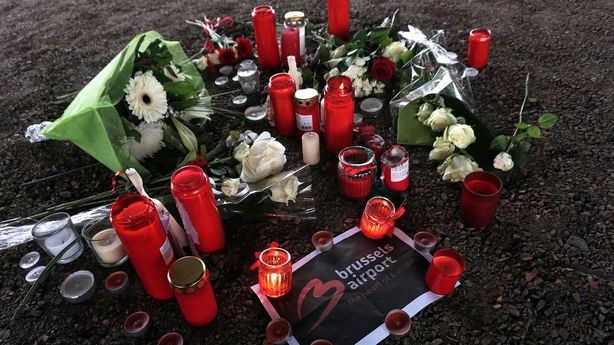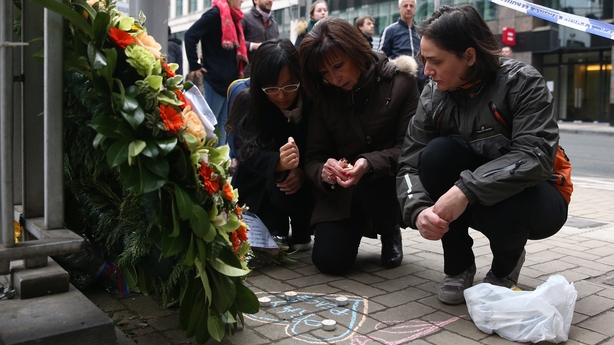 Washington said Secretary of State John Kerry would visit Belgium tomorrow.
The Belgian government deflected criticism from Turkey's President Tayyip Erdogan, saying the elder Bakraoui brother, 29, had not been deported to Belgium but to the Netherlands.
Officials have said that, as in the case of one of the Paris suicide bombers, they cannot detain militant suspects expelled from Turkey without evidence that they have committed a crime.
Ibrahim El Bakraoui, was deported twice from Turkey last year, in July and August, a Turkish government official said.
              
A second senior Turkish official said Bakraoui's initial deportation in July was based on police suspicion that he was a foreign militant fighter, but no crime was committed in Turkey, describing his expulsion as an "administrative deportation".
"Belgium ignored our warning that this person is a foreign fighter," Mr Erdogan said earlier.
Belgian media said the bomber had been released from a Belgian prison in 2014 after serving four years of a ten-year sentence for armed robbery.
He skipped two probation meetings last June and was ordered to return to prison in August. But police could not find him.
The case highlighted Belgium's problem with some 300 locals who have fought in Syria, the biggest contingent from Europe in relation to its national population of 11 million.
At the time of the Paris attacks, in which 130 people were killed by Brussels-based militants, its security service had fewer than 600 staff.
The government has since raised spending on police and intelligence.
Foreign Minister Didier Reynders, leading efforts to counter international criticism of Belgian policies toward containing violent extremists among its Muslim community, which makes up about 5% of the population, said security had to be balanced with civil rights.
As Brussels struggled to return to normal, its airport is to stay closed to passengers until at least Sunday, with the departure hall sealed off by investigators.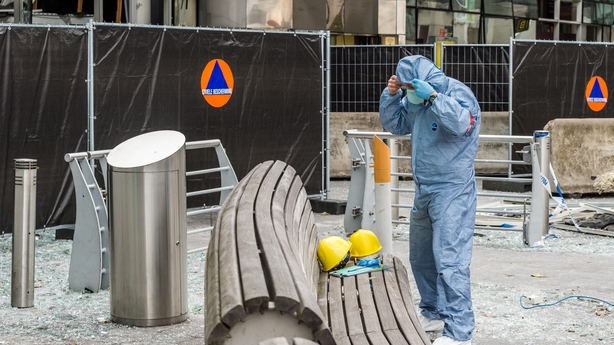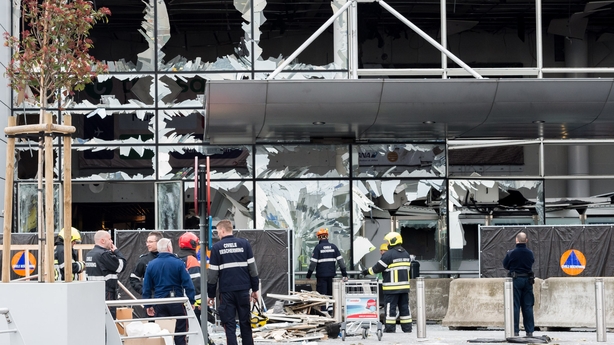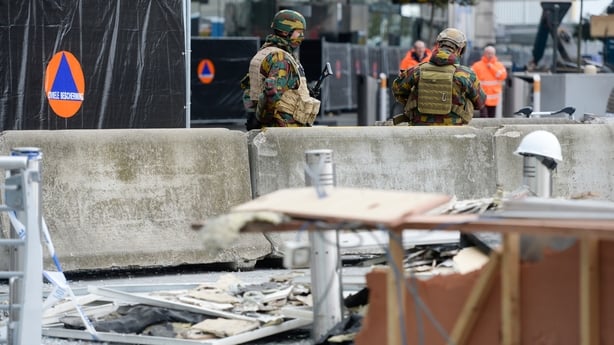 Travellers on the busy Easter weekend were diverted to Antwerp, Liege and the northern French city of Lille.
Brussels Airlines advised passengers to arrive up to three hours before their flight because of security measures.
There were long lines outside the terminal in Liege as people waited in the rain to put their baggage through new outdoor scanners.
Meanwhile, Belgium has lowered its security threat level from maximum to one level below.