Louise James has paid tribute to Donegal man Davitt Walsh saying she will be "eternally grateful" to him for saving her baby, Rionaghac-Ann.
Hundreds of mourners gathered today at the Holy Family Church in Ballymagroarty in Derry for the funeral of five members of her family who died in a drowning accident in Buncrana on Sunday evening.
Sean McGrotty, 49, died along with his two sons Mark, 12, and eight-year-old Evan, their grandmother Ruth Daniels, 59, and her 14-year-old daughter Jodie Lee Daniels when their car sank after sliding off a slipway into Lough Swilly.
The only survivor was four-month-old baby Rionaghac-Ann who was rescued from the water by Mr Walsh.
Speaking at the service Ms James thanked Mr Walsh for entering Lough Swilly to save baby Rionaghac-Ann "without fear for his own life."
"I will be forever grateful to you. Thank you so, so much," she said to applause from the congregation.
She said her family went to watch the sun set together on Buncrana pier "unbeknownst to them all an angel would be near".
She also thanked Francis Crawford for alerting the emergency services and his effort to reassure Sean that help was on the way.
Parish priest Fr Patrick O'Kane said five beautiful people have been taken tragically from our midst.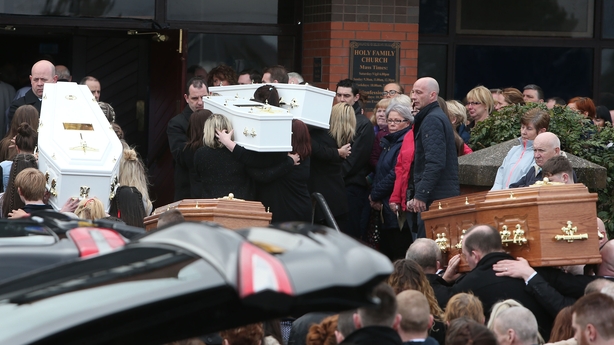 In his homily, he described to the congregation how he had first heard of the terrible tragedy in Buncrana and prayed for the priest who would have to make sense of it, not knowing that it would be him.
"Little did I think I was praying for myself. Then at 7am on Monday morning I got a call 'It's Louise James here, Fr Paddy, that was my husband, my children, my mother, my sister that died yesterday evening'."
Fr O'Kane said when he met her at her home all he could say was "I am so, so sorry".
He said: "We struggle today to finds words to speak the unspeakable. We are bewildered by the intensity of this grief for I know Louise that … there is nothing I can say today to alleviate your pain and sense of loss."
Fr O'Kane spoke of the self-sacrifice of Sean on Sunday as he desperately tried to save his family.
But he told mourners there is "one little silver of light, one ray of hope bravely breaking through the dark clouds and it is this – little Rioghnach Ann has been saved".
He spoke of the bravery of Mr Walsh, saying: "Davitt, today we salute you as our hero".
Fr O'Kane also thanked Mr Walsh's girlfriend Stephanie Knox "for her quick thinking as she warmed the baby's little blue body back to life".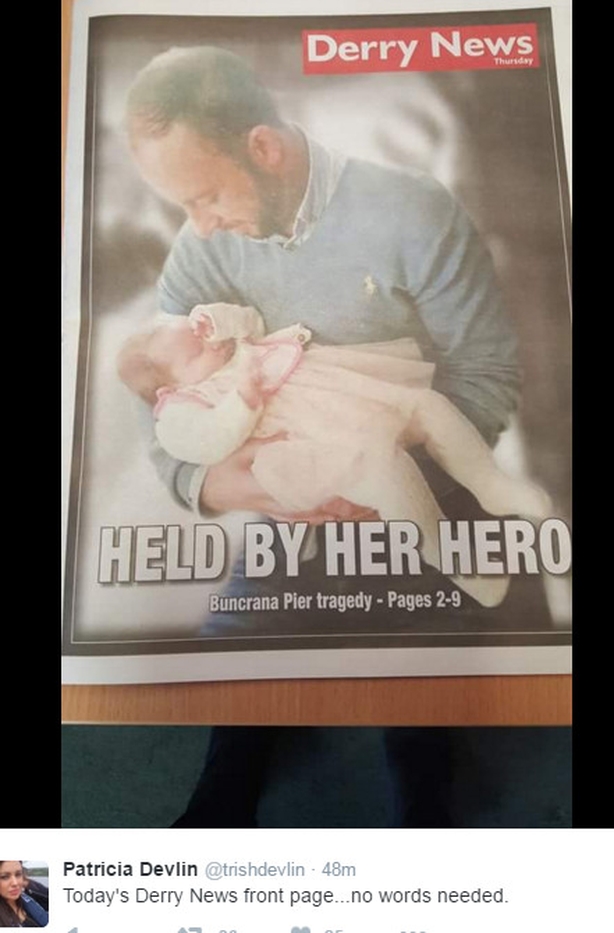 He told mourners of how Ms James met the couple and thanked them for trying to save the lives of her sons.
He also revealed Ms James's words to them when they met at the parochial house on Tuesday.
"Don't blame yourself that you did not do more - we are so grateful for what you did. It could easily have been seven deaths, not five," she told them.
Mourners heard that Evan, who had muscular dystrophy, had spoken to his mother by phone minutes before the tragedy and told her "Mammy I miss you so much. I am going to give you the biggest, tightest hug you ever got, when I see you again."
Fr O'Kane spoke of the generosity of spirit seen in the days since the tragedy, of those like Mr Crawford and of the work of the emergency services and how the community has rallied around the families.
Bishop of Derry Donal McKeown told the service that love and life are stronger than death and the bitterest tragedy.
"These have been sombre days, not only in this city but right across this island," he said.
"The banks of daffodils seemed to wave naively in the face of the horror that happened in a few minutes on an apparently harmless pier at Buncrana. And the news of the awful events in Brussels underlined just how fragile life can be."
The service was also attended by Church of Ireland Bishop Ken Good, Commandant Louise Conlon, representing President Michael D Higgins, Kieran Carey, representing Acting Taoiseach Enda Kenny, and Northern Ireland Deputy First Minister Martin McGuinness.
Speaking after the funeral Fr O'Kane said that the city of Derry is "numb and can't get a handle of the depth of anguish and grief of this one family."
Speaking on RTÉ's Six One, Fr O'Kane said that on the way to the cemetery, the roads were lined with people, crying and showing their solidarity with the family.
He said that there is no harm in questioning whether there is a god, adding the God he believes in likes to be questioned, but said: "God is bigger and beyond what is imaginable."
He said the entire Derry community, along with the police and City Council, have been such a support.