The so-called Islamic State group has claimed responsibility for suicide bomb attacks on Brussels airport and a rush-hour metro train in the Belgian capital, which killed at least 30 people.
Police are hunting a suspect who fled the airport terminal.
Police issued a wanted notice for a young man in a hat who was caught on CCTV pushing a laden luggage trolley at Zaventem airport alongside two others who, investigators said, later blew themselves up in the terminal, killing at least ten people.
Officials said about 20 died on the train close to European Union institutions.
Islamic State said that too was a suicide attack.
The tolls were vague because of the carnage at both sites.
The coordinated assault triggered security alerts across Europe and drew global expressions of support, four days after Brussels police had captured the prime surviving suspect in IS's attacks on Paris last November in which 130 people were killed.
Belgian authorities were still checking whether the attacks were linked to the arrest of Salah Abdeslam, said federal prosecutor Frederic Van Leeuw.
In a statement, IS said "caliphate soldiers, strapped with suicide vests and carrying explosive devices and machine guns" had targeted the airport and metro station, adding that they had set off their vests amidst the crowds.
It was not clear, however, that the attackers used vests and Zaventem mayor Francis Vermeiren said the suicide attackers had their bombs in their luggage.
"They put their suitcases on trolleys, the first two bombs exploded. The third also put his on a trolley but he must have panicked, it didn't explode."
Mr Van Leeuw said: "A photograph of three male suspects was taken at Zaventem. Two of them seem to have committed suicide attacks.
"The third, wearing a light-coloured jacket and a hat, is actively being sought."
A government official said the third suspect had been seen running away from the airport building.
Brussels attacks: As it happened ¦ Timeline ¦ Developments since Paris attack
Police later found and detonated a third explosive device at the airport.
Security commentators noted that the two men in dark clothes who officials said had died were both wearing gloves on their left hands only.
#TERRORISME Qui reconnait cet homme? https://t.co/rYdyrBSJqF pic.twitter.com/xKnAXb9eGs

— Avis de recherche (@police_temoin) March 22, 2016
One expert speculated they might have concealed detonators.
The man in the hat was not wearing any gloves.
"If you recognise this individual or if you have information on this attack, please contact the investigators," a police wanted notice for the third man read. "Discretion assured."
Belgian police appealed to travellers who had been at the airport and metro station to send in any photographs taken before the attacks in their efforts to identify the bombers.
After questioning Abdeslam, police issued a wanted notice yesterday, identifying 25-year-old Najim Laachraoui as linked to the Paris attacks.
The poor quality of today's CCTV images and of the Laachraoui wanted poster left open whether he might be the person caught on the airport cameras.
Citizens of the United States, Spain and Sweden were among the injured, their governments reported.
A witness said he heard shouts in Arabic and shots shortly before two blasts struck the crowded departure lounge at the airport.
We will defend and protect our values and freedom. We are confronted with a barbaric enemy. But we are determined and united.

— Charles Michel (@CharlesMichel) March 22, 2016
Belgian media said police found a Kalashnikov assault rifle next to the body of an attacker.
A lockdown imposed after the attacks was later eased and commuters and students headed home as public transport partially reopened.
IS, which controls parts of Iraq and Syria and has supporters and sympathisers around the world, said: "We promise the crusader alliance against the Islamic State that they will have black days in return for their aggression against the Islamic State."
Belgium, home to the EU and the headquarters of the NATO military alliance, has sent war planes to take part in operations against the group in the Middle East.
US President Barack Obama led calls of support to Belgian Prime Minister Charles Michel.
"We must be together regardless of nationality or race or faith in fighting against the scourge of terrorism," Mr Obama told a news conference in Cuba.
"We can and we will defeat those who threaten the safety and security of people all around the world."
Mr Michel spoke at a Brussels news conference of a "black moment" for his country.
"What we had feared has come to pass."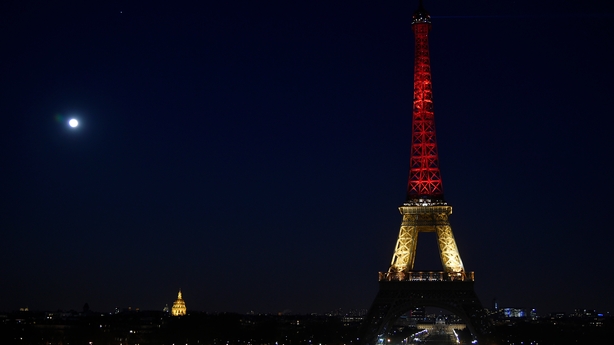 In Paris, the Eiffel Tower was lit up with the colours of the Belgian flag tonight in a show of solidarity with Brussels.
The Twitter hashtag #JeSuisBruxelles was trending as were cartoons riffing on the theme of the city's irreverent emblem, Manneken Pis, a small fountain statue of a boy urinating.
In the images, he is cheekily relieving himself on a Kalashnikov.
Brussels airport will remain closed tomorrow but the metro, trains and other transport will open, at least in part.
Video showed devastation in the airport hall with ceiling tiles and glass scattered across the floor.
Bloodied bodies lay around.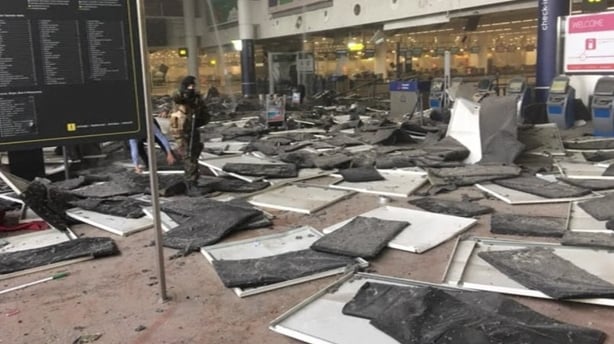 Britain, Germany, France and the Netherlands, all wary of spillover from conflict in Syria, were among states announcing extra security measures.
Security was tightened at the Dutch and French borders with Belgium.
The blast hit the train as it left the platform at Maelbeek station, close to EU institutions, heading to the city centre.
"We are at war and we have been subjected to acts of war in Europe for the last few months," said French Prime Minister Manuel Valls, who is due in Brussels tomorrow for a previously arranged visit.
Train services on the cross-channel tunnel from London to Brussels were suspended.
The Department of Foreign Affairs has advised people to delay non-essential travel to Brussels until the situation has stabilised.
While most European airports are known for stringent screening procedures of passengers and their baggage, that typically takes place only once passengers have checked in and are heading to the departure gates.
Abdeslam, the prime surviving suspect for the Paris attacks on a stadium, cafes and a concert hall, was captured by Belgian police after a shootout on Friday.
Interior Minister Jan Jambon said yesterday the country was on high alert for a revenge attack.
Department of Foreign Affairs monitoring situation
Minister for Foreign Affairs Charlie Flanagan this afternoon said presently available information indicates there are no Irish victims of the attack.
Speaking on RTÉ's News at One, he said his department was actively engaged with the Belgian authorities and the Irish Ambassador in Brussels is monitoring the situation on the ground.
Explosión metro maalbeek pic.twitter.com/9KIEhLMOin

— Serge Massart (@massart_serge) March 22, 2016
Taoiseach Enda Kenny tweeted: "Once again Europe is under attack. We stand with Belgium."
The Department of Foreign Affairs said people with concerns for Irish citizens can call +353 01 418 0200.
It said that any Irish citizens in Brussels or Belgium should exercise caution and follow the instructions of local authorities.
Ireland 'not immune from the threat' of attack