The man who saved a young baby from drowning in a tragedy that claimed five other lives in Buncrana has described how the infant's father chose to stay with his other children rather than save himself.
Davitt Walsh swam out into Buncrana harbour in north Co Donegal last night in an effort to reach the six people trapped in a car that had slid off the slip way into Lough Swilly.
Those who died were Sean McGrotty, 49, his sons Mark, 12, and Evan, 8, his mother-in-law Ruth Daniels, 59, and Ms Daniels' daughter Jodie Lee Daniels, who was 14.
Mr McGrotty's four-month-old baby daughter Rionaghac-Ann was rescued and is said to be in a stable condition in hospital.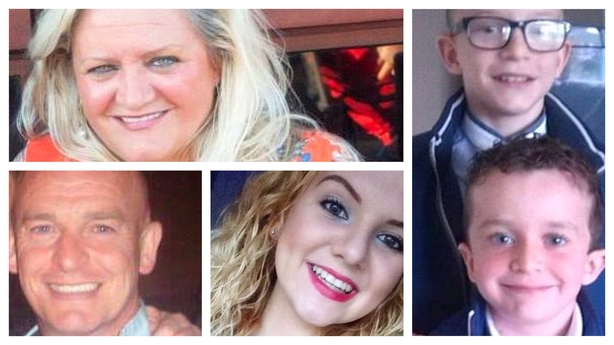 Speaking to RTÉ News, Mr Walsh said he heard the family screaming "help, help, help" before he swam out to the sinking car.
Mr Walsh, 29, described seeing Mr McGrotty hitting the window, which was ajar, with his elbow in order to break it.
"I'm guessing the electrics broke and I start shouting 'please everybody has to get out of the car, the car's going to go down, everybody please get out.'
"At this stage the father sat out on the ledge of the window and the water started to seep in and he handed me the baby infant and he said 'take the baby'.
"He said 'save the baby' and he stayed and went back in with his family and the car just disappeared," Mr Walsh said.
Interview with Davitt Walsh, who saved baby Rionaghac-Ann in yesterday's tragedy in Buncrana https://t.co/a228dN4yDu

— RTÉ News (@rtenews) March 21, 2016
Sean McGrotty's brother, Frank, spoke of the family's devastation at the loss of five family members, coming eight months after the death of his sister.
He said: "This has devastated the whole family we are totally in shock and dismay. I don't know how we're going to come back from this one.
Frank McGrotty said his brother doted on his two sons and his new baby daughter.
"Thank god she survived. I want to thank the man who saved her, I don't know your name sir, but you're a hero in this family's eyes".
Frank McGrotty: "I want to thank the man who saved her [baby Rionaghac-Ann], you're a hero in this family's eyes" https://t.co/JL3qhQMQrv

— RTÉ News (@rtenews) March 21, 2016
All of those who died were from the Derry area.
It is believed their Audi Q7 slipped from Buncrana jetty into Lough Swilly shortly after 7pm last night.
In a statement the Daniels and McGrotty families said they have been devastated by the tragic events of last night.
They said they have been inundated with support both from the local community and further afield which is "deeply appreciated".
The families have appealed to the media to respect their wish for privacy at this time.
A funeral service for those who died will take place at the Holy Family parish church in Ballymagroarty in Derry at 2pm on Thursday.
A Book of Condolences is due to open in Derry in the coming days.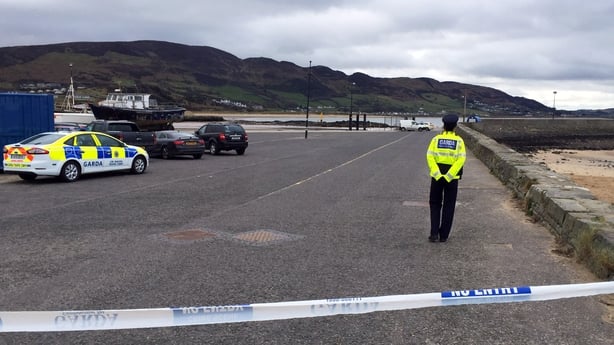 At a press conference this afternoon, gardaí said that baby Rionaghac-Ann is doing very well in hospital.
Superintendent Colm Nevin said Mr Walsh displayed exceptional bravery and gardaí thanked the public who came to the assistance of those in distress.
He said it was a terrible tragedy – one of the biggest in the area for a long, long time.
Gardaí are treating it as a very tragic accident and have appealed for witnesses to come forward.
Supt Colm Nevin has said the baby girl rescued from the car in Buncrana is doing very well in hospitalhttps://t.co/NmQ3gsIQqa

— RTÉ News (@rtenews) March 21, 2016
Mr Walsh was taken by ambulance from the scene to Letterkenny General Hospital, where he was treated for shock and received stitches on his feet, which were cut on the rocks during the rescue, before being released last night.
An eye witness described how he shouted to the driver of the car when it was caught on the slipway of the pier.
Francis Crawford said the driver asked him to call the coast guard, which he did, but that within ten minutes the car had disappeared.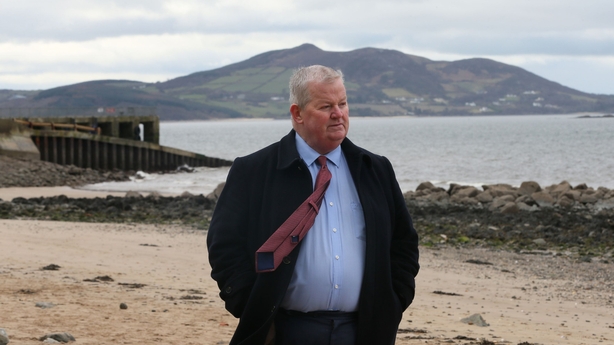 Mr Crawford said: "I was hoping against hope and praying ... that the car would stay afloat knowing that everybody [emergency services] was on their way.
"And then just all of a sudden the whole lot just went under the water.
"And that was it, and all within ten minutes, the family was gone, except the wee baby."
He said that there was nothing he or anyone else could do and the emergency services arrived quickly.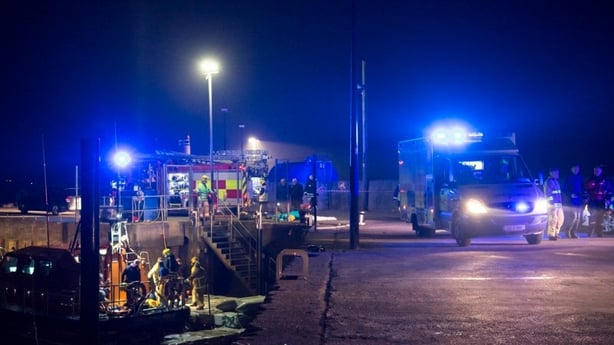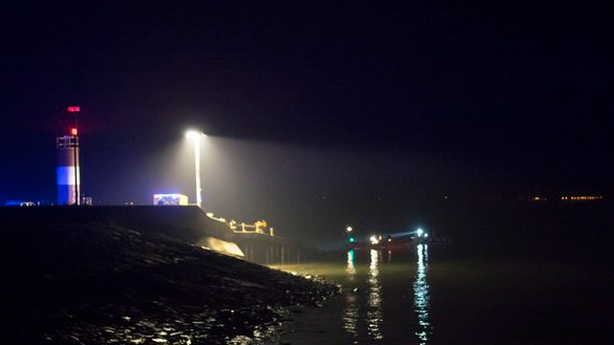 "The divers were here from Derry, the ambulances were here, the fire service was here, the lifeboat was here, the coast guard was here, the helicopter was here. Everybody did what they could do but it was too late."
Mr Crawford said it was heartbreaking to witness the event.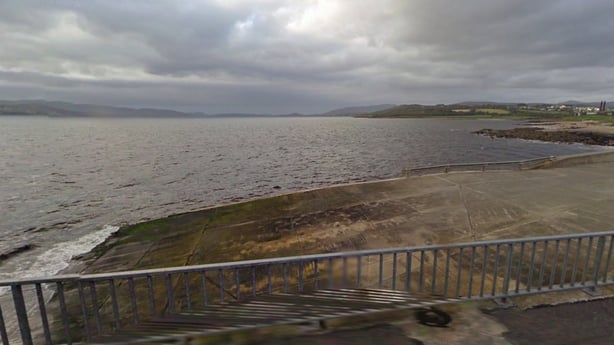 One theory is that the driver lost control of the vehicle in what were difficult conditions.
The jetty has a reputation for being slippery due to algae.
RNLI crew at scene within minutes
An operations manager with the RNLI said crews had just finished a training exercise when they got a call to return to Buncrana pier.
Speaking on RTÉ's Today with Sean O'Rourke, John McArthur said crews were at the scene of the tragedy within minutes, but the rescue operation changed very quickly to recovery.
Mr McArthur said crew members got to the car within minutes but it was too late.
He said they have never witnessed a tragedy of this scale in Lough Swilly before.
John McArthur, Operations Manager with Lough Swilly RNLI, describes the rescue and recovery effort at Buncranahttps://t.co/0m8JutqMFc

— RTÉ News (@rtenews) March 21, 2016
The top area of the slipway is quite wide and it would be quite common for cars to turn on it, he said.
Mr McArthur said the weight of the car would have meant it gathered momentum as it slid on algae into the water.
He added it probably was not immediately obvious to people that such a tragedy could occur.
Joe Joyce of Lough Swilly RNLI said three bodies were recovered from the water and two were found in the submerged car.
"There is just a numbness about what happened. Such a simple thing. It is very, very hard to take it all in. Whilst we train for this nothing can prepare you for what happened yesterday evening."