"Please let them have made it. Please let them have made it." That phrase looped through my head as I picked my way along the cliff-top path on the Turkish side of the Aegean Sea, writes RTÉ Deputy Foreign Editor Eimear Lowe.
The signs of human life were everywhere, crumpled water bottles; empty food cans; the charred remains of camp-fires and lots and lots of children's clothes.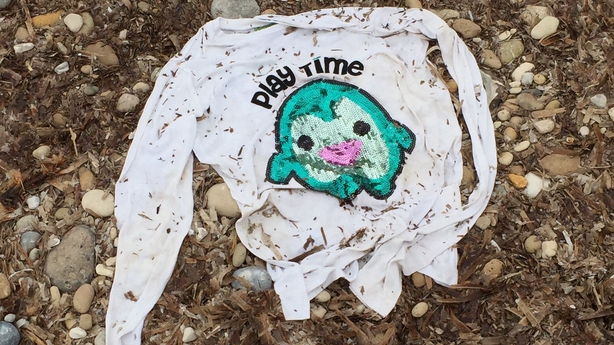 This was the detritus of life lived on the road, and it was hard not to imagine the people to whom these desolate shoes and dirty blankets had belonged.
Across the narrow strait of water loomed the Greek island of Chios, clearly visible on the horizon.
How many people had sat here, perched high above the sea gazing across at Europe which lay so tantalisingly close? I stood on the edge of the cliff scanning the sea for any boats.
Looking down I could see the remains of an inflatable dinghy washed up on the rocks below. With a sinking heart, I noted the trail of clothes and water bottles leading to a transparent pack of nappies.
While I wanted to believe that whoever was on that boat had survived, I knew there was a strong possibility that the baby for whom those nappies were intended had drowned. One of the 400 plus people who'd lost their lives trying to cross this stretch of water in 2016 alone.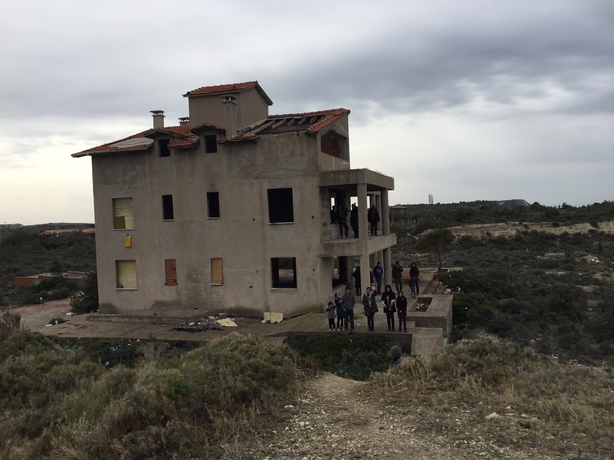 Not far along the cliff, we came to a derelict, half-built house.
Click here to view a 360-degree video* of what it was like inside the house
The site on which it sat was magnificent, commanding a breath-taking panoramic view of the Aegean.
As we drew close, we could hear a baby crying inside and a child's face appeared at one of the glassless windows.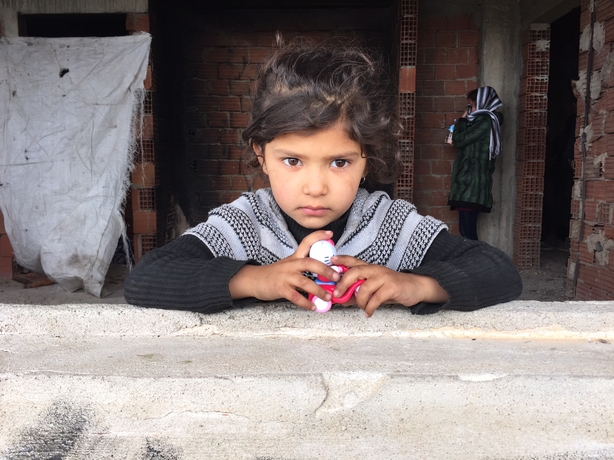 Within moments a group of young men appeared and gestured at us to come inside.
In total there were 48 people, including five separate families, sheltering in the house. They were all from Afghanistan and had been there for five days as they waited word from their smuggler that it was time to cross the Aegean.
19-year-old Samanta Hamid spoke near perfect English. She told us that they had been surviving on bread and water which we later learned was brought to them daily by the smuggler to whom one young man told me he had paid a total of $12,000 to get him from Kabul to Greece.
The conditions they were living in were dire but Samanta assured me that they had endured much worse during their month-long journey.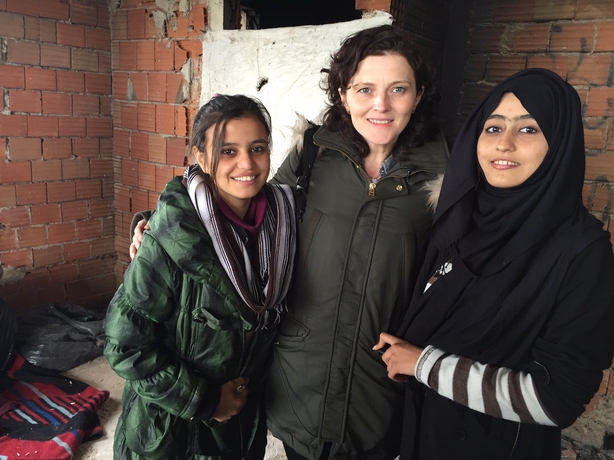 Their break for Europe had been prompted by the Taliban and their increasingly draconian restrictions on women.
The final straw for their mother was the news that her daughters were to be married off to Taliban fighters.
Shortly after, she set off on their odyssey to Europe with her two teenage daughters and two sons in tow. When I asked Samanta about the danger of crossing the Aegean Sea she told me that they were prepared to die and that they knew it was a real possibility.
However, they had to keep going forward because there was nothing for them in the countries they had left behind.
Back in Izmir, we sit in a restaurant in the impoverished area of Basmane which has become so popular with Syrian refugees that locals have taken to calling it 'Little Syria'. From our window seat we watch as Syrian families mill around, many of them carrying their belongings in battered ruck-sacks and black bin-liners.
Some are ushered into waiting cars driven by members of the smuggling gangs who are delivering them to the coast. They move quickly and urgently, desperate not to attract the attention of Turkish police who have a strong and very visible presence in the area.
Already we have met a taxi-driver who tells us he had his licence suspended for three months because he was caught taking Syrians to Cesme, the very tourist resort where we had spent the morning.
They didn't always have to hide from the authorities. Only two months ago they would have brazenly boarded buses to the sea but ever since Europe began negotiating with Turkey about stopping the flow of people reaching Greece, there has been a clampdown.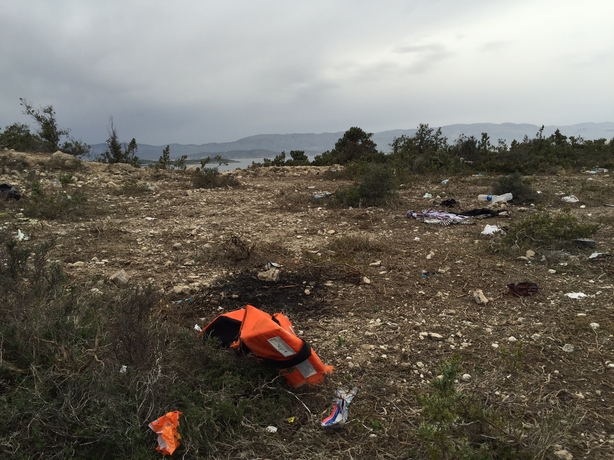 As we pay for our food, the waiter, a young man in his early 20s with a pinched face and old-fashioned wire-rimmed glasses, tells us that he used to work as an interpreter for IS.
He explains how they had forced him into their service when they came to his city but initially he was happy to oblige because he thought they were good for the people.
When he realised what they really were, he managed to escape along with three others. Shortly after, IS fighters came to his house and took his brother away. The waiter told us that he immediately rang his IS commander and promised to return to the city within days, begging him to return his brother to his family. Shortly after he got a call to say that IS had beheaded his brother.
"What age was he?" I stammer. "Twelve" came the anguished reply. As we stand slack-jawed at his story he tells us he can't speak on camera because IS know exactly where is he is and if he angers them further, they will exact revenge on other family members.
Later that afternoon we spot a family who we'd noticed the day before. Even among the throngs of Syrian families on the streets, this family were hard to miss.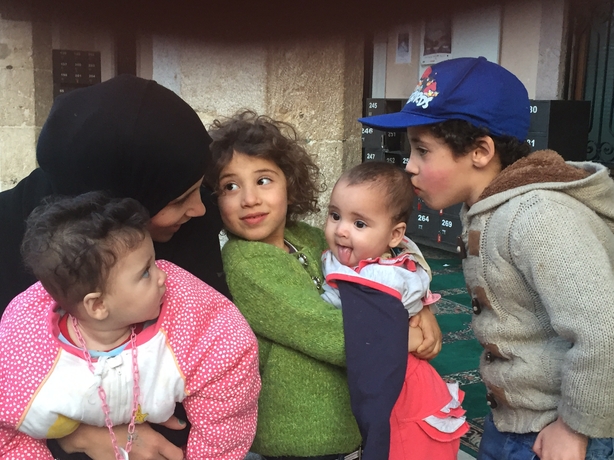 The two parents held tiny babies in the crooks of their arms, in the other hand they held onto twin sons, one of whom was profoundly physically disabled, the other appeared to have autism.
In their wake trailed a small curly haired girl who looked about four or five, and not for the first time I thought how difficult it was to be a parent during this migration crisis.
On this occasion they were spread out on the steps of the Mosque, with the two six-month-old babies sleeping in the midst of their scattered belongings. We approached them and through the pigeon Arabic-Turkish translation of an onlooker they told us that they were from the Syrian city of Palmyra and they were trying to get to Canada to get medical treatment for their disabled son.
They had no money and had been sleeping rough outside the Mosque for five nights surviving on the kindness of strangers. Later the Imam emerged, clearly in a bind about what to do with this family.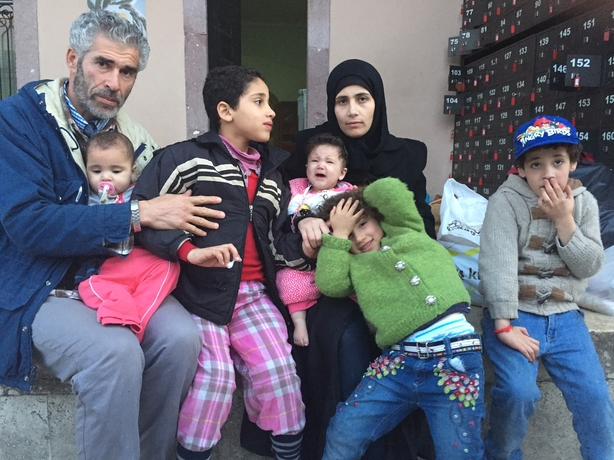 He tells us that he has offered to bring them to a refugee camp but they have refused and are determined to get to Greece despite not having any money. Before we leave them we ring the various organisations and NGOs we have met on our visit to Izmir to see if they can help this family.
The response is always the same, we will try but there are many similar families who need help.
Before we depart for home the following day we return to the Mosque to find them still there, although the babies are now wearing brand new socks courtesy of Mercy Corps.
Night falls, the cold draws in and we leave them huddled together on blankets spread out on the cold marble floor. As dire as their situation seems, five vulnerable children sleeping in a freezing cold Mosque, there are no doubt people still inside Syria who would swap places in a heartbeat.
---
By RTÉ Deputy Foreign Editor Eimear Lowe (@eimearlowe)
---
*360-degree videos allow viewers to use their mouse to drag the point of view around on desktop or move the phone or tablet around to see different angles.
The video must be viewed in Chrome on desktop computers or through the YouTube app on mobile devices. Simply move your phone to see the entire picture.