Independent TDs Mick Wallace and Clare Daly have said they have not been contacted by either Fine Gael or Fianna Fáil about possibly supporting a new government.
Mr Wallace, a Wexford TD, said it was not on the list of his priorities. 
He said both parties were "very comfortable embracing neo-liberalism" while in government and that he would walk from politics before working with a neo-liberal government. 
Mr Wallace said, however, that he would "absolutely love to be in government" and his dream would be to become the first minister for housing. 
The two TDs were speaking at a press conference in Dublin, at which the full details of a RED C poll commissioned by the pair on Irish neutrality was revealed.
The poll of 1,008 adults, conducted by RED C at the end of January, suggests that 55% of Irish adults believe that the United States should not be allowed to use Shannon Airport for military transit purposes. 41% believe they should be allowed. 
It also suggests that 57% of the Irish adult population believe that neutrality should be enshrined in the Irish constitution and 39% believe it should not. 
Ms Daly, who won a seat in Dublin Fingal in the General Election, said she and Mr Wallace had raised the issue of Irish neutrality with Fine Gael and Fianna Fáil previously but they they did not believe they would change their views on the matter.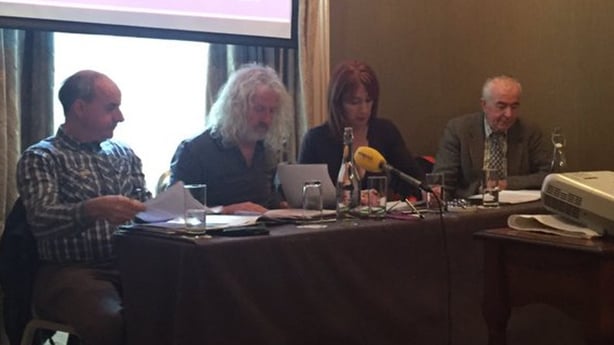 The Independent TDs said they chose this week to publish the poll due to the fact the Taoiseach is in Washington to meet the US President Barack Obama for the St Patrick's Day celebrations. 
Mr Wallace said "the notion that Ireland is a neutral country doesn't stack up" and the use of the US military of Shannon airport means Ireland is "complicit" in war. 
He said when it was put to the Dáil in 2003 that planes be allowed to go through Shannon while en route to Iraq, Enda Kenny said planes should not be allowed to stop unless they were searched.  
Mr Wallace said the notion that planes travelling through Shannon were not carrying arms beggared belief. 
"They are not bringing their troops over to play golf," he said, "these guys do engage in war". 
He said the Government wanted to pretend "nothing is happening" and it had been impossible to hold the various departments to account. 
Ms Daly said they would be "stepping up" their campaign to highlight the use of Shannon Airport by the US military following the formation of the next government. 
They said the matter had not been taken up or highlighted by the Irish media enough.