Health watchdog Safefood has called on retailers not to sell energy drinks to anyone aged under 16.
A new report by the organisation has found the number of energy drink products has soared in recent years, with some brands containing more than 16 teaspoons of sugar.
Safefood said it found 39 separate energy drink products on sale across six supermarket chains, an increase of 290% since 2002.
The watchdog warns that these drinks can have health consequences because of their sugar and caffeine content.
It found a 500ml bottle of Mountain Dew contained 16-and-a-half teaspoons of sugar and the same amount of caffeine as a cup of espresso.
Monster Energy's 500ml can contains 14 teaspoons of sugar and the caffeine equivalent of two espressos.
Dr Cliodhna Foley-Nolan from Safefood said she would support a voluntary code for retailers not to sell the drinks to those aged under 16, and to ask for photo ID.
The watchdog also warns of the danger of mixing energy drinks with alcohol, as it can make people feel less drunk than they actually are.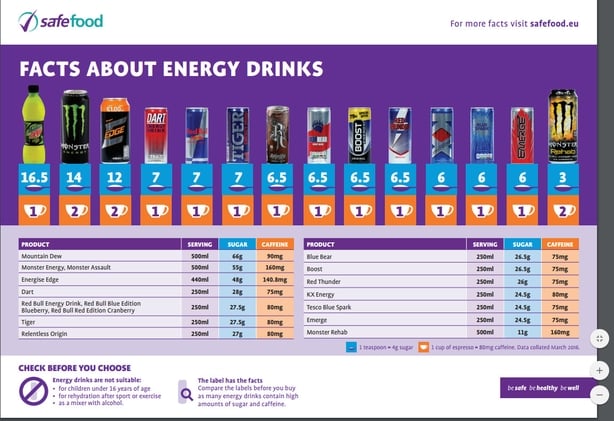 The report found that the highest consumers of energy drinks were young men aged between 15 and 24 and more than half of those who drank energy drinks did so at least once a week or more.
It also found that the average price of an energy drink in Ireland was €1.09, but some brands are as low as 49c, with supermarket own-brands cheaper.
Leading brands are also supported by extensive advertising campaigns, particularly on digital and social media with many hosting dozens of dedicated Twitter and Facebook accounts and campaigns aimed specifically at active young people with a focus on high adrenalin activities and music.