Luas operator Transdev has rejected union claims that it is engaging in strikebreaking by hiring private buses to carry passengers on Luas routes on St Patrick's Day when staff are due to go on strike.
Earlier, the company confirmed that it will provide the service to operate on the Red and Green line routes. The buses will operate from park and ride sites from 7.30am to 7pm on 17 March.
It is understood Transdev is sourcing the independent bus operators through a broker.
Earlier, SIPTU described the decision by Transdev as provocative.
When asked about SIPTU's claims, Transdev Managing Director Gerry Madden described it as a logistical solution to give people a good day out.
He said he did not want to see families upset because because they could not get in and out of Dublin to the parade.
When it was pointed out that some union members were describing it as strikebreaking, Mr Madden said he did not call it that.
He said he called it trying to help people to get in and out of the parade, adding that it was a good thing to do.
SIPTU Divisional Organsier Owen Reidy acknowledged that staff were angry about the hiring of buses, but he said that SIPTU would be urging members to picket within the law.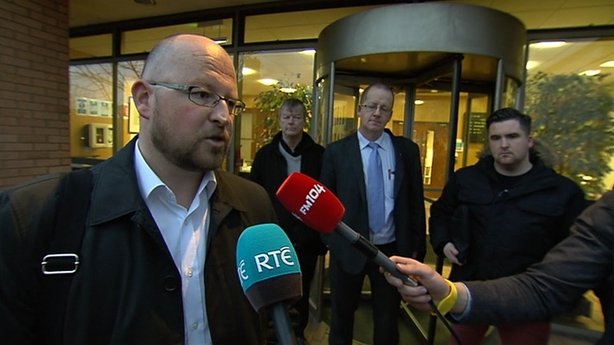 He said he hoped the company would see reason and get into a negotiating process with the drivers.
Mr Reidy said that if a deal is not reached, there would be further industrial chaos.
Mr Madden and Mr Reidy were speaking as they left the WRC after talks with the three non-driver grades were adjourned until Monday.
A Transdev spokesperson was unable to say how much the hiring-in of buses would cost but Luas pre-paid tickets and Leap Cards will be accepted on this bus service.
However SIPTU said it was regrettable that the drivers were still excluded from talks and warned that without an agreement with the drivers, industrial action will continue.
The drivers said they will strike again on 2 and 3 April, as well as the 23 and 24 April.
The National Bus and Rail Union has strongly criticised the "extraordinary" decision to hire in buses.
NBRU General Secretary Dermot O'Leary said there are no circumstances by which justification can be brought to bear on an employer arbitrarily deciding to supplant the role of its workers by using other workers.
Earlier, Mr Reidy said the prospect of an indefinite all-out strike was still under consideration.
Strike action is already planned for Easter Sunday and Easter Monday in addition to St Patrick's Day.
The service was shut down by four days of strike action last month over a pay claim of up to 53%.
Arriving for the talks earlier today, Mr Madden said he was there to do deals with what he described as three "reasonable" grades.
He said it was regrettable that the drivers had served additional strike notice, but said he remained confident that the drivers would reflect on their strategy, as the strikes were getting them nowhere.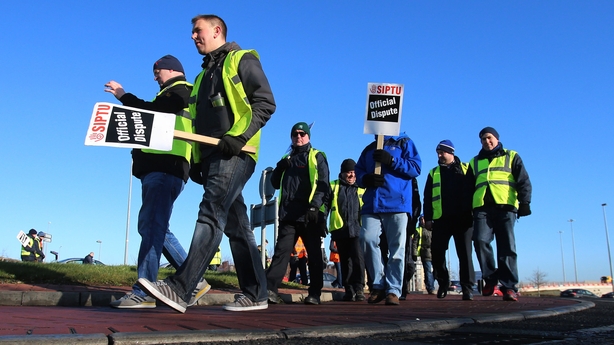 Mr Reidy rejected suggestions that the Luas staff were now divided.
He criticised the fact that the drivers - who represent 170 of the 250 staff - had been excluded because the company did not like what they were saying.
He said this had happened despite the fact that they had deferred a 24-hour strike on 8 March, and significantly moderated their claim for pay increases.
Asked whether staff should lower their pay claim, he said people were not going to listen to diktats and that the place for people to moderate or not moderate their claims was in the WRC building in negotiations.
Minister for Transport Paschal Donohoe said: "Transdev's plans to provide special contingency buses are an effort to deliver a level of service to the travelling public on our national holiday.
"It is my genuine hope, however, that these contingency buses will not be needed and that normal Luas services will have resumed by St Patrick's Day."
Meanwhile, a lecturer in employment law and industrial relations in NUI Maynooth has said more disputes such as the one between Luas workers and management are likely to surface in the coming months.
Speaking on RTÉ's Morning Ireland, Dr Michael Doherty said he believes the Luas dispute has a "wider connect to the public mood".
He said in his view drivers are angry from having endured a number of years of austerity.
Dr Doherty said the breakdown of talks between drivers and Luas management at the WRC was concerning as both sides have been there a number of times but workers are still planning days of action.
He added that it is likely there will be intensive efforts made to try to come to some agreement before workers down tools again on St Patrick's Day.
"I think the drivers are saying, what on the face of it, it looks like quite a large claim, while they're saying we've had years of cuts, we've had years of more work for no more pay and we need to get something back."
Dr Doherty said: "I think this is typical, I think we will see more disputes in the coming months reflecting this anger on the ground rather than necessarily coming from the union itself."