Enda Kenny has conveyed his resignation to President Michael D Higgins at Áras an Uachtaráin this evening, becoming acting Taoiseach as the Dáil adjourns until 22 March.
On the first day of the 32nd Dáil, Mr Kenny, Micheál Martin, Gerry Adams and Richard Boyd Barrett failed in their bids to become Taoiseach.
In accordance with the Constitution, Mr Kenny will continue to carry out the duties of Taoiseach until a successor is appointed.
Kenny: It is not the outcome I would have liked to see. I shall, in due course, tender my resignation to the Árashttps://t.co/MM2vPVmZTs

— RTÉ News (@rtenews) March 10, 2016
He said his immediate duties include visiting Washington, the European Council and the events surrounding the centenary celebrations of 1916.
Mr Kenny said there would also be a focus on the presentation of a spring statement and bringing forward new estimates for the budget.
It is incumbent on those in the Dáil to intensify efforts for a lasting, endurable government, he said.
He said he had been deeply engaged with Independent deputies and groupings. 
As the Taoiseach and leader of the largest party, he said he was fully committed to ensure the people get a government they "need and deserve and have given their verdict on". 
Enda Kenny: "Let me assure the Irish people that the Government remains in place"https://t.co/I1q9qeE1wo

— RTÉ News (@rtenews) March 10, 2016
He said having listened to the contributions in the Dáil, it was clear that many do not want to serve in government and do not want to make decisions for the future of the country. 
While he said that was their right, for those who want to provide a government for the future of the country - he said there were options open. 
1989 Archives: Dáil fails to nominate a Taoiseach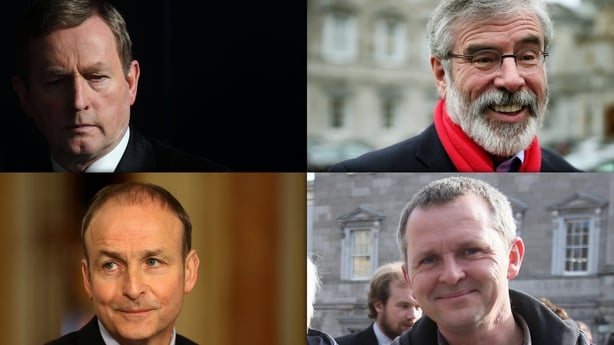 The four TDs were nominated for the role of Taoiseach by their respective parties.
The voting process began with deputies voting for Mr Kenny, who received 57 votes in favour and 94 against. Fine Gael has 50 seats in the House.
Mr Martin received 43 votes in favour and 108 against. Following the election of Seán Ó Fearghaíl to the position of Ceann Comhairle, Fianna Fáil has 43 deputies eligible to vote.
Mr Adams received 24 votes in favour, and 116 against. Sinn Féin has 23 votes, indicating that Mr Adams picked up a vote from outside his own party.
Mr Boyd Barrett received nine votes in favour and 111 votes against
---
Analysis: David Davin-Power, Political Correspondent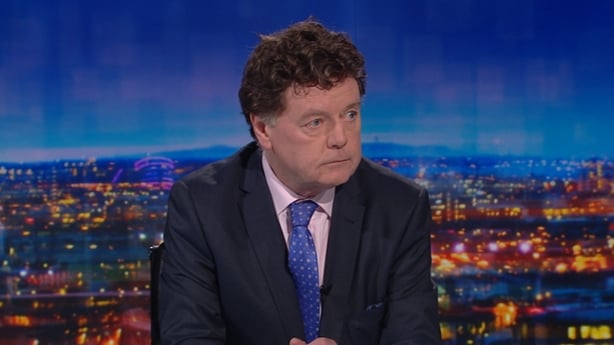 What we saw today was a game of political poker where none of the players were really showing their hand. The Dáil votes didn't really stray beyond party lines.
In the election of Seán Ó Fearghaíl as Ceann Comhairle, some people saw it as a nod from Enda Kenny to Micheál Martin that they are prepared to do business, after Mr Ó Fearghaíl will have been elected with the help of some Fine Gael transfers. But that's a minor straw in the wind at this early stage.
It seems Mr Kenny is anxious to get things moving before Easter, suggesting 22 March as a day for the Dáil to return.
There is no indication as yet that Mr Kenny and Mr Martin will sit down together. But there have been overtures via the media from Fine Gael forces indicating very strongly that they would be prepared to offer cabinet seats to Fianna Fáil.
But as we know there is very strong, significant opposition within Fianna Fáil to sharing power with their old rivals. We know too that they will have to put that to an Ard Fheis.
These are really critically difficulty decisions for Mr Martin. It remains to be seen if the passage of time will soften some of those objections.
---
This afternoon, as the youngest Fine Gael TD, Noel Rock nominated Mr Kenny as Taoiseach.
He told the Dáil that the reality is that experience bloodies and bruises you.
He said a Taoiseach should always be fighting for the good of the country and economy and Mr Kenny has always fought. Deputy Rock also said Mr Kenny had built on foundations.
Nominations for the role of Taoiseach: Fine Gael's Noel Rock, the party's youngest TD, nominates Enda Kennyhttps://t.co/xINUrxE3Lu

— RTÉ News (@rtenews) March 10, 2016
Seconding the nomination, Catherine Byrne said over the past five years Mr Kenny had shown great leadership at home and abroad.
She said she believed that Mr Kenny's character of strength will provide the leadership necessary.
New Fianna Fáil TD Lisa Chambers called on the Dáil to support the appointment of Mr Martin as Taoiseach. 
She said he is "very well qualified" to undertake the duties. 
By nominating the Fianna Fáil leader, Deputy Chambers said the party was making it clear it is opting for a change in government because that is what the electorate voted for. 
She pointed out that Mr Martin was first elected in 1989 and has been elected since.
Lisa Chambers nominates Micheál Martin for Taoiseach, saying people voted for change, and that's what FF is offeringhttps://t.co/9mo6mdofIA

— RTÉ News (@rtenews) March 10, 2016
Sinn Féin Deputy Leader Mary Lou McDonald nominated the party leader Mr Adams as Taoiseach. 
She said Ireland is calling out for a leader of vision beyond the border, encompassing the North and South of the country - and all of its people. 
Deputy McDonald said as the leader of the "only all-Ireland party" and "architect of the peace process" he has displayed the quality of strong leadership, courage and perseverance. 
She said Gerry Adams has been willing to reach out and listen to those who have opposed him. 
Mary Lou McDonald nominates Gerry Adams for Taoiseach, saying Ireland needs a leader of visionhttps://t.co/0o69aWps1e

— RTÉ News (@rtenews) March 10, 2016
The Anti-Austerity-Alliance-People Before Profit nominated Mr Boyd Barrett as Taoiseach. 
He was first nominated by Ruth Coppinger who acknowledged that while Deputy Boyd Barrett will not win, the AAA-PBP was making "a decision of intent". 
Ruth Coppinger proposes PBP leader Richard Boyd Barrett as taoiseach, saying the country needs a socialist leaderhttps://t.co/nbqEvzTpQ2

— RTÉ News (@rtenews) March 10, 2016
She said the grouping intends to have a strong independent voice for workers and invited those seeking a real change to get involved and set up a new mass party to replace the Labour party. 
Bríd Smith seconded the nomination, however she also acknowledged that he would not get elected. 
Deputy Smith said "we're in a bit of theatre today". However she said the radical left had as much of a right to be on the stage.