Fianna Fáil's Seán Ó Fearghaíl has been elected Ceann Comhairle of the 32nd Dáil.
The Kildare South TD was the only remaining candidate left after Fine Gael's Andrew Doyle and Bernard Durkan, Independent Maureen O'Sullivan and Sinn Féin's Caoimhghín Ó Caoláin were eliminated over five counts.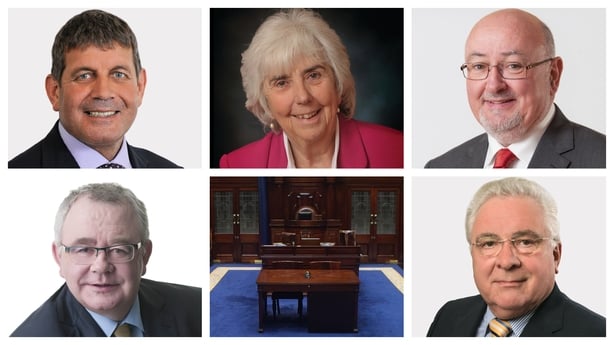 The quota was 79 votes and one of the 158 TDs did not vote, which was Independent Michael Lowry. Mr Ó Fearghaíl contested the fourth vote with Mr Doyle, the Fianna Fáil candidate prevailing 74 to 58 votes. 
Mr Doyle's transfers for the final fifth count brought Mr Ó Fearghaíl to 95 votes.
The 32nd Dáil convened this morning for the first time and the counting of votes began in the historic secret ballot for Ceann Comhairle role.
The official result was announced when the Dáil resumed at 2.30pm.
Last night, Taoiseach Enda Kenny proposed that the incoming Ceann Comhairle will chair a new all-party committee on Dáil reform.
Fianna Fáil leader Micheál Martin will also submit a motion on the matter.
The first business of the new Ceann Comhairle was to seek nominations for the position of Taoiseach.
Fine Gael nominated Enda Kenny, Fianna Fáil proposed Micheál Martin, Sinn Féin nominated Gerry Adams, and the Anti-Austerity-Alliance-People Before Profit nominated Richard Boyd Barrett.
None of the candidates received the required majority to assume the role, with the Dáil subsequently suspended until 10.30am on Tuesday 22 March.
Mr Kenny then travelled to Áras an Uachtaráin where he resigned from the role. He will remain in the position in a caretaker role until a successor is appointed.
Live: Dáil returns amid uncertainty | No coalition is ever unlikely
Political dynasties | What to look out for in the new Dáil
Vote may not deliver leader but could shape political manoeuvres
In his declaration of office, Mr Ó Fearghaíl said he would adjudicate without fear or favour. 
Afterwards, he thanked the House and said he would try to follow in the steps of the previous Ceann Comhairle, Sean Barrett, who he said played a central role steering the House in a difficult time for the country.
He thanked his wife and family and the people of Kildare South who elected him, saying it is an immense privilege to take the position and one that he does not take lightly.
He implored members to respect each others' voices, adding that argument is the life blood of a vibrant chamber.
WATCH: The responsibilities Seán Ó Feargháil will have as the Ceann Comhairle of the 32nd Dáil #ge16, via @rtenews https://t.co/xRxYQFRk1a

— RTÉ (@rte) March 10, 2016
TDs congratulate Ceann Comhairle
Congratulating him on his election, Taoiseach Enda Kenny said it is really important in a changed political landscape that Deputy Ó Fearghaíl is the first Ceann Comhairle to take authority by vote.
Fianna Fáil leader Micheál Martin congratulated Deputy Ó Fearghaíl on his selection and said it was momentous and historic.
The deputy was a skilled parliamentarian and would bring an open style to the House, he added.
Tánaiste Joan Burton thanked the outgoing Ceann Comhairle and all of the nominees.
She said Deputy Ó Fearghaíl was a man of decency and he had attracted significant support from other parties, most likely from Independents in the House.
It would be a productive parliament under Mr Ó Fearghaíl's guidance and there was a body of reform to get through, Ms Burton added.
Sinn Féin leader Gerry Adams said he looked forward to the Ceann Comhairle bringing back reforms and can chair a sub-committee on reform.
Kerry Independent TD Michael Healy-Rae said on behalf of the "Healy-Rae party", he would give all support to the Ceann Comhairle.
He said he looked forward to meaningful reform of the Dáil so that everyone had more participation. 
To the outgoing Ceann Comhairle, he said they had some rows but not bad rows.
On behalf of the Independent Alliance, Finian McGrath also congratulated Deputy Ó Fearghaíl and said the other candidates were excellent candidates.
Green Party leader Eamon Ryan also congratulated the new Ceann Comhairle.