A proposal for Fine Gael to hold a party conference in order to get wider party approval for entering into any arrangement for government was broadly supported at a parliamentary party meeting this evening.
It was proposed by newly-elected TD Colm Brophy.
Taoiseach Enda Kenny told the meeting it was a good idea for people to have the chance to voice their opinions.
Overall, many deputies expressed caution about going into government with Fianna Fáil at the meeting.
However, deputies including Mary Mitchell O'Connor said Fine Gael as the largest party had a responsibility to try to form a government and coalition should also be considered.
Several deputies also said other parties and groups had a responsibility to try to form a government.
Deputy John Paul Phelan expressed support for the party to go into opposition while Seán Kyne favoured a minority government.
Mr Kenny got two rounds of applause during the meeting and support was expressed for his handling of the situation.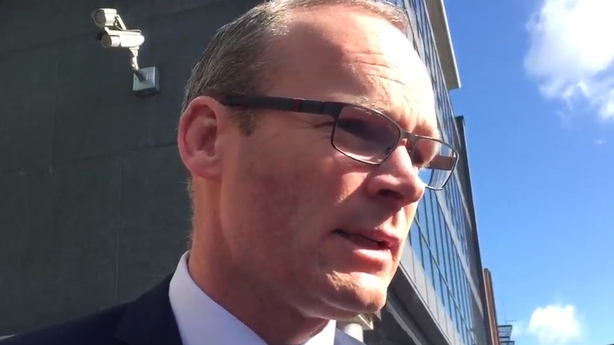 Earlier today, Minister for Agriculture Simon Coveney said his comments that Fine Gael would be willing to talk about water charges were "totally misconstrued" and said Irish Water is not going to be abolished.
Speaking to journalists as he arrived at the launch of a new finance fund for dairy farmers in Dublin he added that water charges were not going to be abolished.
Mr Coveney said the formation of a new government could take four to six weeks and "people need to show some patience".
He said when the Dáil meets tomorrow, it will be "inconclusive" and "no government will be formed".
He said lots of people are "uncomfortable" about the idea of a Fine Gael-Fianna Fáil coalition and that Fine Gael would not go into government at any cost.
On the idea of a rotating taoiseach, he said he was "not a fan" and he agreed with party colleague Leo Varadkar that many people in Fine Gael and Fianna Fáil do not trust each other.
On the question of Mr Kenny's leadership, he said: "I don't think it's an issue."
Mr Kenny has said indications were that nobody would be elected as Taoiseach tomorrow when the Dáil returns.
Former Fine Gael minister and current EU Commissioner Phil Hogan said it is "very important that we have a stable government" as soon as possible.
He said seeing the difficulties in Spain and Portugal over forming governments, that "matters in finance are not helped by instability".
Meanwhile, Fianna Fáil TD Willie O'Dea said he remains opposed to a "grand coalition" of Fine Gael and Fianna Fáil as he does not believe it would necessarily be a stable partnership.
He said he gave assurances to people voting for him that they would not go into such a coalition and he was not prepared to renege on that.
Fine Gael and Fianna Fáil continue talks with Independents
Fine Gael and Fianna Fáil are both continuing to talk to smaller parties and Independents.
Denis Naughten, who was elected as an Independent in Roscommon-Galway, this afternoon said that he had held "frank discussions" with the Taoiseach and with Fianna Fáil leader Micheál Martin.
Green Party leader Eamon Ryan was also expecting discussions again today with both the two biggest parties returned to the 32nd Dáil.
However, it is the prospect of talks after tomorrow between Fine Gael and Fianna Fáil that is beginning to really focus minds around Leinster House.
The words of Michael Noonan yesterday, that he presumed talks between the two would take place after Thursday, are viewed as significant.
Privately, a small number of TDs from both parties have suggested a grand coalition could be - in the words of two TDs - the only show in town.
One of the leaders of the Social Democrats has said her party is keen to use the period between the election and formation of a government to try to introduce some meaningful political reforms and effective ways of dealing with some of the crises facing the country.
Róisín Shortall said she believes it is possible to introduce reforms to make politics more effective and the SDs are proposing an all-party approach with an independent chair.
Speaking on RTÉ's Morning Ireland, she also said that at this point, the Social Democrats do not see themselves supporting any of the current candidates for taoiseach.