The United Nations' refugee agency has said proposals to send refugees en masse from the European Union to Turkey would contravene their right to protection under European and international law.
Earlier, the EU and Turkey agreed in principle that both Syrian and non-Syrian refugees could be sent back to Turkey from Greek islands.
The agreement was part of a package of radical new measures which both sides hope to finalise at a further summit meeting next week.
"The collective expulsion of foreigners is prohibited under the European Convention of Human Rights," Vincent Cochetel, Europe regional director of the United Nations High Commissioner for Refugees (UNHCR), told a news briefing in Geneva.
"An agreement that would be tantamount to a blanket return of any foreigners to a third country is not consistent with European law, is not consistent with international law."
Mr Cochetel said nine in 10 of those arriving in Europe each day were Syrians, Iraqis and Afghanis "fleeing for their life" who deserved international protection.
Europe's commitment to resettle 20,000 refugees over two years, on a voluntary basis, remains "very low", he said.
Europe had not even fulfilled its agreement last September to relocate 66,000 refugees from Greece, redistributing only 600 to date within the 28-nation bloc, Mr Cochetel said.
Turkey is hosting nearly three million Syrian refugees, the most worldwide, and has "done more than all the EU countries together", he said. But, he said, its acceptance rate for refugees from Afghanistan, Iraq and Iran is "very low", at about 3%.
The UN Children's Fund also voiced deep concerns about the plan, noting that 40% of refugees were under the age of 18.
A spokesperson said: "The fundamental principle 'do no harm' must apply every step of the way."
Re-admission of Syrian refugees to Turkey considered legal - Juncker
Speaking at a news conference, President of the European Commission Jean-Claude Juncker said the re-admission of Syrian refugees to Turkey would be considered legal since Turkey is regarded by the EU as a safe third country.
While a final agreement remained out of reach, elements of what is being proposed would be ground-breaking, and highly controversial.
Turkey said it will accept the wholesale readmission of thousands of migrants once they landed on Greek islands or were picked up by vessels patrolling the Aegean Sea.
These would not just be economic migrants, or non-Syrians.
Under the agreement Syrian refugees, who had decided to pay smugglers to get to Europe, would also be liable to be sent back to Turkey on the basis that they could have sought asylum there in the first place.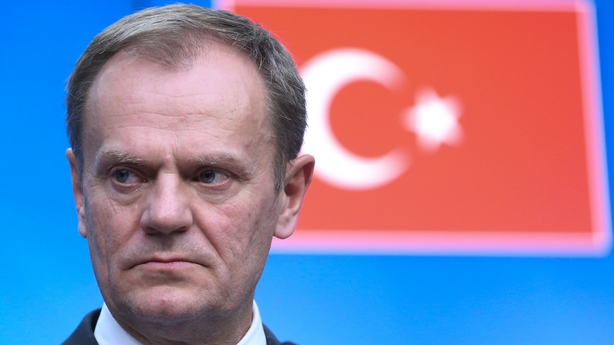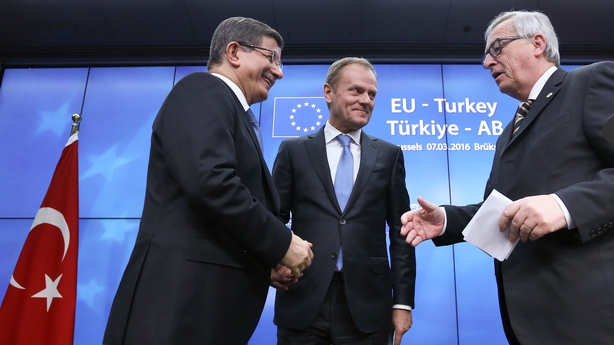 President of the European Council Donald Tusk said this would decisively end what he called irregular migration and break the business model of smugglers.
Turkish Prime Minister Ahmet Davutoglu said that for every Syrian sent back to Turkey, another in Turkey would be resettled in Europe, but in a legal way.
In other words, those who chose the smuggling route would be at the bottom of the pile, while those who stayed in Turkey could take their chances on resettlement to a number of EU member states.
"With this game-changing position in fact our objective is to discourage illegal migration, to prevent human smugglers, to help people who want to come to Europe through encouraging legal migration in a disciplined and regular manner," he told a news conference after the summit.
EU & Turkey say they have agreed the broad principles of a plan to ease the migration crisis https://t.co/lsc9HbE7l9https://t.co/biZvyIv4Xb

— RTÉ News (@rtenews) March 8, 2016
Mr Tusk insisted the plan would be legal, but it will almost certainly be challenged in the European Court of Human Rights.
German Chancellor Angela Merkel and British Prime Minister David Cameron among others hailed the Turkish proposal as a potential break through in Europe's politically toxic migration crisis.
More than a million people fleeing war and poverty in the Middle East and beyond have flooded into the EU since early 2015, most making the perilous sea crossing from Turkey to Greece, then heading north through the Balkans to Germany.