Shane Ross of the Independent Alliance has stood by his comments that Taoiseach Enda Kenny may be a political corpse.
Speaking at a press conference after meeting with Fianna Fáil today, Mr Ross denied that it was a cheap shot or that his comments had undermined the alliance's negotiating position.
He indicated it was being discussed around Leinster House.
He also said Fianna Fáil leader Micheál Martin had brought more energy to his discussions with the alliance.
The group has not yet decided what way it will vote or if it will abstain on Thursday when nominations for Taoiseach are put forward in the Dáil.
The Independent Alliance is looking for a five-year fixed term for a government and a minister for rural affairs among other issues.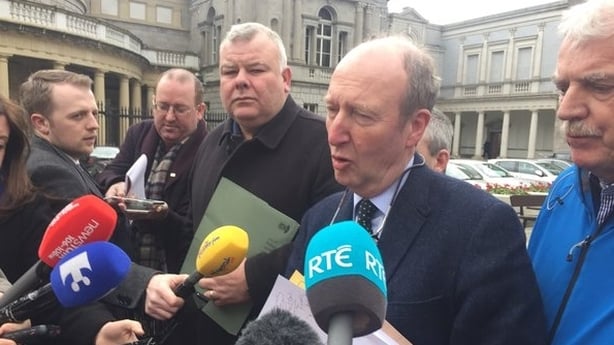 The Taoiseach this afternoon said that he cannot "put a date" on when a government will be formed, but that one clearly had to be constructed and he would continue to work towards that goal. 
Speaking to reporters at a meeting of EU leaders in Brussels, he said: "There is a process going on at the moment in terms of discussing with Independents and groupings and so on like that in order to see what situation might arise from this.
"I am prepared obviously in my capacity as Taoiseach to work for the formation of a government that the country deserves and that the people need."
Mr Kenny also said that the indications were that nobody will be elected as Taoiseach when the 32nd Dáil meets for the first time on Thursday morning. 
Enda Kenny says he cannot 'put a date' on the formation of a new govt but a process is 'going on at the moment'https://t.co/DGtKTqYiKY

— RTÉ News (@rtenews) March 7, 2016
Fianna Fáil held a meeting with the Independent Alliance today as preliminary talks on the possible formation of a new government continue.
Speaking on RTÉ's Morning Ireland, Independent Alliance TD Finian McGrath said its delegation would be setting out its 'Charter for Change' to Fianna Fáil as it had done at a meeting with Fine Gael on Friday.
"We're interested in implementing the charter for change," said Mr McGrath.
"The ten core issues in our charter are the issues. And then we'll talk to people, whoever can deliver the numbers, on specifics of the proposals.
"Then we'll decide, the Independent Alliance will decide, which way we're going and how we'll vote for Taoiseach."
International anxiety
Elsewhere, Minister for Finance Michael Noonan has warned that if no government is formed for a "significant period" it could increase Ireland's borrowing costs.
Speaking on his arrival at a eurogroup meeting in Brussels, Mr Noonan said:  "On everything I've read and been briefed on there isn't any international anxiety but we'll see what happens.
"Obviously if a government wasn't formed for a significant period then anxiety will begin to appear in the markets and would be expressed in bond prices."
Mr Noonan repeated Fine Gael's demand that there remain a national utility for water and that water consumption be charged for.
He also said that under European law, Ireland was obliged to charge consumers for water.
On the formation of the next government Mr Noonan told reporters: "The important thing now is to form a government in Ireland as quickly as possible.
"The personalities are secondary to the national objective of having a government that reinforces confidence in Ireland and makes sure that we can continue with the very successful progress that we had made, especially over the past two years.
"There are no talks about a grand coalition yet, there's a certain amount of speculation.
"I don't think anything significant will happen on Thursday but Thursday will have to be put behind us first."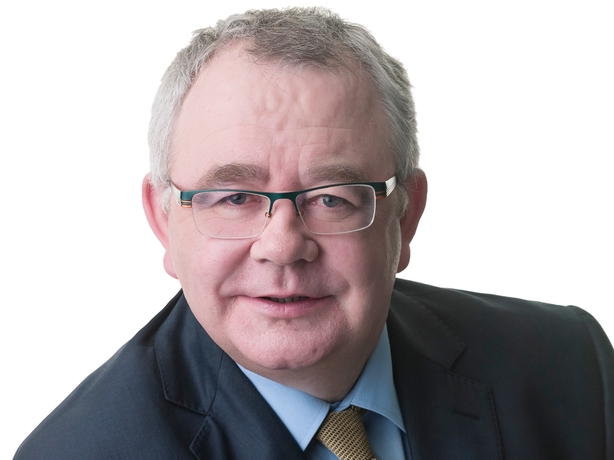 Meanwhile, Seán Ó Fearghaíl will be Fianna Fáil's nomination for the role of Ceann Comhairle.
The decision followed a vote of the parliamentary party this afternoon.