Four incoming TDs from the six-member Independent Alliance have held talks with Taoiseach Enda Kenny.
Speaking to the media afterwards, incoming TD for Dublin Rathdown Shane Ross said they presented the Taoiseach with a copy of the Independent Alliance's 'Charter for Change' which highlights the group's principles.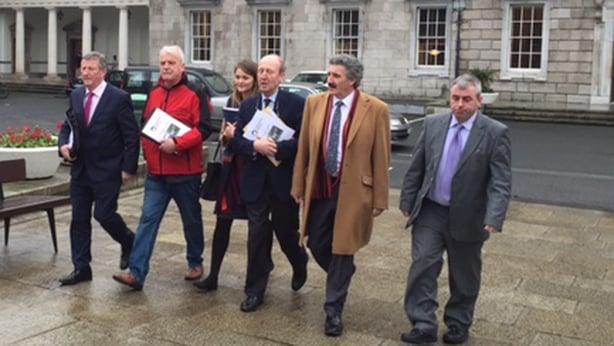 Mr Ross, Finian McGrath, John Halligan and Sean Canney met the Taoiseach this morning.
Mr Ross said the group was contacted by Fianna Fáil leader Mícheál Martin yesterday and they expect to meet him next week.
The group has indicated that they are in serious discussions about putting forward a candidate for the election of the new Ceann Comhairle next Thursday when the Dáil meets again.
Independent TD Thomas Pringle said he is not sorry he did not sign up to the Independent Alliance, adding his role was not to re-elect Mr Kenny as Taoiseach.
Speaking on RTÉ's News At One, he said that unless Mr Martin or Mr Kenny are prepared to sign up to 'The Right To Change' policy principles, he is not prepared to back them on either a vote for Taoiseach or a minority government.
The Donegal TD said the electorate has voted for Fianna Fáil and Fine Gael to form a government and he thinks the parties should respect what the people have voted for.
He said Fianna Fáil and Fine Gael are two sides of the same coin, with no policy differences between them.
He added that there is a need for Dáil change, irrespective of what parties form a government and said he sees his role as part of a left-wing opposition, presenting an alternative to a right-wing government.
Independent Alliance say mtg with Taoiseach was positive. Enda Kenny took away their 10 point charter to consider. pic.twitter.com/fePoc4AZPu

— Mícheál Lehane (@MichealLehane) March 4, 2016
Independent TD for Dublin Central Maureen O'Sullivan said Dáil reform is top of the agenda for independents and that it must be part of any talks in the formation of the next government.
She said she is not leaning towards any political party in terms of working together and instead wants to see a commitment to make budgets "equality proof" and to look at tax justice.
Ms O'Sullivan also said it was her opinion that it is too soon to be voting for the next Taoiseach, adding that more talking needs to happen.
Fine Gael and Fianna Fáil are expected to take soundings from Independents and smaller parties on establishing a coalition in advance of the first session of the 32nd Dáil next Thursday.
The future of the Irish Water utility and water charges are due to be major issues in any negotiations.
The two parties, which finished with 50 and 44 seats respectively, held parliamentary party meetings yesterday - their first since the General Election.
Last night, vice chairwoman of the Fine Gael Parliamentary Party Catherine Byrne said that an unstable government was not in the people's interest.
She said the party would put in place a process to review its electoral performance but was concentrating now on forming a lasting government.
Minister for Health Leo Varadkar said the party had no red-line issues but any government that is set up must reflect the principles and policies of the Fine Gael manifesto.
Speaking on RTÉ's Today with Sean O'Rourke, he said a government made up of Labour, the Social Democrats and Independents could happen but would be difficult.
On working with Fianna Fáil, he said it is "not unprecedented", but that it would be "extremely difficult".
As for the issue of water charges, Mr Varadkar said that it "won't be possible" to abolish them.
He said over 60% of people voted for parties that accept water charges in principle.
A deferral would be a violation of the EU water directive, he said, that states once a user-pays system is established it cannot be departed from.
Fianna Fáil's Sean Fleming has said his party representatives would be talking to all political groups in connection with the formation of a new government.
The party said it has an "open mind" entering negotiations with no red-line issues on the table.
Fianna Fáil TD for Donegal Charlie McConalogue said his party's focus over the next number of days will be garnering enough support for Micheál Martin to be voted in as Taoiseach.
Speaking on RTÉ's Morning Ireland, Mr McConalogue said there is an onus on Fianna Fáil to consult with all members of the Dáil with a view as to how a government, led by Fianna Fáíl and with Mr Martin as Taoiseach, can be put together.
In relation to a coalition with Fine Gael, Mr McConalogue said his party did not campaign for a coalition with it but instead to ensure it would be removed from government.
He added that Dáil reform must happen before a new government is formed and that that is what his party would also be working on.
Speaking on the same programme, Fine Gael's Damien English said the party is willing to talk to Fianna Fáil and to any other TDs with whom they might share common ground while trying to form the next government.
Deputy English said Fine Gael had a duty given its 50 seats to try and put together a government, but would not do so at any cost.
He ruled out sharing power with Sinn Féin, but not with other parties and said Fine Gael had made it very clear it would talk to Fianna Fáil.
He said the party fully supported Mr Kenny as leader and in his attempts to form a government.  
Fine Gael, meanwhile, has stressed its continued support of Irish Water as the "best and most cost-effective way" of providing proper water services.
Labour Party leader Joan Burton has said the party would position itself as "a sensible voice in opposition".
Independent TD Katherine Zappone said she met with both Mr Kenny and Mr Martin this morning and discussions have begun.