The Health Products Regulatory Authority will ask the High Court to dismiss a case taken by a Co Westmeath mother who wants it to withdraw a vaccine given to schoolgirls to prevent cervical cancer.
At a brief hearing this morning, lawyers for the HPRA asked the court to fix 15 March to hear its application to have the case dismissed.
Fiona Kirby, a nurse from Kilbeggan, Co Westmeath, has issued High Court proceedings to secure an order requiring the HPRA to withdraw the HPV vaccine.
She claims her daughter suffered "horrendous" adverse consequences after being given it.
The vaccine, known by its trade name Gardasil, has been offered to schoolgirls since May 2010.
A support group called REGRET (Reaction and Effects of Gardasil Resulting in Extreme Trauma) is supporting Ms Kirby's action.
Members of the group protested outside the High Court today.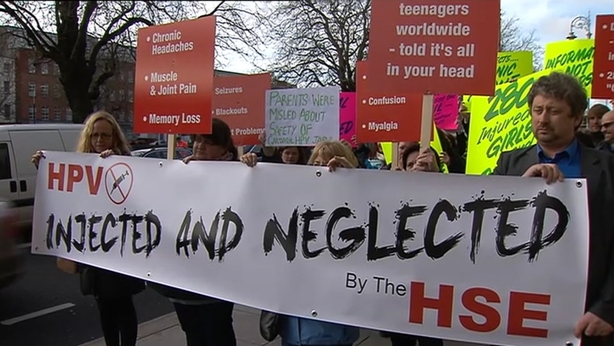 A supporter told the court they were taking legal and medical advice and hoped to bring a report from a US-based neurologist when the case comes to hearing.
The HPRA has denied the claims and says it is not the proper defendant in the case.
The authority says the European Commission is the only authority with the power to revoke Gardasil's EU marketing authorisation.
It also says the European Commission on 12 January had taken a final and binding decision, following a review of HPV vaccines, to maintain Gardasil's marketing authorisation.
Mr Justice Tony O'Connor adjourned the case to 15 March.