More than 70 doctors and health experts from the UK and US have written to the Minister for Sport, the Chief Medical Officer, and the Children's Ombudsman in Ireland calling for a ban on tackling in school rugby games.
In an open letter, also sent to authorities in the UK, they warn of the high risk of serious injury among under-18s playing rugby and urge schools to move to touch and non-contact versions of the game. 
The signatories, who include sport scholars, academics, doctors, and public health professionals, said studies show the risks of injuries to under 18s "are high and injuries are often serious".
It describes rugby as a "high-impact collision sport" and states "children are being left exposed to serious and catastrophic risk of injury.
"As a signatory to the UN Convention on the Rights of the Child, the UK and Irish governments should ensure the safety of rugby, by removing the contact from the children's game in schools."
It said rugby is a compulsory part of the physical education curriculum from age 11 in many UK schools and they are concerned about plans to increase participation.
According to the letter: "The majority of all injuries occur during contact or collision, such as the tackle and the scrum.
"These injuries which include fractures, ligamentous tears, dislocated shoulders, spinal injuries and head injuries can have short-term, life-long, and life-ending consequences for children."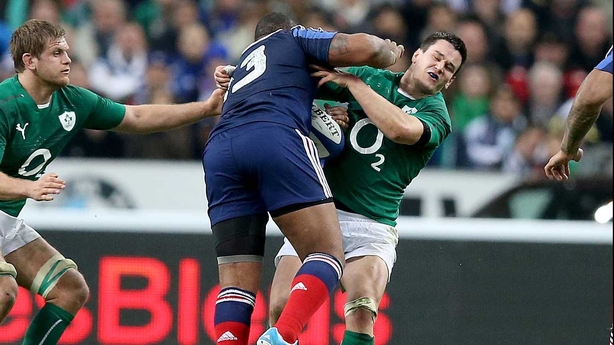 The letter said concussion is a common injury and repeat concussion is most likely among players who have suffered it previously and there is also an association with repeat concussion and depression, memory loss and diminished verbal abilities.
It also noted that children take longer to recover than adults.
The experts said rugby injuries can "result in significant time loss from school.
"Parents expect the state to look after their children when they are at school," the letter reads.
"Rugby is a high-impact collision sport and given that children are more susceptible to injuries such as concussion, the absence of injury surveillance systems and primary prevention strategies is worrying."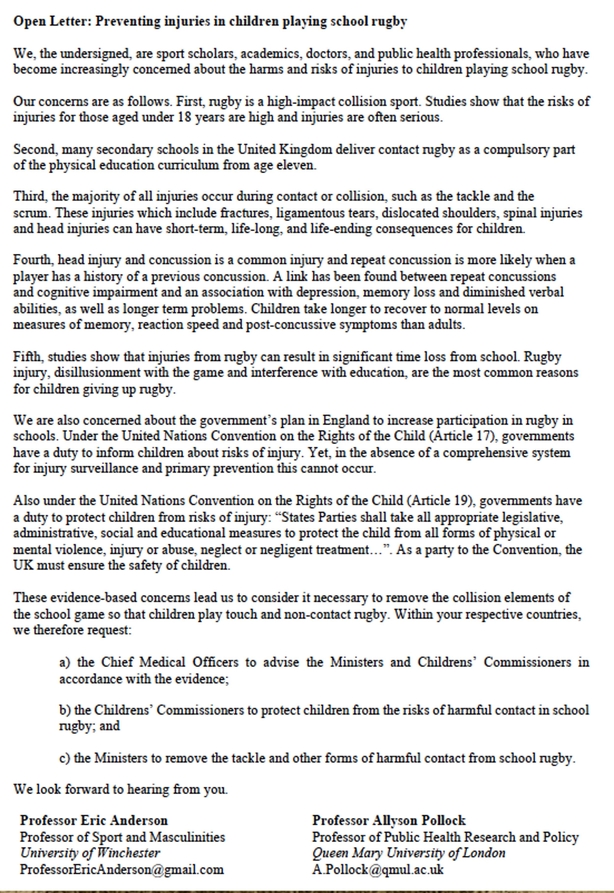 In a statement, the IRFU said it believes that the "lifelong health and personal benefits of rugby, and other contact sports, far outweigh the risks.
"There is a risk of injury in all contact sports and while World Rugby and the IRFU, in partnership with Ulster University and other institutions, are undertaking research into this important area, we would welcome the opportunity to partner with government agencies in the development of evidence based research into the risks and rewards associated with all sports."
A researcher with the Sports Collision Injury Collective, which played a role in compiling the open letter, has said safety measures in place for children playing contact sports are sub standard.
Adam White, who works at the University of Winchester, said 30% of people playing rugby are injured every year with injuries ranging from broken limbs to traumatic brain injuries.
Speaking on RTÉ's Morning Ireland, he added that 10-12% of players every season who suffer concussions or marked traumatic brain injuries.
Mr White said not enough is known about the long-term consequences of head injuries and greater efforts need to be made to monitor injuries.
He said the tackle should be removed from schools rugby, which would make the sport safer, he said.