Four families who have been living in emergency accommodation in Dublin city centre say they have been told they must vacate the property today.
13 families had originally been staying in the building on Mountjoy St. Earlier this month, they say they were advised that the landlord's contract with Dublin City Council was to expire at the end of February, and that he was increasing the rent on the property.
The council has since found alternative accommodation for nine of the families.
Those remaining in the property say they will not leave until the council has found 'alternative suitable and secure accommodation'.
One of the residents, Aisling Kenny, a mother-of-three, says she was offered two rooms in a hotel this morning, but said she was not willing to move as this would mean "splitting the family up" (into separate bedrooms).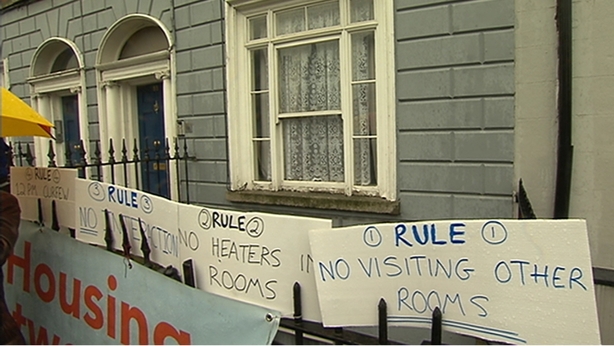 In a statement, Dublin City Council said it had offered the families alternative accommodation a number of times over the past two weeks, and will keep working to find placements suitable to their needs.
It said that more than 750 families were currently in homeless services, including 125 families who lost their homes last month.
The council said there was a contractual arrangement in place between it and a private landlord who owns the property on Mountjoy St. That lease expires at midnight (the end of February).
A spokesperson for the council said the landlord cannot be obliged to continue to house the tenants.
Dublin City Council says it will keep working individually with each of the families to try to secure suitable accommodation.