Members of the Irish Farmers' Association have staged a protest outside the gates of Kerry Foods in Shillelagh, Co Wicklow over the high level of imported bacon used in the Kerry-owned Galtee and Denny pork brands.
The protest took the form of a blockade with delivery trucks and service vehicles being prevented from leaving the factory for the duration of demonstration.
Farmers say the processors are paying them 20 cent per kilo below what it costs to produce their animals.
According to the farmers they get just 20% of the retail price of pork-related products on supermarket shelves.
They also highlighted a recent Bord Bia survey that found that only around 20% of Galtee rashers packs carry the quality assured logo signifying that the bacon is Irish.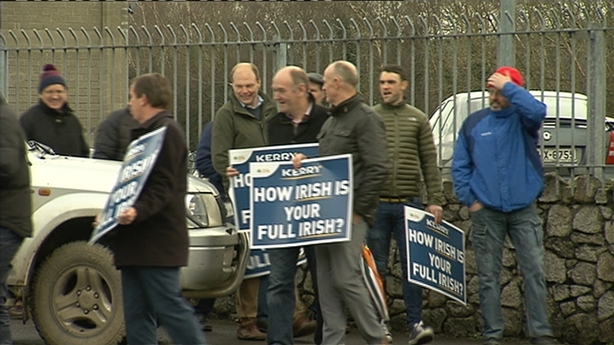 The IFA says the processors needs to do far better than that and should stop misleading consumers about the where their rashers come from.
IFA National Chairman Jer Bergin accused companies that trade on their Irish brands of failing pig producers by using imported pigmeat.
There are only 250 commercial pig producers in Ireland but they support 8,000 jobs throughout the economy, as well €570m in exports.
Irish pig farmers are experiencing the worst income crisis in decades, with the average making losses averaging €5,000 per week.
How Irish is your full Irish? You might be surprised - watch @rtenews this evening for more https://t.co/xIpg8VofHB pic.twitter.com/17Bd7UB9TY

— Irish Farmers' Assoc (@IFAmedia) February 26, 2016
Mr Bergin said, "Pig farmers are constantly told by processors that the home market gives the greatest return for their product.
"For this reason, farmers have made huge efforts to protect their home market, but the continued use of non-Irish pigmeat in household brands such as Galtee, Denny and others is clearly undermining that effort."
 The IFA National Pigs Committee Chairman Pat O'Flaherty said pig farmers are insisting that companies with Irish brands use 100% Bord Bia Quality Assured pig meat in their products and that their labelling clearly indicates country of origin.
He added all producers are asking for is a level playing field with clarity on origin and a fair margin for their produce.
He also called for tougher legislation to require country of origin labelling on all pork and bacon products.