- Housing, health, taxation and the economy debated
- All four leaders defend policies past and present
- Hackles raised over pay levels, USC, universal health insurance and cronyism
The final leaders' debate of the General Election campaign has taken place with health, housing and cronyism dominating proceedings as all four leaders defended party policies both past and present.
The Taoiseach opened the debate by accepting that many people had not felt the benefits of economic improvements.
Enda Kenny said if his party was given a second term in office, the challenge would be to ensure that the recovery was brought to every home in the country.

On health policy, he clashed with Micheál Martin on his record in office and accused Fianna Fáil-led administrations of failing to deliver and said their legacy had been exposed.

Mr Kenny said the situation with regard to several aspects of the health service was not as he would wish.
Mr Martin accepted that his party made mistakes in government, but said it has learned from those mistakes.
He said people should trust Fianna Fáil in this election because the country could not afford to keep going with record numbers of children homeless and record numbers of people on hospital trolleys.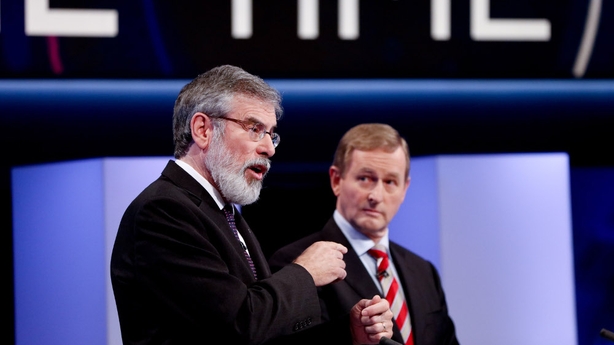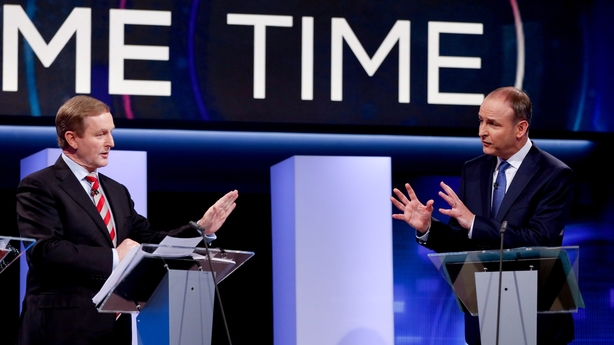 He also said the banking inquiry had concluded that the policies of Fine Gael and Labour would not have avoided the banking crisis in Ireland and that it had been caused by an international collapse.
Mr Martin said people wanted and needed a change of government to create a fairer society.
Sinn Féin leader Gerry Adams said he will not draw his ministerial salary if elected to government and defended his party's economic policies.
He said he is "not at sea in terms of basic figures" in his opening exchanges on the debate.
He denied that he had incorrectly explained Sinn Féin's tax policies during an RTÉ Radio interview last week.
Mr Adams also said that other parties would rather discuss the IRA or his ability to count when what people want is political leadership.
He appeared on the back foot at times during the debate and one particular exchange stood out when he was being asked about Thomas 'Slab' Murphy.
Mr Kenny said: "Gerry here defends Mr Murphy but he won't defend, eh, eh, Senator Cahill in answer to your question".
Mr Adams cut across the Taoiseach asking "Who's Senator Cahill, who's Senator Cahill?" to which Mr Kenny responded: "Máiría Cahill".
Mr Adams replied: "Oh sorry, sorry".
He also said Fianna Fáil had driven the "bus off the cliff" when in government and now Mr Martin wants the keys to the bus back.
Labour leader Joan Burton said the cupboard was bare when her party entered government five years ago as she defended cuts to respite care and disability services.
In response to criticism by Mr Adams over the amounts paid to special advisors, Ms Burton said that anyone who came to work for the Labour Party had taken enormous wage reductions.
She also said she had made her career as a councillor fighting corruption and that some of those developers were proud Sinn Féin members.
Mr Martin also rounded on Mr Adams saying he had taken "a million in expenses" from Westminster at a time when he was abstaining as an MP from parliament there.
Housing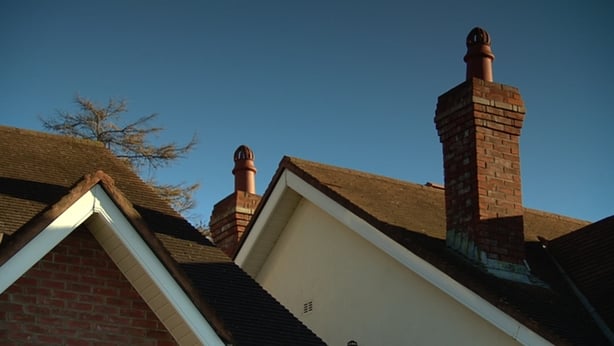 On housing, Mr Martin said it was "absolutely damning" that the Government allowed the housing shortage to become a crisis.
He said all the mechanisms that were in place to help vulnerable families had been taken away.
Mr Martin denied that the housing crisis had begun under the last Fianna Fáil-led government.
He said what must happen now is that rent supplement must be increased and Fine Gael and Labour needed to take their heads out of the sand and acknowledge that there was a crisis.
The Taoiseach said everybody should have access to a secure and affordable home and said 926 houses were being built on 63 local authority sites on foot of Government instructions.
He said planning guidelines had been changed to make things more straightforward and 5,000 units had been renovated.
Mr Kenny said the Coalition had put "money on the table" and while progress was slow, things were moving in the right direction.
Mr Adams says Sinn Féin would allow Credit Unions to use the €9bn, which he said is "languishing" in accounts that they are willing to invest in housing but have been unable to convince the Department of Finance to allow them to do so.
He said Sinn Féin would ensure that mortgages would be linked to sustainable economic reality for those purchasing their houses privately.
Cronyism
All four leaders became highly engaged on the issue of political appointments.
Mr Adams declared a debate "scoop" as the Taoiseach had admitted for the first time that he had appointed John McNulty to a board.
Mr Adams said for Mr Kenny to say that all has changed since then "is nonsense".
Asked about Sinn Féin's appointments to cross border bodies, he said that the party does not always nominate its own members, when it does it has some area of expertise in the area and that the Northern Executive must sign off on it.
Asked about concerns that people might have about him appointing people such as 'Slab' Murphy, Danny Morrison and Bobby Storey to such positions, he asked "what's wrong with Bobby Storey?"
Mr Kenny said he had changed the way in which people are appointed to State boards and admitted he appointed Mr McNulty to the board of IMMA in 2014 when the appointment "did not need to be made".
After the debate he backtracked on his admission that he appointed Mr McNulty to the board.
Mr Kenny said it was a ministerial appointment made by Minister for Arts Heather Humphreys, but that he accepted responsibility as line manager.