Greek police have started removing migrants from the Greek-Macedonian border after additional passage restrictions imposed by Macedonian authorities left hundreds of them stranded, sources said.
The migrants had squatted on rail lines in the Idomeni area yesterday after attempting to push through the border to Macedonia, angry at delays and additional restrictions in crossing.
Greek police and empty buses had entered the area before dawn, a witness said.
In one area seen from the Macedonian side of the border, about 600 people had been surrounded by Greek police, the witness said.
There were an estimated 1,200 people at Idomeni, in their vast majority Afghans or individuals without proper travel documents.
A crush developed there yesterday after Macedonian authorities demanded additional travel documentation, including passports, for people crossing into the territory.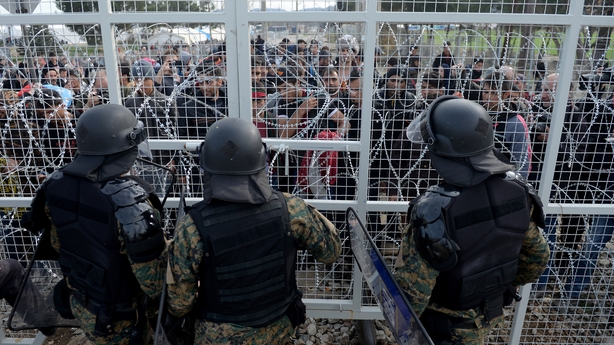 Some countries used by migrants as a corridor into wealthier northern Europe are imposing restrictions on passage, prompting those further down the chain to impose similar restrictions for fear of a bottleneck in their own country.
But there are concerns at what may happen in Greece, where a influx continues unabated to its islands daily from Turkey.
This morning, a further 1,250 migrants arrived in Athens by ferry from three Greek islands.
Some of them had bus tickets to Idomeni, but it was unclear if they would be permitted to travel north from Athens.
Greek Prime Minister Alexis Tsipras has expressed "displeasure" to the EU over the tougher border controls.
In a phonecall to his Dutch counterpart Mark Rutte, whose country currently holds the EU presidency, Mr Tsipras also complained about left out of a conference planned to take place in Vienna tomorrow.
According to a statement, Mr Tsipras said "decisions concerning refugee flows must be taken collectively without exclusions".
Meanwhile the International Organisation for Migration has said more than 110,000 migrants and refugees have arrived in Greece and Italy already this year, a sharp increase on 2015.
They include around at least 102,500 landing on Greek islands including Samos, Kos and Lesbos, and 7,500 in Italy, the IOM said in a statement.
"Over 410 migrants and refugees have also lost their lives during the same period, with the eastern Mediterranean route between Turkey and Greece continuing to be the deadliest, accounting for 321 deaths," the IOM said.
Last year, the figure of 100,000 refugees and migrants was not reached until the end of June, according to IOM figures.