The Taoiseach has claimed his remarks about whingers in Castlebar were directed at the Fianna Fáil party. 
In a statement to the Connaught Telegraph newspaper this evening, Mr Kenny said his comments at a Fine Gael rally were a reference to the manner in which the opposition party was conducting its election campaign in Mayo. 
The Taoiseach is quoted as saying that Fianna Fáil's campaign in Castlebar was "based entirely on criticism" of his record in office.
He said this is what he was referring to when he spoke to party members in the town. 
He claims Fianna Fáil is "latching onto a desperate attempt to gain publicity from more negativity".
However, when asked to clarify his comments yesterday, Mr Kenny said they related to "locals" and had "nothing to do with national politics at all".
He told reporters that "sometimes, I find people find it very difficult to find any good, anywhere, anytime".
Earlier today, Mr Kenny said he stood by his remarks and said there were some people in the town "who would not know sunshine if they saw it".
Enda Kenny has been asked to apologise for describing some Castlebar locals as 'whingers' during a speech yesterdayhttps://t.co/XTDQj8GSRs

— RTÉ News (@rtenews) February 21, 2016
He said his focus was on the challenges facing the country and that he would not be knocked off track by detractors.
Mr Kenny said his focus for the remainder of the election campaign is to try and convince people that Fine Gael can deliver the benefits of an improving economy to all citizens.
In a departure from the thrust of his campaign to date, Mr Kenny spent most of his party's news conference outlining the need for economic improvements to be felt by those who had not yet experienced them.
He conceded that it was difficult for people to be hearing slogans like "keep the recovery going" when they had no experience of any improvements in their living standards.
Mr Kenny said the last eight years had seen the structure of peoples' lives change as a result of the recession.
He said he wanted to ensure a strong economy would filter into every home and every life.
He said a stable government was needed to bring this about.
Kenny campaign - Sun 21 Feb - #GE16 pic.twitter.com/72H4jCXBxH

— Pat McGrath (@patmcgrath) February 21, 2016
The Taoiseach said there were dark clouds on the horizon for the Irish economy, including uncertainty over oil prices, the Middle East situation and the British referendum on EU membership.
He said that given those external factors, it was "important that we have our own house in order".
He said he wanted economic improvements to lead to a country that would be "compassionate, kind and caring" for citizens.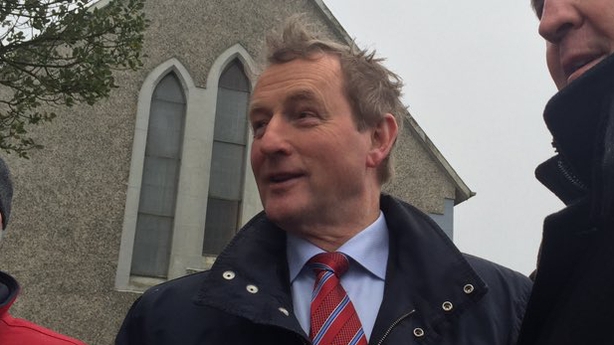 The Taoiseach was speaking in Loop Head, Co Clare where Fine Gael gave more detail about its plans for the tourism sector.
These include increased investment, a national "greenway network" and more charging points for electric cars.
He also refused to be drawn on the latest opinion polls, saying nothing would be decided until people cast their votes on Friday.
Sinn Féin President Gerry Adams has said that the Taoiseach's comments about "whingers" in Castlebar are a mark of the arrogance of the Government
Mr Adams said it shows that when the Taoiseach is off script and his handlers take an eye off him, his true characters comes out. He said it shows the contempt the Government has towards ordinary people.