Northern Ireland's Deputy First Minister has said that some people in the North are looking at the behaviour of politicians in the Republic with disgust with what he described as the "language and lies" that are being directed towards Sinn Féin.
Martin McGuinness said that in his time working with Ian Paisley and Peter Robinson neither of them had recriminations with him about the past.
He said having travelled around several constituencies in the South over the past two days that people have an appreciation for the role Sinn Féin has played in government in the North.
Mr McGuinness also spoke about the relationship he has with the US government and Sinn Féin's role in attracting foreign direct investment to Northern Ireland.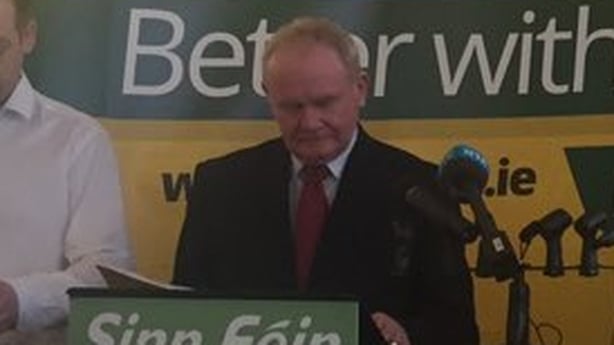 The Deputy First Minister also said that questions are being raised in the North about the fact that the Northern Ireland Secretary of State is campaigning for the UK to leave the European Union.
He said people are asking whether Theresa Villiers has the best interest of the North at heart when she aligns herself with an exit strategy.
 
Asked about media bias towards Sinn Féin, party leader Gerry Adams said: "The media are players. The Independent Group of newspapers are players.
"It is a bit difficult for people to get used to the fact that it is not just the old set up of Fianna Fáil and Fine Gael. We are here and we are here to stay."
Mary Lou McDonald was asked about the 'concerned citizen' who confronted her in the street.
Ms McDonald said: "When the conversation happened I was not aware of who the concerned citizen was.
She added: "It took brass neck, poor hard brass neck for somebody associated with ACC banks to come and attempt that they are concerned about young people."
Martin McGuinness says some in North looking at "language and lies" directed at SF here "with disgust" #ge16 pic.twitter.com/XLmJsoOV9y

— Samantha Libreri (@SamanthaLibreri) February 21, 2016