At least 2,000 Syrian rebel fighters have re-entered the country from Turkey over the last week to reinforce insurgents fending off an assault by Syrian Kurdish-led militias, rebel sources said.
The rebels, with weapons and vehicles, have been covertly escorted across the border by Turkish forces over several nights, before heading into the embattled rebel stronghold of Azaz, the sources said.
On Sunday, the Syrian government had said Turkish forces were among 100 gunmen who had entered Syria accompanied by 12 pick-up trucks mounted with heavy machine guns, in an ongoing supply operation to insurgents.
The route across Turkey has become the only path for rebels to their north Aleppo enclave after recent Syrian army advances closed the main route into rebel territory.
The UK's Observatory for Human Rights, which tracks violence across the war torn-country, also confirmed that hundreds of rebel fighters had already crossed with weapons via a border crossing into Azaz.
Another rebel source said the Turkish military have stepped up delivery of munitions and heavy military hardware in the last two days to bolster rebels facing the major offensive launched by the Syrian army and its allies.
The assault has helped the Syrian army come within 40km of the Turkish border for the first time in more than two years.
The rapid advance of US-backed Kurdish fighters in northern Syria, taking advantage of Russian air strikes to seize territory near the Turkish border, has infuriated Ankara and threatened to drive a wedge between NATO allies.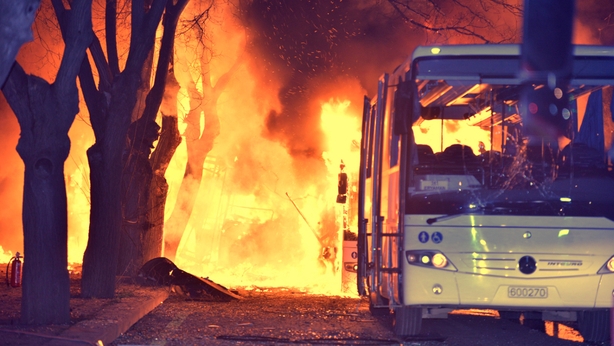 Erdogan says Kurdish opposition group behind Ankara attacks
Turkey's findings indicate that the Syrian Kurdish PYD was behind the Ankara bombing that killed 28 people yesterday, Turkish President Tayyip Erdogan has said, rejecting denials of responsibility from the group.
The head of the PYD has denied that his group carried out the attack in the Turkish capital of Ankara on Wednesday, saying it did not consider the Turkish state as an enemy.
But Mr Erdogan, speaking on live television, dismissed that.
"Even though those who head the PYD and PKK say this has no connection with them, based on the information obtained by our interior minister and our intelligence agencies, it is identified that this is done by them," he said.
Prime Minister Ahmet Davutoglu said earlier that the PYD's military wing - the Syrian Kurdish YPG militia - worked together with insurgents from the outlawed Kurdistan Workers Party (PKK) to carry out the bombing.