The Health Service Executive has said the public can be assured it moved quickly to ensure the safety of patients after concerns over colonoscopies at Wexford General Hospital.
It follows leaked details of an unpublished review, revealed by RTÉ News, which has identified around 12 missed cancers, including one probable avoidable death.
"Our primary concern in managing this matter was to address any patient concerns," said Dr Orla Healy, chairperson of the HSE's Incident Management Team.
"This has been completed and all patients and their families have received full open disclosure," she added in comments to RTÉ News.
"We acted swiftly to ensure the safety of service of the hospital concerned, and we deeply regret any distress caused to patients or anybody else affected by this matter."
The HSE 'regret any distress caused to patients or anybody else affected' by the missed cancers at Wexford Generalhttps://t.co/D6q04FmSCH

— RTÉ News (@rtenews) February 18, 2016
The HSE said it is not in a position to comment further at this time.
Minister for Health Leo Varadkar has said he is concerned that any cancers may have been missed at the hospital.
The review involves a doctor at Wexford General Hospital and bowel screening between 2013 and 2014.
After issues arose about the quality of some of the bowel screenings carried out at the hospital, many under the National Bowel Screen programme, around 600 patients who had had a colonoscopy were called back.
Minister Varadkar has also expressed sympathy to the families involved and to the family of the deceased.
The hospital said all patients affected have been contacted.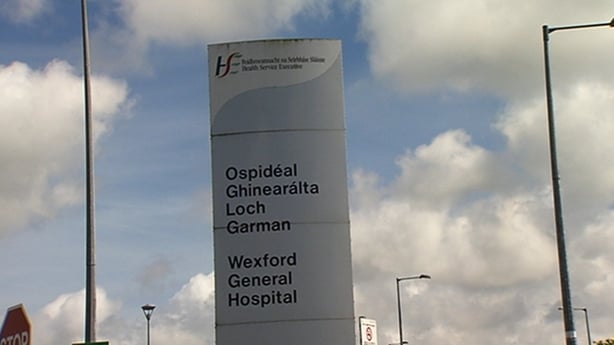 In a statement, the Ireland East Hospital Group said the Wexford General Bowel Screen recheck has been "thoroughly and comprehensively investigated".
Wexford General is part of the group but is run by the Health Service Executive.
The group said that throughout the process, patients and their families have been provided with full information, appropriate follow-up and treatment as needed in a timely manner.
It said the recall was managed in accordance with the HSE safety incident management policy.
Meanwhile, the widower of a woman who died from bowel cancer after a seven month delay in getting a colonoscopy has said he is very saddened to hear that there was a probable avoidable death at Wexford General Hospital.
Conor MacLiam, whose wife Susie died nearly nine years ago, said bowel cancer is the second most deadly cancer in Ireland and for patients to find out they were misdiagnosed is very hard for them to deal with.
He said that we cannot have a system that allows people to go so long with cancer because timing is everything, particularly with bowel cancer.
Speaking on RTÉ's Morning Ireland, Mr MacLiam said that any report that emerges from Wexford must be open and transparent.
He pointed out that since his wife died about €3bn has been taken from the health system.
He said that advances in areas of bowel cancer screening are made only to find new problems (such as Wexford and national waiting lists) arising.
He said that public patients deserved a decent health service.
"Time is of essence. Susie had to wait seven months. She died. She saw the partner of a friend of hers been seen within three days because he had private health insurance", he said.
"Public patients deserve a proper health system. It cannot go on like this where every so often we have chaos breaking out and people's lives been put at stake" he added.
Around 4,000 people waiting for screening, says Irish Cancer Society
The Head of Services at the Irish Cancer Society has said that anything that undermines public confidence in the bowel screening programme is worrying.
Donal Buggy said the uptake of those participating in the programme is only around 40%.
Mr Buggy said that 2,500 people are diagnosed each year with bowel cancer and around 1,000 people will die from it but added that it is a very treatable cancer, if caught early.
There are currently around 4,000 people in Ireland waiting for a bowel screening, he added.
Mr Buggy said that the target in 2015 was that 100% of public patients would be seen within a 13-week period but that target has been revised downwards to 70%.
He said that Wexford General Hospital was one which had been consistently below targets since 2014.