The United Nations said that Syria has agreed to allow access for humanitarian aid to seven besieged areas of the war-torn country.
The areas involved are Deir ez-Zor, Foah and Kafraya in Idleb, and Madaya, Zabadani, Kafr Batna and Madamiyet Elsham in rural Damascus, she said.
"Humanitarian agencies and partners are preparing convoys for these areas, to depart as soon as possible in the coming days," a spokeswoman for the UN Office for the Coordination of Humanitarian Affairs said.
Damascus gave the green light to the aid convoys after the UN special envoy for Syria Staffan de Mistura visited the capital.
He had earlier in the day announced that an aid convoy would be sent tomorrow to several towns under siege by the regime or the rebels.
"It is clear it is the duty of the government of Syria to want to reach every Syrian person wherever they are and allow the UN to bring humanitarian aid, particularly now after so long time," he said after a meeting with Syrian Foreign Minister Walid Muallem.
Assad says proposed ceasefire 'difficult'
Syria's President Bashar al-Assad has poured cold water on an internationally backed plan for a ceasefire to begin later this week, saying it would be "difficult" to implement.
His comments were his first on the plan put forward by world leaders in Munich last Friday for a so-called "cessation of hostilities" to begin within a week.
"They are saying they want a ceasefire in a week. Who is capable of gathering all the conditions and requirements in a week? No one," Mr Assad said in televised remarks in Damascus.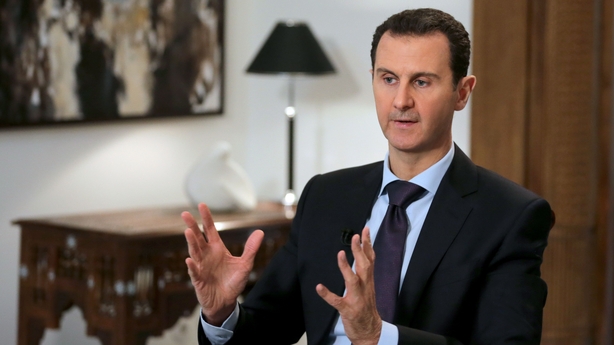 "Who will talk to the terrorists? If a terrorist group refuses the ceasefire, who will hold them to account? Practically, talking [about a ceasefire] is difficult," he said.
World powers last week called for immediate humanitarian access throughout Syria and a ceasefire to begin within a week, which would not include al-Qaeda affiliate Al-Nusra Front or the so-called Islamic State group.
But the details of just how the plan would be implemented remain to be worked out, with a UN panel co-chaired by the US and Russia tasked with the job.
Mr Assad said a ceasefire could not mean "that everyone stops using their weapons".
"This is the narrow sense," he said.
"A ceasefire must mean stopping terrorists from strengthening their positions. Moving weapons, equipment, terrorists or strengthening positions must all be forbidden," he added.
The international plan is intended to bolster the chances for new peace talks, which began at the end of January but collapsed before getting off the ground amid mutual suspicion and opposition calls for the implementation of UN resolutions on protection of civilians and the lifting of sieges.
As the talks opened, the regime launched a major operation in northern Aleppo province, backed by Russian forces, drawing the ire of the opposition and its backers including Turkey and Saudi Arabia.
The two countries have talked recently about the possibility of dispatching ground forces into Syria to fight IS, and Mr Assad warned that any such intervention into his country would have "global, not just local, repercussions".
Meanwhile, activists' videos purport to show air strikes on a Médecins Sans Frontières (MSF) hospital in Syria, which killed at least seven people yesterday.
The attack on the hospital in the town of Marat al Numan in north western Syria killed patients and MSF personnel, the MSF said.
Videos posted online by activists showed emergency workers hiding for cover in a nearby field before the strikes hit.
Activists' videos purport to show air strikes on an MSF hospital in Syria, which killed at least seven peoplehttps://t.co/cT6yK2IyMm

— RTÉ News (@rtenews) February 16, 2016
Russia has denied bombing the hospitals in northern Syria, with a Kremlin spokesman calling such accusations as "unsubstantiated".
He said that Moscow prefers to rely on "first-hand sources" of information, which he said in this case would be the Syrian government. 
Yesterday, the Syrian Observatory for Human Rights, a British-based monitor, said it suspected that Russian warplanes were behind the attack, based on the locations of the raids and the flight patterns and types of planes involved. 
Syria's ambassador to Russia, Riad, Haddad, accused the United States of bombing the MSF hospital and said that "Russian warplanes had nothing to do with any of it".