With another weekend of campaigning behind them, the seven party leaders will now turn their focus to tomorrow night's Leaders' Debate.
The RTÉ debate will be broadcast live from the University of Limerick and will cover the major topics in this election campaign.
The standing positions have been picked out of a hat and will run as (left to right) Richard Boyd Barrett, Gerry Adams, Micheál Martin, Enda Kenny, Joan Burton, Stephen Donnelly and Lucinda Creighton.
And with an average of 950,000 tuning in for the five-way debate on RTÉ during the last general election, the leaders will be hoping to make a big impact.
Tomorrow night at 9.35pm, we're in Limerick for the #leadersdebate, hosted by Claire Byrne. @ClaireByrneLive #GE16 pic.twitter.com/mk4BKNiHvN

— RTÉ One (@RTEOne) February 14, 2016
Earlier today, Taoiseach Enda Kenny launched the Fine Gael manifesto with the promise of 200,000 jobs, the abolition of the USC and a €20 increase in weekly social welfare payments to carers, the disabled and the sick.
The manifesto also proposes a €25-a-week increase in the old age pension.
The party proposes an additional 10,000 frontline public service workers and an increase in the minimum wage to €10.50 per hour.
Mr Kenny said there will be more doctors, gardaí and teachers under its plan.
Fine Gael also wants to extend free GP care to all children and introduce a second free pre-school year.
Mr Kenny said it was not the time to take risks with the economy and he added that political stability and economic stability go hand in hand.
He said the choice was between "forward or back, stability or risk".
In relation to Fine Gael's tax plans, the manifesto reiterated proposal to abolish USC, but there will be a 5% clawback for those earning over €100,000.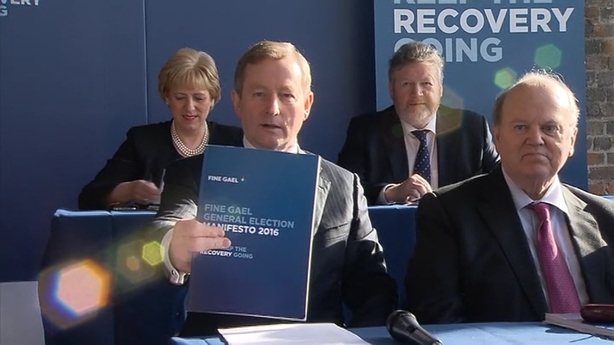 Fine Gael will reduce the entry point for PRSI to €13,000, plus there will be a restoration of dental benefits.
The party is also planning a €4bn fund for investment in jobs.
Mr Kenny said he does not envisage any circumstances where Fine Gael would go into government with Fianna Fáil, adding that half of Fianna Fáil wants to go into government with Sinn Féin.
He did not respond directly to a question about whether James Reilly would be deputy leader after the election.
He said that Irish people have been affected psychologically, emotionally and physically by the recession.
He said there were still too many people out of work and there was a long way left to go.
He contended Fine Gael has the experience to bring about a strong economy and a just society.
He said the "fragile recovery could not be gifted or hostages to the naysayers" who were more interested in scoring political points than assisting in economic recovery.
The Taoiseach said from Fine Gael's perspective, the recovery was about the lives, well-being, prosperity, and future of the Irish people.
Taoiseach delivering his homily as the FG faithful gather for manifesto launch in Dublin #GE16 pic.twitter.com/hAj0caele1

— Pat McGrath (@patmcgrath) February 14, 2016
Asked if Fine Gael has underestimated Fianna Fáil in this election, the Taoiseach said: "You never underestimate anybody. We are just approaching the half-way point in this election. The message I am getting is that they are beginning to reflect on the message that is here."
Mr Kenny said that the party's election manifesto has been fully costed.
Meanwhile, Minister for Finance Michael Noonan was asked about IBEC's criticism of the Fine Gael plan to abolish the USC.
The Taoiseach said "a central plank of the Fine Gael plan has been abolishing the USC".
Costings at the back of Fine Gael manifesto: adds up to total extra 5-year spend of 10.1 billion ie the fiscal space pic.twitter.com/Gvvv3x7Rfz

— Sandra Hurley (@sandra_hurley) February 14, 2016
In respect of the comment from IBEC about USC, Minister Noonan said he agrees with IBEC's analysis that personal taxes that are too high damage job creation and external investment.
He said that personal taxation has been reduced in the last two budgets.
Mr Noonan said: "The IBEC position favours reducing personal taxation by reducing income tax but I don't agree with that because it disproportionately benefits the highest paid".
He said that it would be economically a poor way of dealing with personal taxes as the top paid would end up having their economic tax reduced by about 10%.
He said it would be economically and socially regressive.
Responding to a question about negative campaigning Enda Kenny said he is 40 years in politics and he's never been personal #ge16 #rtenews

— Martina Fitzgerald (@MartinaFitzg) February 14, 2016