A boil water notice has been imposed on the Whitegate Regional Water Supply Scheme in Cork, affecting around 10,000 people.
Customers in these areas are advised to boil all water for drinking, food preparation, brushing of teeth and making of ice until further notice.
Water can be used as normal personal hygiene, bathing and flushing of toilets.
The notice has been issued on the advice of the HSE due to high turbidity in the Dower spring source serving the affected area of east Cork.
This public water supply serves a population of around 10,000.
Irish Water said the boil water notice "has been imposed as a precautionary measure pending further investigation in the interest of public health".
The utility said it will liaise with Cork Co Council and the Health Service Executive with a view to lifting the notice as soon as practicable.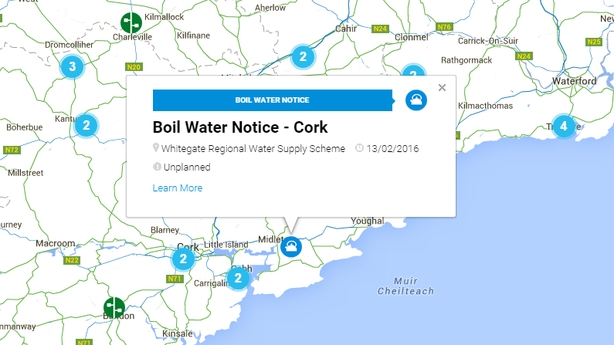 Areas affected by this notice are: Midleton South East, Ballynacorra, Cloyne, Aghada, Whitegate, Ballycotton, Churchstown, Trabolgan and surrounding rural areas.
The notice does not apply to other areas or water schemes in Co Cork.
A map of the affected area is available on water.ie.