French President Francois Hollande has called for Russia to halt its military action in support of Syrian President Bashar al-Assad.
Speaking in Paris, Mr Hollande said: "We need to ensure that Bashar al-Assad leaves power and at the moment, helped by the Russians, he is massacring some of his own people, even if he is also taking action against a certain number of terrorists.
"I ask that Russia's actions stop."
As he was speaking, the main players in the Syrian conflict were meeting in Munich to attempt to persuade Russia to agree to a ceasefire.
Russian Foreign Minster Sergei Lavrov said as he began talks with US Secretary of State John Kerry that Moscow had made "propositions for a ceasefire that are quite specific".
Russia has refused to confirm reports that its ceasefire would not take effect before 1 March, allowing another three weeks for an ongoing regime offensive against Aleppo, which the UN says could leave 300,000 people under siege.
Earlier, Germany's foreign minister said "somewhat of a breakthrough" at talks between major powers in Munich is needed to keep Syria peace talks alive.
"Here we need somewhat of a breakthrough and I'm certain that it's not just me, but all my colleagues that have this expectation," Frank-Walter Steinmeier said, adding it was not clear ceasefire agreement could be reached today.
He said: "Today, we will try what has not been achieved so far especially to get better supplies to people locked in Syria and to link this to first steps in a significant reduction of violence."
Mr Steinmeier was speaking to reporters in advance of a meeting of the International Syria Support Group, a collection of about 20 countries, aimed at brokering a ceasefire to the war.
Speaking before the conference, Russia's deputy foreign minister said they were ready to discuss the possibility of a ceasefire.
International talks to end the five-year civil war that has killed more than 260,000 people broke down earlier this month amid accusations from the West and Syrian regime opponents that Russia's air strikes in Aleppo were targeting opposition groups and civilians.
The talks were temporarily suspended until 25 February, but Russia's Deputy Minister of Foreign Affairs, Gennady Gatilov. said that they could "possibly start earlier".
Earlier this week, John Kerry warned that Russia's bombing of opposition targets could further derail diplomatic efforts to end Syria's brutal civil war.
He is to host the talks with Russian Foreign Minister Sergei Lavrov.
But US frustration with Russia's bombing in support of Syrian President Bashar al-Assad's regime is growing, as fears mount that the opposition will refuse to join UN-led peace talks while their cities are under fire.
Russia launched a bombing campaign in the war-torn country last year at Mr Assad's request, saying strikes are aimed against the so-called Islamic State group and other jihadists.
But the West has accused Moscow of targeting more moderate groups that oppose Mr Assad's regime.
Russia's defence ministry said that its air force had hit 1,596 "terrorist targets" in eight regions including Aleppo, Latakia, Hama and Homs provinces in the past week.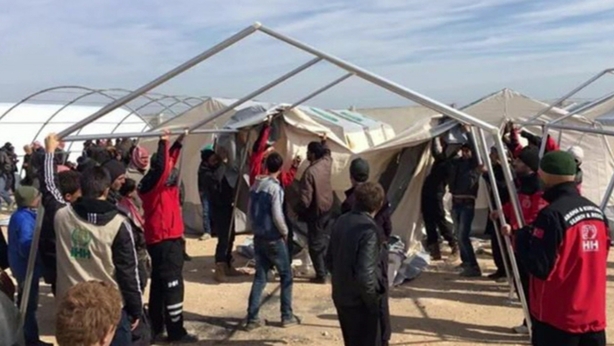 Meanwhile, 200 tents have been erected by aid organisation, IHH Humanitarian Relief Foundation, near the Turkish border to try to accommodate the thousands of refugees fleeing Aleppo.
The UN estimates as many as 20,000 people have been displaced since the Syrian army, backed by Russian air support, stepped up its offensive against rebels in Aleppo in recent days.
The IHH NGO estimates more than 50,000 people have now gathered at the Bab al-Salam border crossing with Turkey.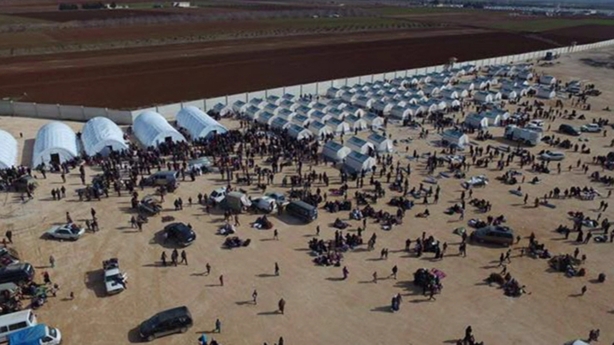 UN warns of hunger in Homs as Syrian offensive strands 120,000
Syria's military offensive has cut off 120,000 people in the northern Homs governorate since mid-January, worsening hunger and killing patients unable to get to medical care, a UN report has said.
"There are reports of increasingly acute shortages of food, basic commodities, medical items and fuel in the area. With the irregular supply routes used until mid-January now cut off, food items that are still available are now being sold at much higher prices," said the report by the UN humanitarian office.
Bread prices are already ten times higher than in the city of Homs, and unaffordable for most families.
Northern Homs governorate is mostly farming land, but the fields yield little in winter and hunger is expected to spike in the next two weeks, the report said.