The main political parties focused on health policy and payments for workers and their families in the election campaign, while Sinn Féin published its election manifesto.
Fine Gael outlined its plans to support working families.
Central to the plan is a new working family payment, which will ensure payments of €11.75 per hour for recipients.
Minister of State Simon Harris said the new payment will allow people to keep a portion of their jobseekers' benefit and ensure they are better off working than on welfare.
The payment would cost €60m per year and would be introduced from 2018.
Fine Gael is also promising to increase the minimum wage to €10.50 during the lifetime of the next government and says it will amend employers' PRSI to mitigate the changes to the minimum wage.
Launching his party's health proposals, Fianna Fáil's Billy Kelleher accused the Government of having a punitive system.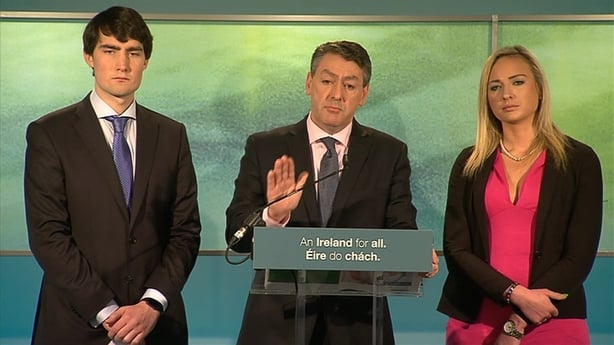 He said the key blockage was in emergency departments and said there was a need to appoint extra consultants.
Mr Kelleher said Fianna Fail's plan was to spend about €1.3bn to see its commitments coming to fruition in year five of the government programme.
The Labour Party announced its plans for what it called a "skills revolution".
Under the party's proposals, Labour would increase the minimum wage of €9.15 to a living wage of €11.30p/h, over the next five years.
It said it would provide 50,000 apprenticeship places and 100,000 free part-time education places.
Sinn Féin launched its election manifesto, which promises to create 250,000 additional jobs, abolish water charges and the property tax and take over 277,000 low-paid workers out of the Universal Social Charge.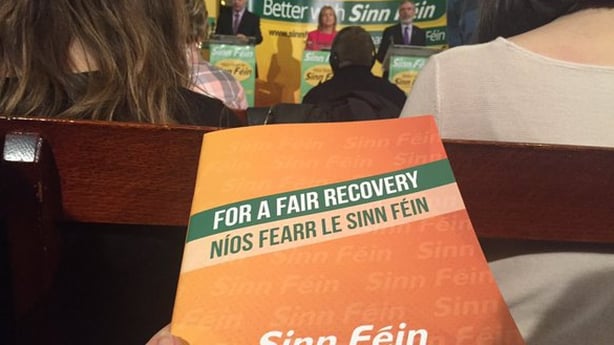 The party reiterated its intention to abolish the Special Criminal Court.
Party leader Gerry Adams said they would replace the Offences Against the State Act with the normal rule of law. 
Meanwhile, Róisín Shortall of the Social Democrats said her party plans to eliminate water charges.
She said it would not cost anything because it is costing more to collect water rates than is currently being paid by households.
Speaking on RTÉ's Today with Sean O'Rourke, Ms Shortall said other proposals to reduce the costs of living include reducing prescription charges, which have gone up five-fold for people on medical cards, at a cost of €56m.
Another Social Democrats leader has questioned the Government's "stability" message in the context of "tumbling global markets".
Stephen Donnelly said the fall of global stocks is raising fears of a "new global recession", and he accused Fine Gael and Labour of employing "auction politics". 
Mr Donnelly added that the government parties were "lost in fiscal space". 
Meanwhile, voters are being advised to check the register of voters. They have until close of business tomorrow to get their applications into their local authority to be included in the supplement to the register of voters.
Forms are available from local authorities and online at checktheregister.ie.
Garda force too small - Martin
Earlier, Fianna Fáil leader Micheál Martin has said the lack of Garda resources is a problem and that gardaí are telling him on the doorsteps that morale is very low.
Speaking on RTÉ's Morning Ireland, Mr Martin said that the latest gang-related violence was a "direct threat to the State and a direct threat to our society".
The Garda force is now too small, needs greater support in terms of intelligence and specialist responses in terms of the Special Criminal Court are needed, he said.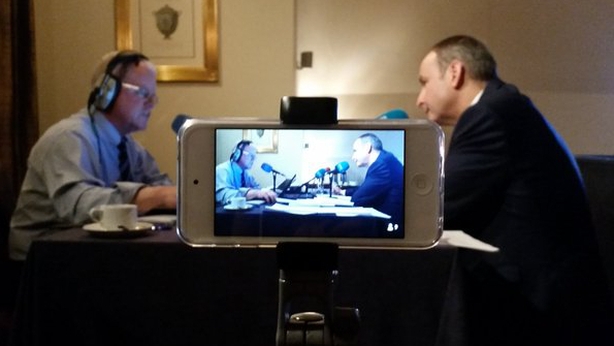 An accelerated recruitment drive in An Garda Síochána is needed, he said.
Mr Martin added that there is a real sense now that the Government has dropped the ball in terms of crime.