An eight-year-old girl was rescued from the rubble of a Taiwan apartment block, more than 60 hours after it was destroyed by an earthquake.
The rescue comes as the mayor of the southern city of Tainan warned the death toll could exceed 100.
The official death toll from the quake rose to 38, with more than 100 people missing.
The girl, named as Lin Su-Chin, was conscious and had been taken to hospital, Taiwan television stations said, adding there were possibly two other people still alive in the wrecked building.
The quake struck at about 4am (8pm Irish time) on Saturday at the beginning of the Lunar New Year holiday, with almost all the dead found in Tainan's toppled Wei-guan Golden Dragon Building.
Rescue efforts are focused on the wreckage of the 17-story building, where more than 100 people are listed as missing and are suspected to be buried deep under the rubble.
Earlier, a legislator who represents the area, told reporters that a woman was found alive lying under her dead husband. Their two-year-old son, who was also killed, was found lying nearby.
Another survivor was pulled out, with Taiwan television stations showing live images of the rescues. Several hours later, the rescued man's girlfriend was found dead in the rubble.
The Tainan mayor said during a visit to a funeral home that rescue efforts had entered what he called the "third stage".
"There are more fatalities than those pulled out [alive], and the number of fatalities will probably exceed 100," he told reporters.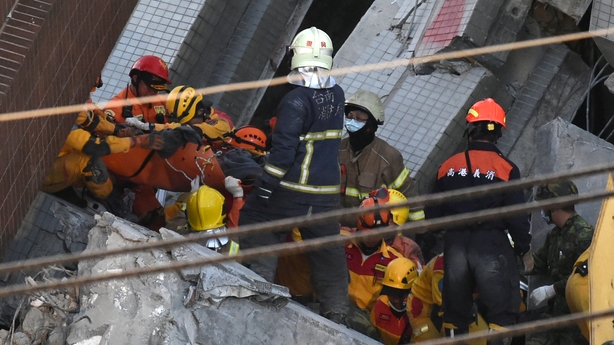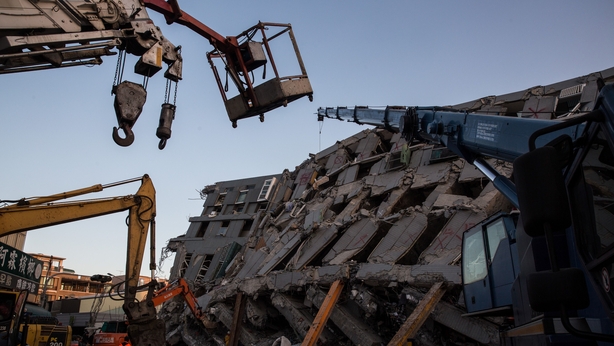 Rescuers continued to scramble over the twisted wreckage of the building as numbed family members stood around, waiting for news of missing relatives.
Taiwan's government said in a statement that 36 of the 38 dead were from the Wei-guan building, which was built in 1994.
President-elect Tsai Ing-wen, who won an election last month, said there needed to be a "general sorting out" of old buildings to make sure they were able to cope with disasters like earthquakes.
She said: "There needs to be a continued strengthening of their ability to deal with disasters."
Speaking to reporters at a Tainan hospital, outgoing President Ma Ying-jeou said the government needed to do a better job in ensuring building quality.
He said: "In the near future, regarding building management, we will have some further improvements. We will definitely do this work well."
Witnesses at the scene of the collapse saw large rectangular, commercial cans of cooking oil packed inside wall cavities exposed by the damage, apparently having been used as building material.
Chinese President Xi Jinping also conveyed condolences to the victims, state news agency Xinhua reported late on Sunday and repeated Beijing's offer to provide help.
China views self-ruled Taiwan as a wayward province, to be bought under its control by force if necessary.