Twenty-seven people, including 11 children, drowned after their boat sank in the Aegean Sea while trying to cross from Turkey to Greece, according to the Turkish coastguard.
The coastguard said it discovered the boat, carrying 40 people, half capsized after it set off from Edremit in the western province of Balikesir in an apparent bid to reach the Greek island of Lesbos.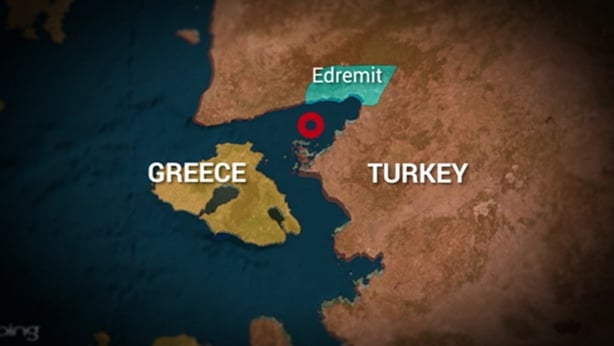 Dogan news agency initially said at least 35 migrants had died in two separate accidents off western Turkey, but later reported that there was a single incident, with 11 children dead.
Turkey, which is hosting at least 2.5 million refugees from Syria's civil war, has become the main launchpad for migrants fleeing conflict, persecution and poverty to Europe.
The deaths came as German Chancellor Angela Merkel held talks in Ankara on reducing the influx of migrants to Europe, as about 30,000 Syrians remained stranded at the Turkish border after fleeing a regime offensive on the northern Syrian region of Aleppo.
Merkel said Turkey and Germany would seek the use of NATO resources to help police the Turkish coast to try to stop the people smugglers.
Turkish Prime Minister Ahmet Davutoglu, whose country has taken in 2.7 million people fleeing the Syrian conflict, said Ankara could not handle the burden alone.
Speaking at a news conference in Ankara with Mr Davutoglu, Ms Merkel said donors should stop talking and start building projects to help refugees in Turkey.
She said: "We need a visible first project. It doesn't help a child from Syria that is a refugee here, or a Turkish class that has to share its room with Syrian refugees to say we have pledged €3 billion. They want to see a school in the city and fast.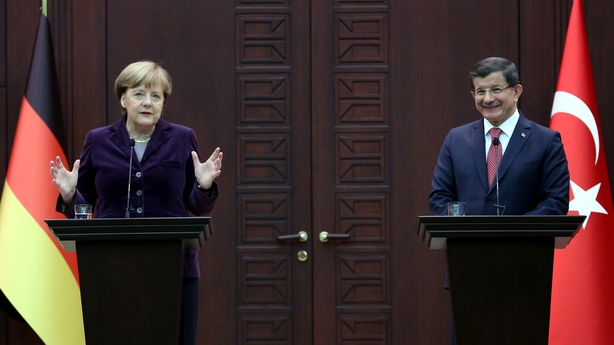 "We need to work on this. We need to make sure there are not too many bureaucratic hurdles. Rather the refugees have to see the benefits quickly and without bureaucracy."
Ms Merkel also said she was "appalled" and "shocked" by the suffering in Aleppo, which she blamed on bomb attacks originating primarily from the Russian side in support of the Syrian government.
She said the bombings have forced tens of thousands of civilians to flee and suggested Russia's actions might be in violation of a UN Security Council resolution that Moscow signed in December.
Aleppo on the verge of being surrounded - Goal
Earlier, the CEO of Goal said the Syrian city of Aleppo is on the verge of encirclement which means hundreds of thousands of people in the eastern part of Aleppo will not be able to get out.
Speaking on RTÉ 's Morning Ireland, Barry Andrews who recently returned from Turkey, said: "What we're about to see unfold in Aleppo quite possibly is the largest siege since the Second World War."
He said: "We're going to probably require a major airlift of aid into those populations.
"The 350,000 people that are currently in the eastern part of Aleppo will not be able to get out. There will be a new siege but this will be of a gargantuan proportions compared to anything we've seen.
"Now siege is used as a tactic of war, leading to starvation, leading to wearing down opposition that has been a common feature of the Assad tactics over the years."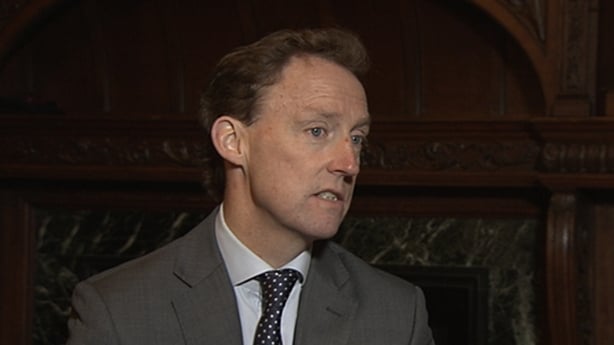 He said the situation for those living there is "hell".
He said there is one single humanitarian corridor into Aleppo further to the west, which is being used to deliver aid to a massive community of internally displaced Syrians in northwestern Syria, which borders Turkey.
The second humanitarian corridor has been cut off.
Mr Andrews says he believes Turkey will accept the Syrian refugees but that thousands of people who have fled Syria are not being allowed to enter the country as it has said it has reached full capacity.
He said Turkey has "done far more than they should be required to do in terms of accepting refugees and they have supported the Syrians with aid on the Syrian side of the border".
But he said "naturally they're trying to make a point. Why should Turkey bear all the burden when the EU is clearly not accepting and sharing the burden of refugees".