Several hundred farmers have rallied outside the Slaney meat factory near Bunclody in Co Wexford to demand that the Minister for Agriculture Simon Coveney intervene to prevent the sale of a 50% stake in the meat factory.
IFA Livestock Chairman Henry Burns said that the sale to Larry Goodman's ABP meat processors would make Mr Goodman even more dominant in the meat sector.
Mr Burns said that farmers cannot understand why Mr Coveney is saying he can do nothing, and why he is adopting such a detached policy on what for farmers is a critically important competition issue.
The sale of the Allen family's 50% stake to ABP would give Mr Goodman effective control of 30% of the national beef kill, 40% of the lamb kill, and 50% of the six meat rendering plants in the country.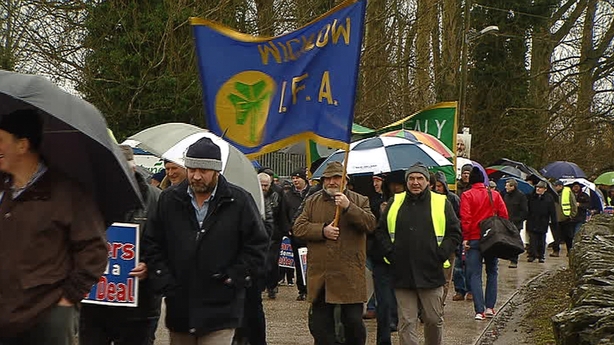 Mr Burns said that farmers are demanding a better price for their cattle and fair and open competition, but insisted that this is being denied to them.
He said that the Competition and Consumer Protection Commission has told the IFA that there is nothing stopping Mr Coveney from making a submission to them on the proposed merger and in support of effective competition in the livestock sector.
The IFA is now calling on the minister and the Government to make that submission.
They are also calling on Mr Coveney to address the lack of competition in the beef sector, and what they claim is an the unacceptable price gap that has opened up between Irish and British cattle prices.
Recent figures show the average Irish/UK price gap for beef widened to 82c/kg or €293 per head in 2015. This compares to an average of 27c/kg or €97 per head over the 10 years from 2004 to 2013.
The IFA said that this proves their point on the lack of competition in the beef processing sector and underscores their demand for intervention to prevent ABP from purchasing the 50% stake in Slaney Meats.