Minister for Finance Michael Noonan has outlined Fine Gael's plan to abolish the USC by 2020 as part of the party's Long Term Economic plan.
Speaking at Fine Gael's election HQ, Minister Noonan said that the plan is part of the Fine Gael commitment to "Making work pay" strand of the economic plan.
He said that "this time five years ago, people were feeling for the first time the shock of the Universal Social Charge deducted from their pay cheques.
"The introduction of the USC by Fianna Fáil was the last act of a failed government and their economic mismanagement that ruined the country.
"It has become the most hated tax in the history of the State."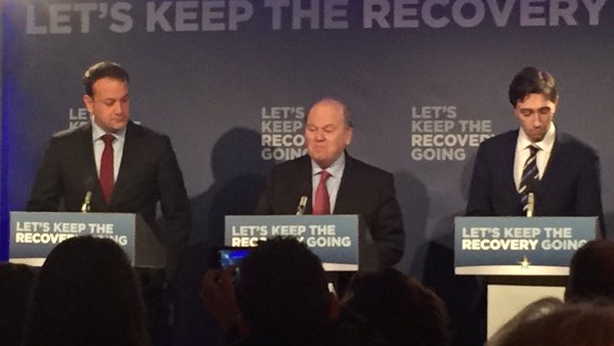 Mr Noonan said that Fine Gael has started to cut the charge and "it is now my mission in political life" to abolish USC.
Mr Noonan said: "the USC is a penal tax, I am not doing this because it is unpopular. The primary reason I am doing it is because personal taxes are too high."
He said it damages job creation. He added that removing the USC and getting our marginal rate of tax down to 44% is important.
Mr Noonan added: "We have a claw-back system in place to stop the cut benefiting the most well off."
Minister Noonan has stood over the Government's figures on fiscal space, saying: "I totally stand over my figures and I did not generate the figures generated in the Department of Finance."
Michael Noonan challenges anyone who says his Fiscal Space figures are wrong to 'prove it' https://t.co/7w5mEfQ7tHhttps://t.co/7SvOSrZG05

— RTÉ News (@rtenews) February 7, 2016
He said that anyone who asserts his figures are incorrect needs to "prove it, prove it".
Minister Noonan said that the money is at the disposal of a future government, and unless they want to renege on the Lansdowne Road or commitments on capital spending they will have to spend it.
Meanwhile, speaking on RTÉ's This Week programme, Simon Harris, Minister of State at the Department of Finance, said that it will take a full five years to get rid of what he described as "the hated USC".
He added that the "idea of tax versus spending was not an either/or situation, and that if you use tax as a policy instrument, you can continue to grow the economy and put money back in people's pockets".
Speaking on the same programme, Darragh O'Brien, Fianna Fáil's finance spokesman in the Seanad, said that his party "would prioritise public services, two to one, with tax cuts focused at lower middle income families, senior citizens, and families who haven't benefited over the last four or five years".
He said Fianna Fáil proposed a USC cut from €80,000 down, explaining that his party's aim was to get rid of the 1% USC within the first year and then over the next two years, to abolish it up to €80,000.
But he added that Fianna Fáil believes that "those who are earning more, can pay a little bit more" and so it would scale down the USC because, he said, "we need to pay for our services".
Earlier, the leader of Fianna Fáil has criticised Fine Gael's announcement to abolish the USC by 2020.
Speaking in Cork this morning, Micheál Martin described the plan as "unrealistic" to deliver in fewer than five years and "over the top".
Fine Gael publishes its plan to abolish #USC by 2020. Micheál Martin responds... #GE16 @rtenews pic.twitter.com/taLFXNY1gx

— Paschal Sheehy (@PaschalSheehy) February 7, 2016
He added that if Fianna Fáil was in government, it would reduce the burden of the USC for working class families rather that eliminate it totally.
Speaking in Ballina this afternoon, the Taoiseach has again hit out at Sinn Fein saying the party would decimate the economy and drive jobs out of the country.
He said the party was not fit for government and this was evidenced by its desire to have the Special Criminal Court abolished.
Mr Kenny said he would not stand for a position where a political party wanted to abolish the Special Criminal Court and maintain the USC.
Social Democrats would not erode tax base
Meanwhile, Joint leader of the Social Democrats Catherine Murphy has reiterated that her party will not erode the tax base if elected to government.
Speaking on RTÉ's This Week Ms Murphy said the Social Democrats were committed to reducing the cost of living and "putting money back in people's pockets".
She said the party would do this by reducing the costs of housing, education and childcare.
Ms Murphy said that free education should be universal, describing it as a "fair return for those who pay higher taxes".
She said that those who were most worried about the costs of third-level education were those who were "just above the threshold of being entitled to a grant".