On the first Sunday of the General Election 2016 campaign, Fine Gael ministers Michael Noonan, Leo Varadkar and Simon Harris held a press conference in Fine Gael's Media HQ to set out the details of Fine Gael's plans for the abolition of the USC as a core part of the party's Long Term Economic Plan.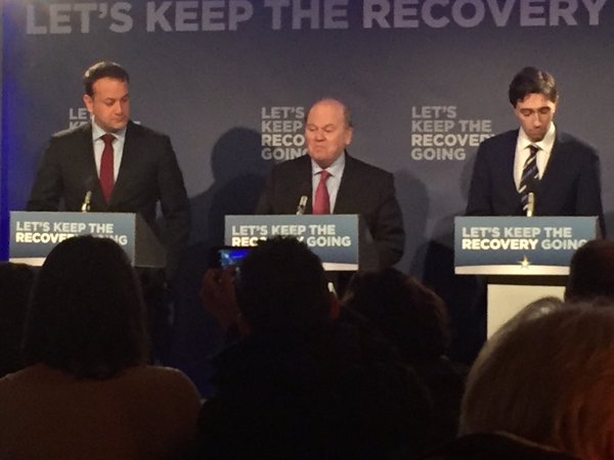 This was followed by a photocall with the three ministers and a number of the party's Dublin candidates.
The Taoiseach was in his own Mayo constituency with Michelle Mulherin in Ballina today.
Fianna Fáil outlined its response to gangland and organised crime close to the scene of Friday's gangland murder at the Regency Hotel.
The party's Justice Spokesperson Niall Collins, Dublin North-West election candidate Paul McAuliffe, and Dublin Fingal candidate Lorraine Clifford-Lee addressed the media opposite the former Whitehall Garda Station on Griffith Avenue, Dublin 9 at 12pm.
Meanwhile, Minister for Communications, Energy & Natural Resources Alex White launched 'Growing the Green Economy', Labour's official policy on green jobs at Labour's campaign HQ at 12pm.
Minister White was joined by Minister for Labour Activation and candidate for Dublin Bay South, Kevin Humphreys, and Cllr Carrie Smith, the party's candidate in Dun Laoghaire.
Labour leader Joan Burton canvassed outside the Aviva Stadium before Ireland's Six Nations rugby match with Wales.
Sinn Féin set out its "fully costed proposals for Universal Healthcare" when it launched a billboard campaign outside Sinn Féin offices on Dublin's Parnell Square at 3.30pm.
Sinn Féin President Gerry Adams, Health Spokesperson Caoimhghín Ó Caoláin, and councilors Darren O'Rourke and Máire Devine addressed the media.
Mary Lou McDonald and Pearse Doherty canvassed in their local constituencies today.