Rescuers in Taiwan have pulled more people alive from a collapsed apartment tower today, after a strong earthquake shook the island, and are searching for about 100 people still believed trapped in the ruins of the building.
Those found alive include two men in their 20s who was able to walk out from the rubble, supported by rescuers. Both were sent to hospital.
Firefighters, police, soldiers and volunteers combed through the ruins, some using their hands, watched anxiously by dozens of the victims' family members who wore thick jackets, woolen hats and scarves on a chilly morning.
At least 24 people are known to have died in the quake - which struck on Friday, at the beginning of a Lunar New Year holiday - including 16 found in the collapsed Wei-guan Golden Dragon Building in the southern city of Tainan.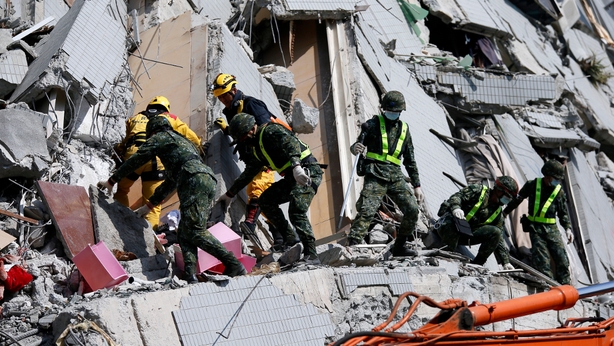 Around 100 people are still beneath the rubble of the commercial-residential block, with most them trapped deep in the wreckage, the government said.
Bodies continue to be found, including those of two sisters, aged 18 and 23, Taiwanese media reported.
The building's lower floors pancaked on top of each other in the 6.4 magnitude quake and then the whole structure toppled, raising immediate questions about the quality of materials and workmanship used in its construction in the 1990s.