There was scuffles between gardaí and anti-Pegida protesters in Dublin this afternoon.
Anti-Islamisation group Pegida had planned to announce an Irish branch of the European group at a rally this afternoon in Dublin city centre but it was disrupted by a counter rally that took place in protest at the anti-Islam group.
Protesters pursued several men they believed to be Pegida members from O'Connell Street down onto North Earl Street before Public Order Unit gardaí stepped in.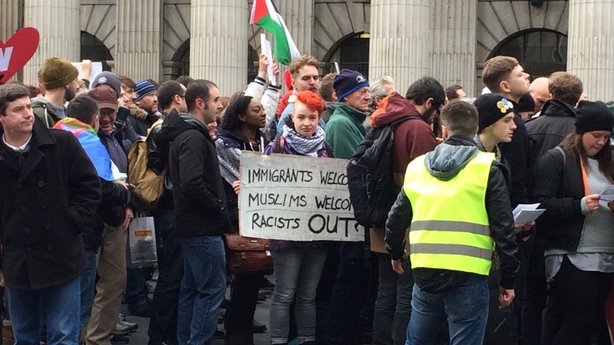 There were several confrontations between gardaí in public order equipment and protesters - and an RTÉ cameraman was injured during one incident.
A spokesperson for RTÉ has said that the broadcaster is to make a formal complaint about the incident.
Pegida's planned Dublin launch was to be among a series of Europe-wide demonstrations against the growth of Islam in Europe.
Peter O'Loughlin, of Identity Ireland, said that Pegida Ireland will become the 15th country to establish a branch of the organisation.
More confrontations between protestors and Gardaí O'Connell street pic.twitter.com/sghqo2Y7Xo

— Colman O'Sullivan (@colmanos) February 6, 2016
Protestors in stand off with Gardaí after pursuing suspected Pegida members up O'Connell street pic.twitter.com/PLDm8nrRX5

— Colman O'Sullivan (@colmanos) February 6, 2016
Meanwhile, around 20 anti-migrant protesters were arrested in the French port of Calais after scuffles with police at a banned Pegida rally.
A crowd of around 150 protesters had gathered in central Calais carrying signs such as 'This is our home', waving the French flag and singing the national anthem, despite the government issuing a ban on demonstrations earlier this week.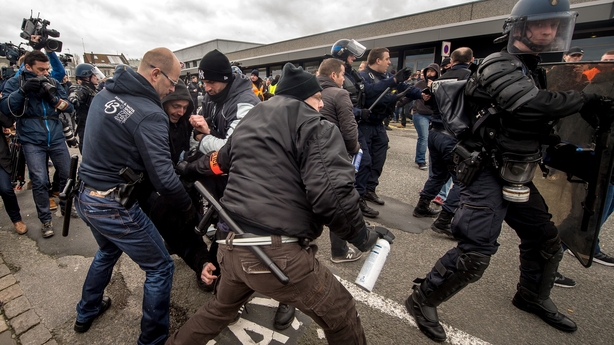 "Some groups began to circulate in the city centre, mainly far-right, neo-Nazi types," regional official Etienne Desplanques said.
Police issued warnings for the demonstrators to disperse and then fired tear gas to break up the rally. There were several skirmishes with police.
"We have had a series of arrests, in all about 20," said Mr Desplanques, adding that the figure could go higher.