At least 14 people, including a ten-day-old girl, are dead after a powerful earthquake struck southern Taiwan.
Most of the dead were killed when a 17-storey apartment building collapsed.
Frantic efforts are under way to rescue people believed to be trapped inside.
Ten of the dead were from the apartment complex, where the floors of a tower block pancaked down onto each other when the 6.4 magnitude tremor hit at around 4 am (8pm Irish time), at the start of a Lunar New Year holiday.
The baby girl was found in her dead father's arms, according to local media reports.
Rescuers mounted hydraulic ladders and a crane to scour the wreckage, plucking 221 survivors to safety so far, with dozens taken to hospital, a fire brigade official said.
Elsewhere in the city of two million people, several buildings tilted at alarming angles but a fire department official said rescue efforts were now focused entirely on the apartment block.
An 18-year-old man was found alive and conscious as darkness fell, while a 30-year-old woman, a nine-year-old girl and a young boy were also pulled from the rubble alive.
"I was watching TV and after a sudden burst of shaking, I heard a boom. I opened my metal door and saw the building opposite fall down," said a 71-year-old neighbor.             
A plumber, he said he fetched some tools and a ladder and prised some window bars open to rescue a woman crying for help.
"She asked me to go back and rescue her husband, child, but I was afraid of a gas explosion so I didn't go in. At the time there were more people calling for help, but my ladder wasn't long enough so there was no way to save them."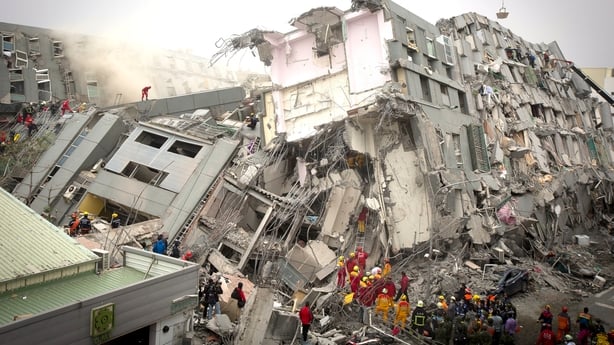 The quake was centred 43km southeast of the city of Tainan, at a depth of 23km, the US Geological Survey said.
Several aftershocks shook Tainan, Taiwan's weather bureau said.
One elderly woman, wrapped in blankets, was strapped to a board and slowly slid down a ramp to the ground as the cries of those still trapped rang out.
Rescuers used dogs and acoustic equipment to pick up signs of life in the rubble.
Authorities said there were 92 families and 256 people living in the collapsed apartment building, but they did not know how many were actually there when the quake struck.
The fire department said 115 people had been taken to hospital from around Tainan.
China's Taiwan Affairs Office, which in is charge of the country's relations with the self-ruled island, said China was willing to provide help if needed, Chinese state news agency Xinhua said. China regards Taiwan as a wayward province.
The quake initially cut power to 168,000 households in Tainan, many of whose residents lived through a massive 1999 tremor that killed about 2,400 people. Later, utility Taipower said power had been restored to all but about 900 households.
Taiwan lies in the seismically active 'Pacific Ring of Fire'.