On the first full day of election campaigning, candidates and parties have been pitching to voters for their support.
Taoiseach Enda Kenny has launched his party's three-step Long Term Economic Plan.
He was joined for the first official engagement on the Fine Gael general election campaign by Minister for Finance Michael Noonan, Minister for Enterprise Richard Bruton and Minister of State Simon Harris.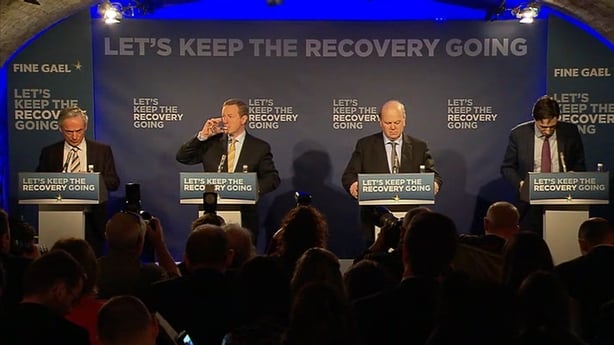 Speaking at the party's campaign headquarters in Dublin, Mr Kenny told reporters he wanted no more boom and bust, no more sense of crisis.
He said their plan was focused on keeping the recovery going.
Fine Gael was the only party with a clear long-term economic plan, he claimed. Its three steps are more and better jobs, making work pay, and investing in public service.
The Taoiseach criticised both Fianna Fáil's and Sinn Féin's economic plans, saying they fought tooth and nail every jobs plan.
Mr Kenny said the high tax policies of Sinn Féin and Fianna Fáil would bring the recovery to a "shuddering halt".
He pledged to bring the unemployment rate to 6% and create jobs across the country, with an emphasis on balanced regional growth.
Fine Gael will also introduce a new working family payment, to get away from what Mr Kenny called "the welfare trap". It needed to be worth people's while to go to work, the Taoiseach said.
The party is also planning enhanced investment in public services.
"There will be no additional resources for services if we do not keep recovery going," he added.
He said the party was aiming for 200,000 jobs by 2020, with 70,000 emigrants returning and said Fine Gael will invest €42bn in vital infrastructure.
Fine Gael is also going to invest €4bn in a jobs fund and maintain the corporate tax rate, the party said.
Economic issues have been to the fore on the campaign trail of Fine Gael, Labour and Fianna Fáil.
The Anti-Austerity Alliance-People Before Profit and the Green Party have also launched their election campaigns.
As It Happened: Election 2016 Day Two
The AAA-PBP said a national emergency needs to be declared on housing.
The AAA-PBP will not lose their principles in order to be in Government according to @paulmurphyAAA & @RBoydBarrett pic.twitter.com/ymBRID8pTv

— Ailbhe Conneely (@AilbheConneely) February 4, 2016
There was strong criticism of the Labour Party at the launch.
AAA-PBP candidate Ruth Coppinger, who is running in the same constituency as the Leader Joan Burton, said working people and working class people are ready "to send the Labour Party a message and finish it off".
Ms Coppinger said the messages of the Labour Party are "shallow and very unconvincing", and she said there was anger and hatred for the party in the constituency of Dublin West.
She said she hoped that the party would be the one to "bring Joan Burton down".
Once again the party expressed its desire to be in a left leaning government.
Richard Boyd Barrett said the choice in the election was a genuine, radical left alternative, or the cronyism, injustice and broken promises of the past.
Green Party leader Eamon Ryan said a reduction in USC was not viable as the world economy is not stable. He added that his party wanted to invest in housing, the health service and transport.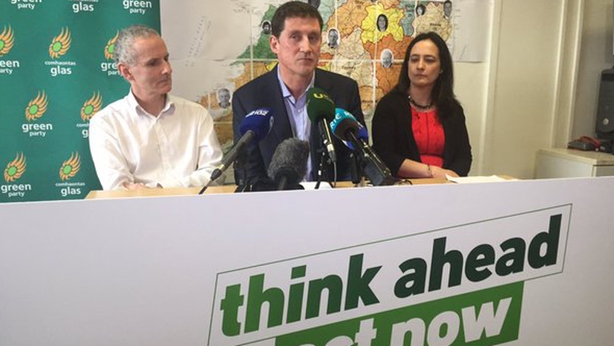 Leader of Sinn Féin Gerry Adams has been on hustings in Dublin, Meath and Louth.
Mr Adams said the Government has been forced to make the fastest fiscal flip flop in political history and he said that was down to the diligent work of his party's finance spokesman Pearse Doherty, who found their figures did not add up
He also rejected accusations that Sinn Féin would destroy the economy, saying whatever recovery was under way was not down to what this government has done.
He says no one has found fault in the figures Sinn Féin has produced.

And they're off... The first full day of campaigning in the General Election is under way. #GE16https://t.co/jaVDn3tBgp

— RTÉ News (@rtenews) February 4, 2016
Tánaiste Joan Burton was in Drogheda in Co Louth this morning outlining the party's plan for full employment by 2018, while Fianna Fáil attacked the Government's health record.
Speaking in Waterford, Micheál Martin accused the Government of creating chaos and instability in the health service.
He said the Government lacked direction, and its "botched" policies had made the health service a difficult place for staff to work and for patients to be treated.
Micheál Martin says the Government's health strategy is "incoherent". #GE16 @rtenews pic.twitter.com/yaVR22NNrL

— Paschal Sheehy (@PaschalSheehy) February 4, 2016
Renua leader Lucinda Creighton said her party is committed to simplifying the tax system by introducing a flat rate of tax of 23%.
On Today with Sean O'Rourke she said that this plan would generate more money in take home pay which will have a positive knock on effect for the local economy.
An Ipsos MRBI poll published in today's Irish Times suggests that Fine Gael is on 28%, down two percentage points on the previous survey in November.
Fianna Fáil is on 21%, up two, Sinn Féin, 19% down two, the Labour Party unchanged at 7% with Independents and others on 25%, up two.
Mr Kenny said this morning's disappointing opinion poll for his party will see Fine Gael redouble its efforts in the election campaign.
Yesterday, he announced the election would take place on 26 February with polling stations open between 7am - 10pm.
The Dáil will return on 10 March.