President Michael D Higgins has dissolved the 31st Dáil after Taoiseach Enda Kenny visited Áras an Uachtaráin, paving the way for a General Election.
Election 2016 will take place on Friday 26 February. 
Voting will take place from 7am to 10pm on that day, in accordance with the Polling Day Order signed by Minister for the Environment, Community and Local Government Alan Kelly.
The Taoiseach confirmed the election date on a video released on his Twitter account.  
I am seeking a dissolution of Dáil Éireann today with the election to be held on February 26th.https://t.co/R5JnwC3XFB

— Enda Kenny (@EndaKennyTD) February 3, 2016
Dáil business was due to start with ministers' questions at 9.30am but the Taoiseach came into the chamber and asked the Ceann Comhairle if he could make an announcement.
Mr Kenny said he wished to inform the House as a matter of courtesy of his intention to visit Áras an Uachtaráin to ask President Michael D Higgins to dissolve the Dáil.
He said the Dáil will resume on 10 March.
He wished all those retiring well and offered best wishes to those who are contesting the upcoming election.
Live: Election 2016 | Gallery: Election unfolds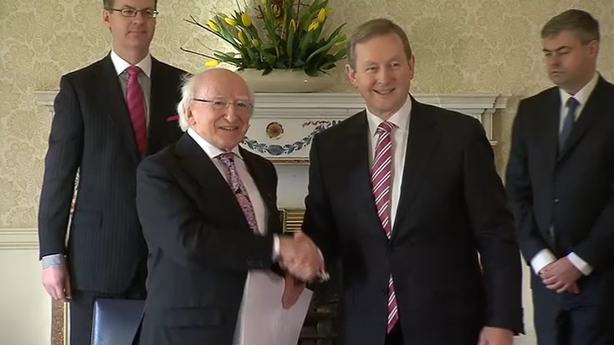 Paraphrasing the Mayo-born poet Antoine Ó Raifteirí in Irish, the Taoiseach said that Spring had come and he had to raise his sail.
The Government Chief Whip Paul Kehoe asked for the Dáil to be adjourned.
Fianna Fáil leader Mícheál Martin indicated that he was disappointed that the Opposition did not get to speak.
His comments kickstart one of the shortest election campaign in the history of the State.
'Voters are offered clear choice' - Enda Kenny
In a video released on his Twitter account, the Taoiseach said for the first time in a generation the choice faced by the Irish people was "as stark as it is clear".
Mr Kenny said five years ago the country was on the brink of collapse and Ireland's international reputation was "in tatters".
He said that five years on there has been real progress. Mr Kenny said the public finances were back on track, the economy was growing faster than any country in the EU and that 135,000 people were back to work.
There was "no more bailout, no more Troika and no more dead banks", he said.
He said voters had a clear choice between continuing on the path of recovery with Fine Gael or handing over the country "to those who wrecked our country in the past or those who would wreck it in the future."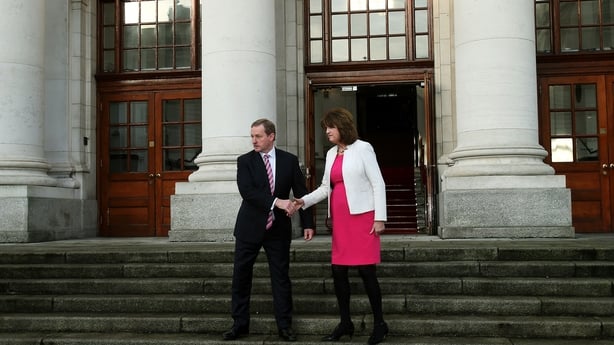 Burton 'very confident and hopeful' of Dáil return
Joan Burton has been rallying her troops at the Labour Party headquarters in Dublin, ahead of a canvass in Dublin Bay North this afternoon.
The election, she said, was a "contest between hope and optimism" on Labour and Fine Gael's part, against a "sterile opposition who want to paint Ireland as a dark, dull and desperate place."
Escort ready for trip to the park #GE16 pic.twitter.com/oog2LDuMLN

— Sharon Tobin (@sharontobin) February 3, 2016
 
On the road: Follow the leaders https://t.co/DRSNzJ1Xgx #GE16 pic.twitter.com/t8YHgdNpL8

— RTÉ News (@rtenews) February 3, 2016