US Secretary of State John Kerry appealed to both sides to continue Syrian peace talks in Geneva despite an attack by so-called Islamic State bombers that killed more than 60 people near the country's holiest Shi'ite shrine.
Mr Kerry said the conflict could easily engulf the Middle East if no negotiated settlement was achieved. He also called for immediate steps to increase food aid and other humanitarian assistance to Syrians.
"In the end there is no military solution to the conflict," Mr Kerry said in a televised statement.
Delegates of Syrian opposition groups have arrived in Geneva for the UN-sponsored peace talks.
The delegates include members of the Syrian Opposition High Negotiation Committee (HNC) and representatives of the Syria National Alliance.
HNC said the presence of their general coordinator Riyad Hijab depends on the progress of the talks.
Riad Nassane Agha, a member of the HNC, said the opposition has not decided whether they will participate in the talks and it depends on whether all their demands are met, including lifting the siege imposed on rebel-held areas, ending bombardment, and releasing prisoners.
Mr Nassane Agha said: "Now we have opened a new chapter. We have come here as the international will requires. We shall seek peace and a political solution according to new standards."
Salem al-Muslet, spokesman of the HNC, reaffirmed that, prior to the political talks, the Syrian government and related countries need to make commitments to implementing the terms of the UN Security Council resolutions.
However, he said he does not deem these as the preconditions for the opposition to participate in the talks.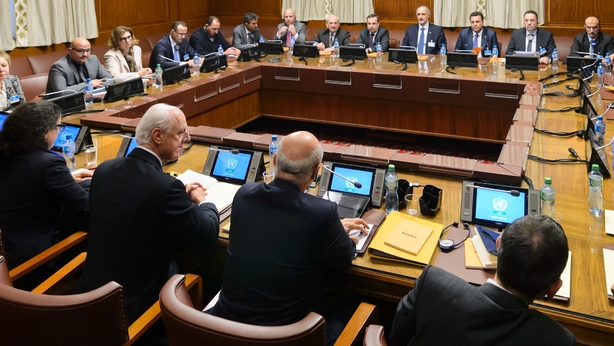 Mr al-Muslet urged a stop to the "massacre our people, our children are getting from Russian airstrikes" adding that "we are here to put an end to this one and at least we should see that the international community is keen and serious to help the Syrians".
A controversial member of the powerful Army of Islam rebel group said today he was coming to Geneva to serve as the Syrian opposition's lead negotiator in the talks.
"I'm on the way. I will be the chief negotiator," Mohammed Alloush said, adding that he expected to arrive in Geneva before noon tomorrow.
UN and Arab League Envoy to Syria Staffan de Mistura will hold talks with the opposition today and tomorrow, and will be responsible for the schedule of the negotiations.