In possibly the last opinion poll before the general election is called, there are slight gains for the Labour Party and Independents.
The RED C poll for tomorrow's Sunday Business Post, carried out between Monday and Wednesday, also suggests a small dip in support for Fine Gael and Fianna Fáil.
This latest poll offers a timely snapshot of where the parties and independents stand as they await the announcement of the general election.
It would appear that more people have made their minds up with just 12% now undecided about how they will vote.
Excluding them - Fine Gael is down one point to 29%. Labour has gained one point to reach 10%. A finding, the party will say, offers it hope on the weekend of its pre-election conference.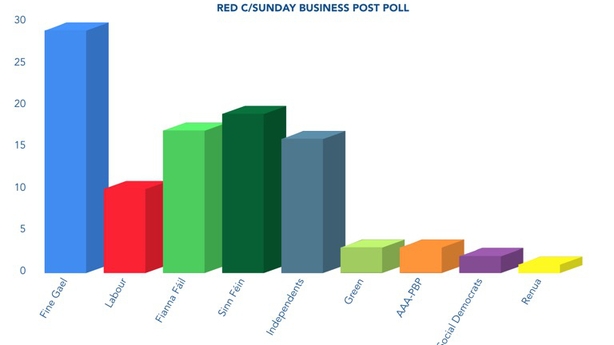 Fianna Fáil support has fallen by two points to 17%. That is the same level of support it won in 2011.
Sinn Féin is unchanged at 19% - almost double the party's support at the last general election.
Independents and others have gained two points to bring support to 25%. Within that, Independents are on 16%, the Greens and the Anti Austerity Alliance-People Before Profit group are both on 3%, while the Social Democrats are on 2% and Renua is at 1%.